Eevee Pokédex Information
Eevee is a Normal type Pokémon that first appeared in the games Pocket Monsters Red and Green which released in Japan on 15th November 1996. It evolves to different Pokémon depending on its manner of evolution.
This Generation I character is a four-legged furry mammal that is based on a fox. It is predominantly coloured brown but has a lighter coloured furry ruff around its neck. The tip of its tail is also lighter coloured. Eevee has very appealing big, brown eyes. Its ability to evolve into many forms allows it to adapt smoothly and perfectly to any environment.
Eevee can evolve to Gigantamax form with the Dynamax Band. In this form it is bigger and heavier. The ruff around its neck is so big it obscures most of its body. Gigantamax energy upped the fluffiness of the fur around Eevee's neck. The fur will envelop a foe, capturing its body and captivating its mind.
Contents
Eevee Pokédex Facts
Evolutions
Eevee Pokédex Entries
Eevee Cards
Eevee Pokédex Facts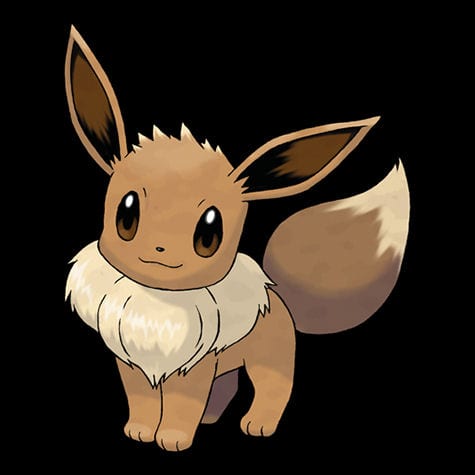 English Name – Eevee
Japanese Name – Eevee
First Appearance – 1999 (Pokémon Red and Blue)
Generation – I
Based on – Fox
Pokédex Number – 0133
Regular Form
Category – Evolution
Height – 0.3 m
Weight – 6.5 kg
Gender – Male, Female 
Type – Normal
Weakness – Fighting
Special Abilities – Run Away, Adaptability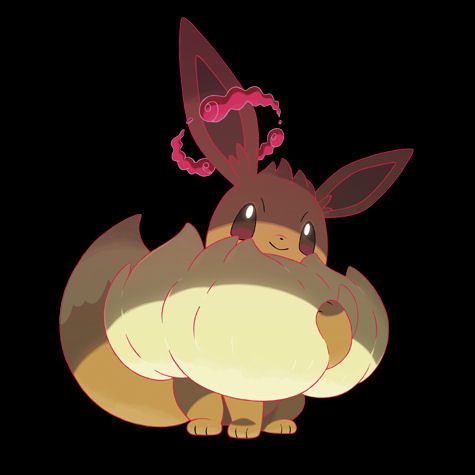 Gigantamax Form
Category – Evolution
Height – >18 m
Weight – Unknown
Gender – Male, Female 
Type – Normal
Weakness – Fighting
Special Abilities – Run Away, Adaptability
Eevee Evolutions
Eevee evolves to: Vaporeon (with Water Stone), Jolteon (with Thunder Stone), Flareon (with Fire Stone), Espeon (daytime with Rare Candy), Umbreon (nightime with Rare Candy), Leafeon (with Leaf Stone), Glaceon (with Ice Stone), Sylveon (with affection)
| | | |
| --- | --- | --- |
| Eevee | Water Stone | Vaporeon |
| Eevee | Thunder Stone | Jolteon |
| Eevee | Fire Stone | Flareon |
| Eevee | Rare Candy – Daytime | Espeon |
| Eevee | Rare Candy – Nightime | Umbreon |
| Eevee | Leaf Stone | Leafeon |
| Eevee | Ice Stone | Glaceon |
| Eevee | Affection | Sylveon |
Eevee Pokédex Entries / Games
Pokémon Red and Blue  1999
Pokémon Yellow  2000
Pokémon Stadium  2000
Pokémon Gold and Silver  2001
Pokémon Crystal  2001
Pokémon Stadium 2  2001
Pokémon Ruby and Sapphire  2003
FireRed and LeafGreen  2004
Pokémon Emerald  2005
Diamond and Pearl  2007
Pokémon Platinum  2009
HeartGold and SoulSilver  2010
Black and White  2011
Black and White 2  2012
Pokémon X and Y  2013
Omega Ruby, Alpha Sapphire  2014
Sun and Moon  2016
Ultra Sun and Ultra Moon 2017
Let's Go Pikachu and Let's Go Eevee  2018
Sword and Shield  2019
Brilliant Diamond, Shining Pearl  2021
Pokémon Legends Arceus  2022
Scarlet and Violet 2023
Eevee Cards List – (scroll to bottom for gallery view)
WOTC Promo Cards 1999

Stage – Basic
HP – 30
Level – 7
Card Number – 11
Jungle Set 1999


Stage – Basic
HP – 50
Level – 12
Card Number – 51/64
Team Rocket 2000

Stage – Basic
HP – 40
Level – 9
Card Number – 55/82
Gym Challenge 2000

Lt Surge's Eevee
Stage – Basic
Level – 10
Card Number – 51/132
Neo Discovery 2001


Stage – Basic
HP – 50
Level – 14
Card Number – 38/75
Legendary Collection 2002


Stage – Basic
HP – 50
Level – 12
Card Number – 74/110
Aquapolis 2003

Stage – Basic
HP – 50
Speciality – None
Card Number – 75/147
Skyridge 2003

Stage – Basic
HP – 50
Speciality – None
Card Number – 54/144
EX Sandstorm 2003


Stage – Basic
HP – 50
Speciality – None
Card Number – 63/100
EX Unseen Forces 2005

Stage – Basic
HP – 40
Speciality – None
Card Number – 55/115
EX Delta Species 2005

Stage – Basic
HP – 50
Speciality – None
Card Number – 68/113
Stage – Basic
HP – 50
Speciality – None
Card Number – 69/113
DP Majestic Dawn 2008

Stage – Basic
HP – 60
Level – 14
Card Number – 62/100

Stage – Basic
HP – 60
Level – 12
Card Number – 63/100
Platinum Rising Rivals 2009

Stage – Basic
HP – 50
Level – 10
Card Number – 59/111
HGSS Undaunted 2010

Stage – Basic
HP – 50
Speciality – None
Card Numbers – 47/90
Stage – Basic
HP – 50
Speciality – None
Card Numbers – 48/90
HGSS Call of Legends 2011

Stage – Basic
HP – 50
Speciality – None
Card Number – 56/95
Black and White Promo Cards 2011

Stage – Basic
HP – 60
Speciality – None
Card Numbers – BW94
Stage – Basic
HP – 60
Speciality – None
Card Numbers – BW97
BW Dark Explorers 2011

Stage – Basic
HP – 60
Speciality – None
Card Number – 83/108
Stage – Basic
HP – 50
Speciality – None
Card Number – 84/108
BW Plasma Freeze 2013


Stage – Basic
HP – 60
Speciality – None
Card Number – 89/116
Stage – Basic
HP – 60
Speciality – None
Card Number – 90/116
BW Radiant Collection 2013

Stage – Basic
HP – 60
Speciality – None
Card Number – RC14/RC25
XY Furious Fists 2014


Stage – Basic
HP – 50
Speciality – None
Card Number – 80/111
XY Ancient Origins 2015

Stage – Basic
HP – 60
Speciality – None
Card Number – 63/98
Sun and Moon Promo Cards

Eevee & Snorlax Tag Team
Stage – Basic
HP – 270
Speciality – GX
Card Number – SM169

Stage – Basic
HP – 160
Speciality – GX
Card Number – SM174

Stage – Basic
HP – 160
Speciality – GX
Card Number – SM175
Stage – Basic
HP – 160
Speciality – GX
Card Number – SM176
Stage – Basic
HP – 160
Speciality – GX
Card Number – SM233
Stage – Basic
HP – 160
Speciality – GX
Card Number – SM242
Stage – Basic
HP – 50
Speciality – None
Card Number – SM184
Stage – Basic
HP – 60
Speciality – None
Card Number – SM235
Sun & Moon Base 2017

Stage – Basic
HP – 60
Speciality – None
Card Number – 101/149

Stage – Basic
HP – 60
Speciality – None
Card Number – 101a/149
SM Ultra Prism 2017

Stage – Basic
HP – 60
Speciality – None
Card Number – 104/156

Stage – Basic
HP – 60
Speciality – None
Card Number – 105/156
SM Lost Thunder 2018

Stage – Basic
HP – 60
Speciality – None
Card Number – 155/214
SM Team Up 2019

Eevee & Snorlax Tag Team
Stage – Basic
HP – 270
Speciality – GX
Card Number – 120/181

Eevee & Snorlax Tag Team
Stage – Basic
HP – 270
Speciality – GX
Card Number – 171/181
Eevee & Snorlax Tag Team
Stage – Basic
HP – 270
Speciality – GX
Card Number – 191/181
SM Hidden Fates 2019

Stage – Basic
HP – 60
Speciality – None
Card Number – 48/68
Stage – Basic
HP – 60
Speciality – None
Card Number – 49/68, 

Stage – Basic
HP – 60
Speciality – None
Card Number – SV41/SV94
Cosmic Eclipse 2019

Stage – Basic
HP – 60
Speciality – None
Card Number – 166/236
Stage – Basic
HP – 60
Speciality – None
Card Number – 167/236
Sword and Shield Promo Cards 2020

Stage – VMAX
HP – 300
Speciality – VMAX
Card Numbers – SWSH087

Stage – Basic
HP – 190
Speciality – V
Card Numbers – SWSH065

Stage – Basic
HP – 60
Speciality – None
Card Numbers – SWSH042

Stage – Basic
HP – 60
Speciality – None
Card Numbers – SWSH095
Stage – Basic
HP – 60
Speciality – None
Card Numbers – SWSH118

Stage – Basic
HP – 60
Speciality – None
Card Numbers – SWSH127
Stage – Basic
HP – 60
Speciality – None
Card Numbers – SWSH175
Stage – Basic
HP – 60
Speciality – None
Card Numbers – SWSH190
Stage – Basic
HP – 60
Speciality – None
Card Numbers – SWSH212
Stage – Basic
HP – 90
Speciality – None
Card Numbers – SWSH230
SWSH Vivid Voltage 2020

Stage – Basic
HP – 70
Speciality – None
Card Number – 130/185
SWSH Shining Fates 2021


Stage – Basic
HP – 60
Speciality – None
Card Number – 052/072
SWSH Evolving Skies 2021


Stage – Basic
HP – 70
Speciality – None
Card Number – 125/203
SWSH Fusion Strike 2021

Stage – Basic
HP – 50
Speciality – None
Card Number – 205/264
SWSH Brilliant Stars 2022


Stage – Basic
HP – 70
Speciality – None
Card Number – TG11/TG30
SWSH Astral Radiance 2022

Stage – Basic
HP – 50
Speciality – None
Card Number – 119/189
Pokémon Go 2022


Stage – Basic
HP – 60
Speciality – None
Card Number – 054/078
SWSH Crown Zenith 2023

Stage – Basic
HP – 200
Speciality – V
Card Number – 108/159
Scarlet and Violet Promo Cards 2023

Stage – Basic
HP – 60
Speciality – None
Card Number – SVP043
SV Obsidian Flames 2023

Stage – Basic
HP – 70
Speciality -None
Card Number – 166/197
SV 151 2023


Stage – Basic
HP – 70
Speciality – None
Card Number – 133/165
Gallery