Welcome to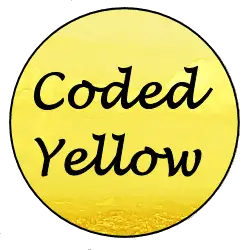 A comprehensive online resource for Pokémon news, views and information
Meet the Author
Coded Yellow is owned and managed by Heather Yasmin Wheeler, who publishes content and plays Pokémon Games using the name Heather Yasmin, Heather or Hetha. 
Since the dawn of Pokémon in 1999, I've been fascinated by the magic of this fantastical world. Pokémon has been more than just a passion for me; it's been a lifelong journey, shared with my two children who, like countless others, fell in love with Pokémon through the games, trading cards, and animated series. Now, I've taken my love for Pokémon to the next level as a dedicated content writer and enthusiast.
Credentials and Expertise
As a qualified teacher, I understand the importance of making complex information accessible and easy to understand. My background in education has allowed me to develop a knack for breaking down the intricacies of the Pokémon World- its concepts, mechanics, and strategies, so that everyone, from novices to seasoned trainers, can appreciate and understand the world of Pokémon.
Over the years, I've owned and operated numerous content websites. These experiences have honed my skills as a writer, webmaster, and curator of relevant knowledge and information.
A Commitment to Accuracy
When it comes to writing about Pokémon, accuracy is my utmost priority. Every article and piece of information on this website is a product of meticulous research and fact-checking. 
Product descriptions and lists of contents are written in accordance with the information provided by the Pokémon Company, with the aim of providing my site visitors with information that can help them decide whether that product is for them.
A Fresh Perspective
The global pandemic prompted many of us to re-evaluate our hobbies and interests. During lockdown, I decided to channel my energy into a new project: a Pokémon information website.
I soon discovered that most existing sites were tailored to seasoned players and collectors, often assuming a prior knowledge of the Pokémon universe. I wanted to create something different, a place where Pokémon enthusiasts of all levels could find valuable insights and credible information.
I also determined to ensure that all articles are written with full explanations, in accessible language and illustrated, so they can be easily understood by beginners and seasoned Pokémon enthusiasts alike. I aim to write to the point and do not pad our articles out with unnecessary waffle so that answers to questions can be found easily. 
Site Structure
The site currently contains six main areas:
Thank you for visiting, and I look forward to sharing more Pokémon news, views and information with you.