What are the Spring Poké Ball Tins?
Poké Ball Tins are special collection tins that are designed to look like the Poké balls found in Pokémon games and animations.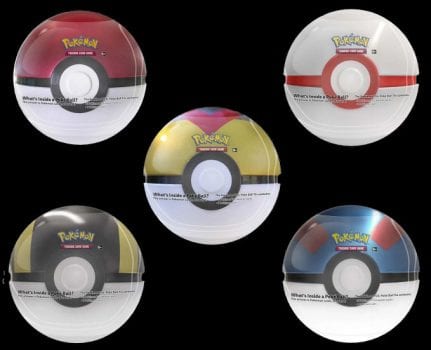 The balls have a diameter of 11 cm (4.5 inches). They are made out of plastic and packaged with a strip of  shrink wrap around the centre of the ball. 
The Spring Poké Ball Tins 2021 collection was released on 5th March 2021 between the Shining Fates and Battle Styles expansion sets. They retail at around £14 ($19.50).
There are five different designs:
Poké Ball – red upper and white lower portion with black strip and circle
Premier Ball – completely white with red strip and circle
Level Ball – gold upper with red and black markings, white lower, black strip and circle
Great Ball – blue upper with red markings, white lower, black strip and circle
Ultra Ball – gold and black upper, white lower, black strip and circle.
What is inside the Spring Poké Ball Tins?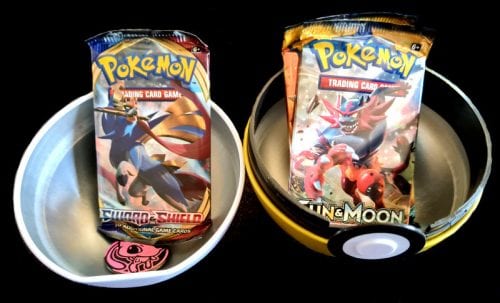 The plastic shrink-wrap is removed by pulling a vertical tear-off strip.
Once it has been done, the two halves of the ball can be separated to reveal the contents.
The contents of all the tins are the same:
3 Pokémon Booster packs – 2 Sun and Moon Base Set and 1 Sword and Shield base set.
A plastic marker coin. 
The image above shows the contents of a Level Ball. Of the three packs shown only one contained a white code card. This was the Sword and Shield Base Set pack which contained a regular holo rare card.
Value for Money?
With a retail price of around £14 these Spring Poké Ball tins are not cheap. A complete set would work out at £70. However, if you are an avid collector or investor this may seem a reasonable expense. If the  balls are to be kept sealed, it is highly likely that in a few years time you should see a good return on your investment.
The balls themselves are well-made and do look very nice as display items. It is disappointing that Pokémon are filling many of their 2021 collectable tins and boxes with old Sun and Moon products. These have little resale value unless you are lucky enough to pull a secret rare card.
Are these balls good value for money? In our opinion no, they are not worth the outlay unless you want them as part of a collection and will keep them sealed.