Charizard Pokédex Information
Charizard first appeared in the game Pocket Monsters Red and Green which were released in Japan on February 27th 1996. It then appeared in the first international games, Pokémon Red and Blue.
Charizard is a two-legged Pokémon that has orange skin and a white belly. It has blue eyes and a wide mouth with sharp fangs. Charizard has three sharp claws on each foot and each paw and two horns on the back of its head. Two large wings, coloured blue-grey on the underside, give it the ability to fly.
It spits fire that is hot enough to melt boulders and may cause forest fires by blowing flames.
Contents
Charizard Pokédex Facts
Charizard Evolutions
Charizard Pokédex Entries
Charizard Cards
Charizard Pokédex Facts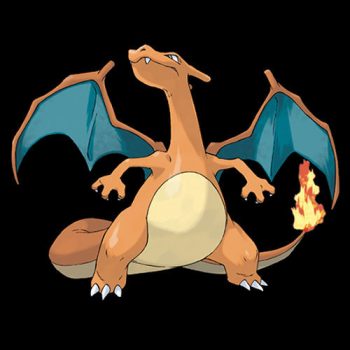 English Name – Charizard
Japanese Name – Rizadon
First Appearance – 1996 (Pokémon Red and Blue)
Generation – I
Charizard Pokédex Number – 006
Category – Flame
Height – 1.7 m
Weight – 90.5 kg
Gender – Male or Female
Primary Type – Fire
Secondary Type – Flying
Weakness – Water, Electric, Rock
Special Ability – Blaze
Charizard Evolutions
Evolution – Charmander evolves to Charmeleon (level 16) evolves to Charizard (level 36), can evolve to Mega Charizard X with Charizardite X or Charizard Y with Charizardite Y, evolves to Gigantamax with Dynamax Band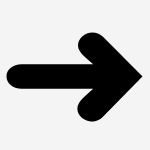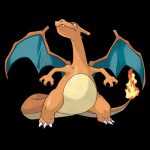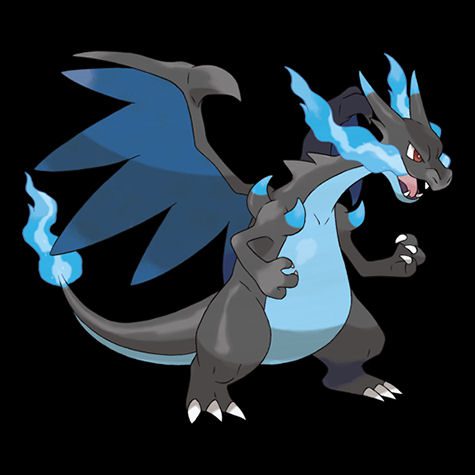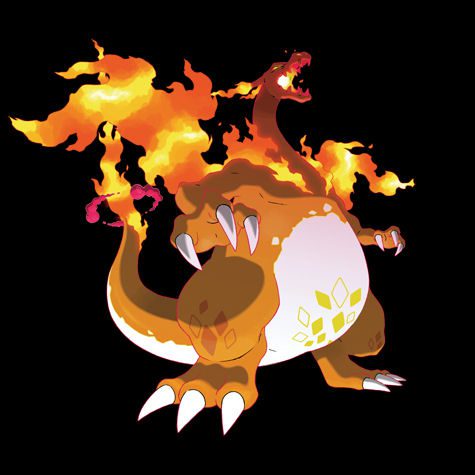 Charizard Pokédex Entries – Games Featuring Charizard
Pokémon Red and Blue  1999
Pokémon Stadium  2000
Pokémon Yellow  2000
Pokémon Gold and Silver  2001
Pokémon Crystal  2001
Pokémon Stadium 2  2001
Pokémon Ruby and Sapphire  2003
FireRed and LeafGreen  2004
Pokémon Emerald  2005
Diamond and Pearl  2007
Pokémon Platinum  2009
HeartGold and SoulSilver  2010
Black and White  2011
Black and White 2  2012
Pokémon X and Y  2013
Omega Ruby, Alpha Sapphire  2014
Let's Go Pikachu and Let's Go Eevee  2018
Sword and Shield  2019
Brilliant Diamond, Shining Pearl  2021
Pokémon Cards Featuring Charizard – (scroll to bottom for gallery view)
Base Set (1999)


Stage 2
HP – 120
Level 76
Card Number – 4/102
Base Set 2 (2000)

Stage 2
HP – 130
Level 76
Card Number – 4/130
Team Rocket (2000)

Dark Charizard
Stage 2
HP – 80
Level 38
Card Numbers – 4/82
Dark Charizard
Stage 2
HP – 80
Level 38
Card Numbers – 21/82
Gym Challenge (2002)


Blaine's Charizard
Stage 2
HP – 100
Level 50
Card Number – 2/132
Legendary Collection (2002)

Stage 2
HP – 120
Level 76
Card Number – 3/110
Expedition Base (2002)


Stage 2
HP – 120
Card Numbers – 6/165

Stage 2
HP – 100
Card Numbers – 39/165

Stage 2
HP – 120
Card Numbers – 40/165
EX Skyridge (2003)


Stage 2
HP – 110
Card Number – 146/144
EX Dragon (2003)

Stage 2
HP – 120
Card Number – 100/97
EX Fire Red and Leaf Green (2004)


Stage 2
HP – 160
Card Number – 105/112
EX Crystal Guardians (2006)

Stage 2
HP – 120
Card Numbers – 4/100
EX Dragon Frontiers (2006)


Stage 2
HP – 90
Card Numbers – 100/101
EX Power Keepers (2007)

Stage 2
HP – 120
Card Numbers – 6/108
Diamond and Pearl Black Star Promo Cards (2007)

Stage – Level up
HP – 120
Speciality – LV.X
Card Number – DP45
DP Secret Wonders (2007)


Stage 2
HP – 130
Level 55
Card Number – 3/132
DP Stormfront (2008)


Stage 2
HP – 120
Level 76
Card Number – 103/100
Platinum Supreme Victors (2009)


Stage – Basic
HP – 100
Level 65
Card Number – 20/147
Stage – Level Up
HP – 120
Speciality – LV.X
Card Number – 143/147
Platinum Arceus (2009)


Stage 2
HP – 140
Level 60
Card Number – 1/99
BW Boundaries Crossed (2012)

Stage 2
HP – 160
Card Number – 20/149
BW Plasma Storm (2013)

Stage 2
HP – 160
Card Number – 136/135
XY Black Star Promo Cards (2013)

Stage – Basic
HP – 180
Speciality – EX
Card Numbers – XY17

Stage – Basic
HP – 180
Speciality – EX
Card Numbers – XY29
Stage – Basic
HP – 180
Speciality – EX
Card Numbers – XY121
XY Legendary Treasures (2013)

Stage 2
HP – 160
Card Number – 19/113
XY Flashfire (2014)

Stage – Basic
HP – 180
Speciality – EX
Card Numbers – 11/106

Stage – Basic
HP – 180
Speciality – EX
Card Numbers – 12/106

Stage – Basic
HP – 180
Speciality – EX
Card Numbers – 100/106
Stage – Mega
HP – 220
Speciality – EX
Card Numbers – 13/106

Stage – Mega
HP – 230
Speciality – EX
Card Numbers – 69/106
Stage – Mega
HP – 220
Speciality – EX
Card Numbers – 107/106
Stage – Mega
HP – 230
Speciality – EX
Card Numbers – 108/106
XY Generations (2016)


Stage – Basic
HP – 180
Speciality – EX
Card Number – 11/83
Stage – Mega
HP – 220
Speciality – EX
Card Number – 12/83

Stage – 2
HP – 160
Speciality – None
Card Number – RC5/RC32
XY Evolutions (2016)


Stage 2
HP – 150
Level 76
Card Number – 11/108
Stage – Basic
HP – 180
Speciality – EX
Card Number – 12/108

Stage – Mega
HP – 220
Speciality – EX
Card Numbers – 13/108

Stage – Mega
HP – 220
Speciality – EX
Card Numbers – 101/108
Sun & Moon Promo Cards (2017 – 2019)


Stage 2
HP – 150
Speciality – None
Card Numbers – SM158
Stage 2
HP – 150
Speciality – None
Card Numbers – SM226

Stage 2
HP – 250
Speciality – GX
Card Numbers – SM60
Stage 2
HP – 250
Speciality – GX
Card Numbers – SM195

Stage 2
HP – 250
Speciality – GX
Card Numbers – SM211
Tag Team
Charizard & Braixen
Stage – Basic
HP – 270
Speciality – GX
Card Number – SM230
Tag Team
Reshiram & Charizard
Stage – Basic
HP – 270
Speciality – GX
Card Number – SM201
Tag Team
Reshiram & Charizard
Stage – Basic
HP – 270
Speciality – GX
Card Number – SM247
Sun & Moon Burning Shadows (2017)


Stage 2
HP – 250
Speciality GX
Card Numbers – 20/147

Stage 2
HP – 250
Speciality GX
Card Numbers – 150/147
Sun & Moon Dragon Majesty (2018)


Stage 2
HP – 160
Speciality – None
Card Number – 3/70
Sun & Moon Team Up (2019)


Stage 2
HP – 150
Speciality – none
Card Numbers – 14/181
Sun & Moon Detective Pikachu (2019)

Stage 2
HP – 180
Speciality – None
Card Number – 5/18
Sun & Moon Unbroken Bonds (2019)

Reshiram & Charizard Tag Team
Stage – Basic
HP – 270
Speciality – GX
Card Number – 20/214
Reshiram & Charizard Tag Team
Stage – Basic
HP – 270
Speciality – GX
Card Number – 194/214

Reshiram & Charizard Tag Team
Stage – Basic
HP – 270
Speciality – GX
Card Number – 217/214
Sun & Moon Hidden Fates (2019)

Stage 2
HP – 250
Speciality – GX
Card Numbers – 9/68

Stage 2
HP – 250
Speciality – GX
Card Numbers – SV49/SV94
Sun & Moon Cosmic Eclipse (2019)

Charizard & Braixen Tag Team
Stage – Basic
HP – 270
Speciality – GX
Card Number – 22/236
Charizard & Braixen Tag Team
Stage – Basic
HP – 270
Speciality – GX
Card Number – 212/236

Charizard & Braixen Tag Team
Stage – Basic
HP – 270
Speciality – GX
Card Number – 251/236
Sword & Shield Promo Cards (2020 – 2022)

Stage 2
HP – 170
Speciality – None
Card Numbers – SWSH066
Stage Basic
HP – 220
Speciality – V
Card Numbers – SWSH050
Special Delivery Charizard
Stage 2
HP – 160
Speciality – None
Card Numbers – SWSH075
Sword & Shield Darkness Ablaze (2020)

Stage – Basic
HP- 220
Speciality – V
Card Number – 019/189
Stage – VMAX
HP – 330
Speciality – VMAX
Card Number – 020/189
Sword & Shield Champion's Path (2020)

Stage – Basic
HP – 220
Speciality – V
Card Number – 079/073
Stage – VMAX
HP – 330
Speciality – VMAX
Card Number – 074/073
Sword & Shield Vivid Voltage (2020)


Stage 2
HP – 170
Speciality – None
Card Numbers – 025/185
Sword & Shield Shining Fates (2021)

Stage – VMAX
HP – 330
Speciality – VMAX
Card Numbers – SV107/SV122
Celebrations 2021


Stage – Basic
HP – 120
Speciality – None
Card Number – 4/102
SWSH Brilliant Stars 2022

Stage – Basic
HP – 220
Speciality – V
Card Number -017/172
Stage – VSTAR
HP – 280
Speciality – VSTAR
Card Number -018/172
Stage – Basic
HP – 220
Speciality – V
Card Number -153/172
Stage – Basic
HP – 220
Speciality – V
Card Number -154/172
Stage – VSTAR
HP – 280
Speciality – VSTAR
Card Number -174/172
Pokémon Go 2022

Stage – 2
HP – 170
Speciality -None
Card Number -010/078

Stage – Basic
HP – 160
Speciality -None
Forme – Radiant
Card Number -011/078
SWSH Lost Origin 2022

Stage – 2
HP – 170
Speciality -None
Card Number -TG03/TG30
Gallery