To be
confirmed
LOST
ORIGIN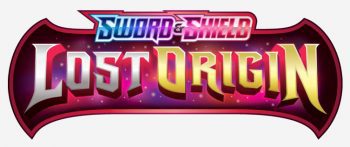 The Pokémon Lost Origin expansion set is scheduled for launch on 9th September 2022 as the eleventh set of the Sword and Shield Series. 
The set will contain around 190 cards before secret rares
Set cards will be numbered ?/190
All cards are marked with the set logo and the set symbol
Pokémon Lost Origin Card List
Please Note: The Pokémon Lost Origin Card List below shows those cards believed to be included in the set. The list is subject to change until the official set list is revealed, usually around 2 weeks before the set release date.
This page will be updated as more cards are revealed.
VSTAR Cards
Giratina VSTAR
Aerodactyl VSTAR
Magnezone VSTAR
Drapion VSTAR
Hisuian Goodra VSTAR
Hisuian Zoroark VSTAR
VMAX Cards
Kyurem VMAX
Half Art Cards
Enamorus V
Kyurem V
Rotom V
Drapion V
Radiant Cards
Radiant Gardevoir
Ultra Rare Cards
Aerodactyl
Rotom
Trainer Gallery Cards
TG01 Parasect
TG02 Roserade
TG03 Leon's Charizard
TG04 Chandelure
TG06 Gengar
TG07 Banette
TG?? Hisuian Arcanine
TG09 Spiritomb
TG10 Snorlax
TG11 Castform
TG16 Pikachu V
TG17 Pikachu VMAX
TG?? Enamorus V
TG19 Gallade V
TG27 Nessa
TG28 Opal
TG29 Gold Pikachu VMAX
TG30 Gold Mew VMAX
Other Cards
Sunkern
Sunflora
Phantump
Trevenant
Glastrier
Dreepy
Drakloak
Dragapult
Spectrier
Porygon
Porygon2
Porygon-Z
Toolbox
To be
confirmed
LOST
ORIGIN