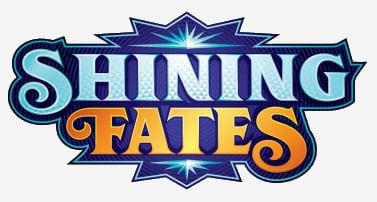 The Shining Fates expansion set was released on 19th February 2021. The 195 cards are split into two sets:
The Standard Set which is made up of 72 regular cards and 1 secret rare. It also includes 3 amazing rare cards.
The Shiny Vault set comprises 104 shiny holo cards, all of which have gold holographic stars, and 18 shiny art cards.
The cards in the standard set are numbered ?/072, while the shiny vault set are numbered SV?/SV122. The cards are marked with the Shining Fates set symbol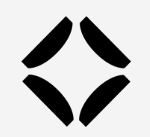 Complete Shining Fates Card List
Cards are listed Grouped by Rarity or in Numerical Order

Standard Set Grouped by Rarity
Full Art Cards
010/072   Dhelmise VMAX  ★H
019/072   Cinderace VMAX   ★H
038/072   Morpeko VMAX  ★H
045/072   Crobat VMAX  ★H
051/072   Ditto VMAX  ★H
055/072   Cramorant VMAX  ★H
Ultra Rare
064/072   Alcremie V  ★U
065/072   Ball Guy  ★U
066/072   Bird Keeper  ★U
067/072   Cara Liss  ★U
068/072   Gym Trainer  ★U
069/072   Piers  ★U
070/072   Poké Kid  ★U
071/072   Rose  ★U
072/072   Skyla  ★U
Secret Rainbow Rare
073/072   Alcremie VMAX  ★S
Half Art Cards
009/070   Dhelmise V  ★H
018/072   Cinderace V  ★H
037072   Morpeko V  ★H
039/072   Indeedee V  ★H
044/072   Crobat V  ★H
050/072   Ditto V  ★H
053/072   Greedent V  ★H
054/072   Cramorant V  ★H
Holo Cards
008/072   Decidueye  ★H
013/072   Rillaboom  ★H
030/072   Frosmoth  ★H
033/072   Luxray  ★H
042/072   Galarian Weezing  ★H
048/072   Thievul  ★H
056/072   Indeedee  ★H
Amazing Rare Cards
017/072   Reshiram  ★A
021/072   Kyogre  ★A
046/072   Yveltal  ★A
Rare Cards
002/072   Yanmega ★
003/072   Celebi ★
016/072   Zarude ★
024/072   Manaphy ★
025/072   Volcanion ★
027/072   Drednaw ★
058/072   Boss's Orders ★
060/072   Professor's Research ★
Uncommon Cards
005/072   Tropius ◆
007/072   Dartrix ◆
012/072   Thwackey ◆
015/072   Eldegoss ◆
023/072   Floatzel ◆
028/072   Cramorant ◆
032/072   Luxio ◆
034/072   Rotom ◆
057/072   Ball Guy ◆
059/072   Gym Trainer ◆
061/072   Rusted Shield ◆
062/072   Rusted Sword ◆
063/072   Team Yell Towel ◆
Common Cards
001/072   Yanma ●
004/072   Cacnea ●
006/072   Rowlet ●
011/072   Grookey ●
014/072   Gossifleur ●
020/072   Horsea ●
022/072   Buizel ●
026/072   Chewtle ●
029/072   Snom ●
031/072   Shinx ●
035/072   Morpeko ●
036/072   Morpeko ●
040/072   Trapinch ●
041/072   Koffing ●
043/072   Spinarak ●
047/072   Nickit ●
049/072   Cufant ●
052/072   Eevee ●
Shiny Vault Set Grouped by Rarity
Shiny Holo Cards
SV001/SV122   Rowlet  ★H
SV002/SV122   Dartrix  ★H
SV003/SV122   Decidueye  ★H
SV004/SV122   Grookey  ★H
SV005/SV122   Thwackey  ★H
SV006/SV122   Rillaboom  ★H
SV007/SV122   Blipbug  ★H
SV008/SV122   Dottler  ★H
SV009/SV122   Orbeetle  ★H
SV010/SV122   Gossifleur  ★H
SV011/SV122   Eldegoss  ★H
SV012/SV122   Applin  ★H
SV013/SV122   Flapple  ★H
SV014/SV122   Appletun  ★H
SV015/SV122   Scorbunny  ★H
SV016/SV122   Raboot  ★H
SV017/SV122   Cinderace  ★H
SV018/SV122   Sizzlipede  ★H
SV019/SV122   Centiskorch  ★H
SV020/SV122   Galarian Mr. Mime  ★H
SV021/SV122   Galarian Mr. Rime  ★H
SV022/SV122   Suicune  ★H
SV023/SV122   Galarian Darumaka  ★H
SV024/SV122   Galarian Darmanitan  ★H
SV025/SV122   Sobble  ★H
SV026/SV122   Drizzile  ★H
SV027/SV122   Inteleon  ★H
SV028/SV122   Chewtle  ★H
SV029/SV122   Drednaw  ★H
SV030/SV122   Cramorant  ★H
SV031/SV122   Arrokuda  ★H
SV032/SV122   Barraskewda  ★H
SV033/SV122   Snom  ★H
SV034/SV122   Frosmoth  ★H
SV035/SV122   Eiscue  ★H
SV036/SV122   Dracovish ★H
SV037/SV122   Arctovish  ★H
SV038/SV122   Rotom  ★H
SV039/SV122   Yamper  ★H
SV040/SV122   Boltund  ★H
SV041/SV122   Toxel  ★H
SV042/SV122   Toxtricity  ★H
SV043/SV122   Pincurchin  ★H
SV044/SV122   Morpeko  ★H
SV045/SV122   Dracozolt  ★H
SV046/SV122   Arctozolt  ★H
SV047/SV122   Galarian Ponyta ★H
SV048/SV122   Galarian Rapidash  ★H
SV049/SV122   Galarian Corsola  ★H
SV050/SV122   Galarian Cursola  ★H
SV051/SV122   Dedenne  ★H
SV052/SV122   Sinistea  ★H
SV053/SV122   Polteageist  ★H
SV054/SV122   Hatenna  ★H
SV055/SV122   Hattrem  ★H
SV056/SV122   Hatterene  ★H
SV057/SV122   Milcery  ★H
SV058/SV122   Alcremie  ★H
SV059/SV122   Indeedee ★H
SV060/SV122   Dreepy ★H
SV061/SV122   Drakloak  ★H
SV062/SV122   Dragapult  ★H
SV063/SV122   Galarian Farfetch'd  ★H
SV064/SV122   Galarian Sirfetch'd  ★H
SV065/SV122   Galarian Yamask ★H
SV066/SV122   Galarian Runerigus  ★H
SV067/SV122   Rolycoly  ★H
SV068/SV122   Carkol ★H
SV069/SV122   Coalossal  ★H
SV070/SV122   Silicobra  ★H
SV071/SV122   Sandaconda  ★H
SV072/SV122   Clobbopus  ★H
SV073/SV122   Grapploct  ★H
SV074/SV122   Falinks  ★H
SV075/SV122   Stonjourner  ★H
SV076/SV122   Koffing  ★H
SV077/SV122   Galarian Weezing  ★H
SV078/SV122   Galarian Zigzagoon  ★H
SV079/SV122   Galarian Linoone  ★H
SV080/SV122   Galarian Obstagoon  ★H
SV081/SV122   Nickit  ★H
SV082/SV122   Thievul  ★H
SV083/SV122   Impidimp  ★H
SV084/SV122   Morgrem  ★H
SV085/SV122   Grimmsnarl  ★H
SV086/SV122   Galarian Meowth  ★H
SV087/SV122   Galarian Perrserker  ★H
SV088/SV122   Galarian Stunfisk  ★H
SV089/SV122   Corviknight  ★H
SV090/SV122   Cufant  ★H
SV091/SV122   Copperajah  ★H
SV092/SV122   Duraludon  ★H
SV093/SV122   Minccino  ★H
SV094/SV122   Cinccino  ★H
SV095/SV122   Ducklett  ★H
SV096/SV122   Swanna  ★H
SV097/SV122   Bunnelby  ★H
SV098/SV122   Oranguru  ★H
SV099/SV122   Skwovet  ★H
SV100/SV122   Greedent  ★H
SV101/SV122   Rookidee  ★H
SV102/SV122   Corvisquire  ★H
SV103/SV122   Wooloo  ★H
SV104/SV122   Dubwool  ★H
Shiny Art Cards
SV105/SV122   Rillaboom V  ★H
SV106/SV122   Rillaboom VMAX  ★H
SV107/SV122   Charizard VMAX  ★H
SV108/SV122   Centiskorch V  ★H
SV109/SV122   Centiskorch VMAX  ★H
SV110/SV122   Lapras V  ★H
SV111/SV122   Lapras VMAX  ★H
SV112/SV122   Toxtricity V  ★H
SV113/SV122   Toxtricity VMAX  ★H
SV114/SV122   Indeedee V  ★H
SV115/SV122   Falinks V  ★H
SV116/SV122   Grimmsnarl V  ★H
SV117/SV122   Grimmsnarl VMAX  ★H
SV118/SV122   Ditto V  ★H
SV119/SV122   Ditto VMAX  ★H
SV120/SV122   Dubwool V  ★H
SV121/SV122   Eternatus V  ★H
SV122/SV122   Eternatus VMAX  ★H
Printable Card List Ordered by Rarity
Standard Set in Numerical Order
001/072   Yanma ●
002/072   Yanmega ★
003/072   Celebi ★
004/072   Cacnea ●
005/072   Tropius ◆
006/072   Rowlet ●
007/072   Dartrix ◆
008/072   Decidueye  ★H
009/070   Dhelmise V  ★H
010/072   Dhelmise VMAX  ★H
011/072   Grookey ●
012/072   Thwackey ◆
013/072   Rillaboom  ★H
014/072   Gossifleur ●
015/072   Eldegoss ◆
016/072   Zarude ★
017/072   Reshiram  ★A
018/072   Cinderace V  ★H
019/072   Cinderace VMAX   ★H
020/072   Horsea ●
021/072   Kyogre  ★A
022/072   Buizel ●
023/072   Floatzel ◆
024/072   Manaphy ★
025/072   Volcanion ★
026/072   Chewtle ●
027/072   Drednaw ★
028/072   Cramorant ◆
029/072   Snom ●
030/072   Frosmoth  ★H
031/072   Shinx ●
032/072   Luxio ◆
033/072   Luxray  ★H
034/072   Rotom ◆
035/072   Morpeko ●
036/072   Morpeko ●
037/072   Morpeko V  ★H
038/072   Morpeko VMAX  ★H
039/072   Indeedee V  ★H
040/072   Trapinch ●
041/072   Koffing ●
042/072   Galarian Weezing  ★H
043/072   Spinarak ●
044/072   Crobat V  ★H
045/072   Crobat VMAX  ★H
046/072   Yveltal  ★A
047/072   Nickit ●
048/072   Thievul  ★H
049/072   Cufant ●
050/072   Ditto V  ★H
051/072   Ditto VMAX  ★H
052/072   Eevee ●
053/072   Greedent V  ★H
054/072   Cramorant V  ★H
055/072   Cramorant VMAX  ★H
056/072   Indeedee  ★H
057/072   Ball Guy ◆
058/072   Boss's Orders ★
059/072   Gym Trainer ◆
060/072   Professor's Research ★
061/072   Rusted Shield ◆
062/072   Rusted Sword ◆
063/072   Team Yell Towel ◆
064/072   Alcremie V  ★H
065/072   Ball Guy ◆
066/072   Bird Keeper ◆
067/072   Cara Liss ◆
068/072   Gym Trainer ◆
069/072   Piers ◆
070/072   Poké Kid ◆
071/072   Rose ◆
072/072   Skyla ◆
073/072   Alcremie VMAX ★H
Shiny Vault Set in Numerical Order
SV001/SV122   Rowlet  ★H
SV002/SV122   Dartrix  ★H
SV003/SV122   Decidueye  ★H
SV004/SV122   Grookey  ★H
SV005/SV122   Thwackey  ★H
SV006/SV122   Rillaboom  ★H
SV007/SV122   Blipbug  ★H
SV008/SV122   Dottler  ★H
SV009/SV122   Orbeetle  ★H
SV010/SV122   Gossifleur  ★H
SV011/SV122   Eldegoss  ★H
SV012/SV122   Applin  ★H
SV013/SV122   Flapple  ★H
SV014/SV122   Appletun  ★H
SV015/SV122   Scorbunny  ★H
SV016/SV122   Raboot  ★H
SV017/SV122   Cinderace  ★H
SV018/SV122   Sizzlipede  ★H
SV019/SV122   Centiskorch  ★H
SV020/SV122   Galarian Mr. Mime  ★H
SV021/SV122   Galarian Mr. Rime  ★H
SV022/SV122   Suicune  ★H
SV023/SV122   Galarian Darumaka  ★H
SV024/SV122   Galarian Darmanitan  ★H
SV025/SV122   Sobble  ★H
SV026/SV122   Drizzile  ★H
SV027/SV122   Inteleon  ★H
SV028/SV122   Chewtle  ★H
SV029/SV122   Drednaw  ★H
SV030/SV122   Cramorant  ★H
SV031/SV122   Arrokuda  ★H
SV032/SV122   Barraskewda  ★H
SV033/SV122   Snom  ★H
SV034/SV122   Frosmoth  ★H
SV035/SV122   Eiscue  ★H
SV036/SV122   Dracovish ★H
SV037/SV122   Arctovish  ★H
SV038/SV122   Rotom  ★H
SV039/SV122   Yamper  ★H
SV040/SV122   Boltund  ★H
SV041/SV122   Toxel  ★H
SV042/SV122   Toxtricity  ★H
SV043/SV122   Pincurchin  ★H
SV044/SV122   Morpeko  ★H
SV045/SV122   Dracozolt  ★H
SV046/SV122   Arctozolt  ★H
SV047/SV122   Galarian Ponyta ★H
SV048/SV122   Galarian Rapidash  ★H
SV049/SV122   Galarian Corsola  ★H
SV050/SV122   Galarian Cursola  ★H
SV051/SV122   Dedenne  ★H
SV052/SV122   Sinistea  ★H
SV053/SV122   Polteageist  ★H
SV054/SV122   Hatenna  ★H
SV055/SV122   Hattrem  ★H
SV056/SV122   Hatterene  ★H
SV057/SV122   Milcery  ★H
SV058/SV122   Alcremie  ★H
SV059/SV122   Indeedee ★H
SV060/SV122   Dreepy ★H
SV061/SV122   Drakloak  ★H
SV062/SV122   Dragapult  ★H
SV063/SV122   Galarian Farfetch'd  ★H
SV064/SV122   Galarian Sirfetch'd  ★H
SV065/SV122   Galarian Yamask ★H
SV066/SV122   Galarian Runerigus  ★H
SV067/SV122   Rolycoly  ★H
SV068/SV122   Carko l ★H
SV069/SV122   Coalossal  ★H
SV070/SV122   Silicobra  ★H
SV071/SV122   Sandaconda  ★H
SV072/SV122   Clobbopus  ★H
SV073/SV122   Grapploct  ★H
SV074/SV122   Falinks  ★H
SV075/SV122   Stonjourner  ★H
SV076/SV122   Koffing  ★H
SV077/SV122   Galarian Weezing  ★H
SV078/SV122   Galarian Zigzagoon  ★H
SV079/SV122   Galarian Linoone  ★H
SV080/SV122   Galarian Obstagoon  ★H
SV081/SV122   Nickit  ★H
SV082/SV122   Thievul  ★H
SV083/SV122   Impidimp  ★H
SV084/SV122   Morgrem  ★H
SV085/SV122   Grimmsnarl  ★H
SV086/SV122   Galarian Meowth  ★H
SV087/SV122   Galarian Perrserker  ★H
SV088/SV122   Galarian Stunfisk  ★H
SV089/SV122   Corviknight  ★H
SV090/SV122   Cufant  ★H
SV091/SV122   Copperajah  ★H
SV092/SV122   Duraludon  ★H
SV093/SV122   Minccino  ★H
SV094/SV122   Cinccino  ★H
SV095/SV122   Ducklett  ★H
SV096/SV122   Swanna  ★H
SV097/SV122   Bunnelby  ★H
SV098/SV122   Oranguru  ★H
SV099/SV122   Skwovet  ★H
SV100/SV122   Greedent  ★H
SV101/SV122   Rookidee  ★H
SV102/SV122   Corvisquire  ★H
SV103/SV122   Wooloo  ★H
SV104/SV122   Dubwool  ★H
SV105/SV122   Rillaboom V  ★H
SV106/SV122   Rillaboom VMAX  ★H
SV107/SV122   Charizard VMAX  ★H
SV108/SV122   Centiskorch V  ★H
SV109/SV122   Centiskorch VMAX  ★H
SV110/SV122   Lapras V  ★H
SV111/SV122   Lapras VMAX  ★H
SV112/SV122   Toxtricity V  ★H
SV113/SV122   Toxtricity VMAX  ★H
SV114/SV122   Indeedee V  ★H
SV115/SV122   Falinks V  ★H
SV116/SV122   Grimmsnarl V  ★H
SV117/SV122   Grimmsnarl VMAX  ★H
SV118/SV122   Ditto V  ★H
SV119/SV122   Ditto VMAX  ★H
SV120/SV122   Dubwool V  ★H
SV121/SV122   Eternatus V  ★H
SV122/SV122   Eternatus VMAX  ★H
Printable Card List in Numerical Order