XY
Promos 
SUN & MOON
PROMOS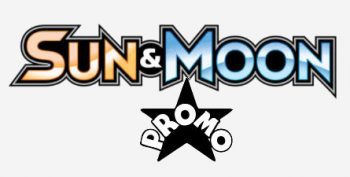 The Sun and Moon series was launched in February 2017. It has 12 main expansion sets and 4 special expansions.
Black star promo cards were released in a variety of products throughout the series. 
Black Star Promo cards do not have a rarity symbol but all are marked with a black star with the word Promo on top.


Listed below is a complete Sun & Moon Promos Card List
Sun and Moon Promos Card List
SM01 – Rowlet
SM02 – Litten
SM03 – Popplio
SM04 – Pikachu
SM05 – Snorlax GX
SM06 – Rockruff
SM07 – Pikipek
SM08 – Litten
SM09 – Togedemaru
SM10 – Shiinotic (stamped Sun & Moon)
SM11 – Bruxish (stamped Sun & Moon)
SM12 – Passimian (stamped Sun & Moon)
SM13 – Oranguru (stamped Sun & Moon)
SM14 – Lycanroc GX
SM15 – Zygarde
SM16 – Solgaleo GX
SM17 – Lunala GX
SM18 – Alolan Sandslash (stamped Sun & Moon Guardians Rising)
SM19 – Oricorio (stamped Sun & Moon Guardians Rising)
SM20 – Mudsdale (stamped Sun & Moon Guardians Rising)
SM21 – Drampa (stamped Sun & Moon Guardians Rising)
SM22 – Rowlet
SM23 – Litten
SM24 – Popplio
SM25 – Lurantis
SM26 – Tsareena
SM27 – Turtonator
SM28 – Vikavolt
SM29 – Mimikyu
SM30 – Tapu Koko
SM31 – Tapu Koko
SM32 – Tapu Bulu GX
SM33 – Tapu Koko GX
SM34 – Bewear GX
SM35 – Espeon GX#36 – Umbreon GX
SM37 – Decidueye GX
SM38 – Incineroar GX
SM39 – Primarina GX
SM40 – Jangmo-o#41 – Komala
SM42 – Cosmog#43 – Alolan Meowth
SM44 – Togedemaru
SM45 – Tapu Lele
SM46 – Seviper (stamped Sun & Moon Burning Shadows)
SM47 – Crabominable (stamped Sun & Moon Burning Shadows)
SM48 – Zygarde (stamped Sun & Moon Burning Shadows)
SM49 – Bewear (stamped Sun & Moon Burning Shadows)
SM50 – Shiny Tapu Koko GX
SM51 – Alolan Meowth
SM52 – Golisopod
SM53 – Dhelmise
SM54 – Lucario
SM55 – Decidueye
SM56 – Tsareena GX
SM57 – Ho-Oh GX
SM58 – Necrozma GX
SM59 – Marshadow GX
SM60 – Charizard GX
SM61 – Tapu Bulu
SM62 – Golisopod GX
SM63 – Salazzle GX
SM64 – Silvally
SM65 – Alolan Raichu
SM66 – Pheromosa GX
SM67 – Celesteela GX
SM68 – Xurkitree GX
SM69 – Buzzwole GX
SM70 – Shining Ho-Oh
SM71 – Kommo-o GX
SM72 – Alolan Raichu (stamped Sun & Moon Crimson Invasion)
SM73 – Salazzle (stamped Sun & Moon Crimson Invasion)
SM74 – Regirock (stamped Sun & Moon Crimson Invasion)
SM75 – Registeel (stamped Sun & Moon Crimson Invasion)
SM76 – Pikachu
SM77 – Mewtwo
SM78 – Champions Festival (stamped World Championships 2017)
SM79 – Shining Celebi
SM80 – Ho-Oh GX
SM81 – Pikachu
SM82 – Shining Lugia
SM83 – Zorua
SM84 – Zoroark GX
SM85 – Marshadow
SM86 – Pikachu
SM87 – Latias
SM88 – Latios
SM89 – Zoroark
SM90 – Raichu GX
SM91 – Silvally GX
SM92 – Tapu Fini
SM93 – Marshadow
SM94 – Wash Rotom (stamped Sun & Moon Ultra Prism)
SM95 – Lucario (stamped Sun & Moon Ultra Prism)
SM96 – Heatran (stamped Sun & Moon Ultra Prism)
SM97 – Gumshoos (stamped Sun & Moon Ultra Prism)
SM98 – Pikachu
SM99 – Mimikyu
SM100 – Lucario GX
SM101 – Dawn Wings Necrozma GX
SM102 – Dusk Mane Necrozma GX
SM103 – Lunala GX
SM104 – Solgaleo GX
SM105 – Lycanroc
SM106 – Dawn Wings Necrozma
SM107 – Dusk Mane Necrozma
SM108 – Ash's Pikachu (stamped I Choose You!)
SM109 – Ash's Pikachu (stamped I Choose You!)
SM110 – Ash's Pikachu (stamped I Choose You!)
SM111 – Ash's Pikachu (stamped I Choose You!)
SM112 – Ash's Pikachu (stamped I Choose You!)
SM113 – Ash's Pikachu (stamped I Choose You!)
SM114 – Ash's Pikachu (stamped I Choose You!)
SM115 – Pheromosa (stamped Sun & Moon Forbidden Light)
SM116 – Xurkitree (stamped Sun & Moon Forbidden Light)
SM117 – Malamar (stamped Sun & Moon Forbidden Light)
SM118 – Lycanroc (stamped Sun & Moon Forbidden Light)
SM119 – Exeggcute
SM120 – Rockruff
SM121 – Raikou GX
SM122 – Zygarde GX
SM123 – Dawn Wings Necrozma
SM124 – Dusk Mane Necrozma
SM125 – Naganadel GX
SM126 – Ultra Necrozma GX
SM127 – Alolan Sandslash
SM128 – Alolan Ninetales
SM129 – Kyogre (stamped Sun & Moon Celestial Storm)
SM130 – Manectric (stamped Sun & Moon Celestial Storm)
SM131 – Celesteela (stamped Sun & Moon Celestial Storm)
SM132 – Delcatty (stamped Sun & Moon Celestial Storm)
SM133 – Thundurus GX
SM134 – Tornadus GX
SM135 – Latias
SM136 – Latios
SM137 – Reshiram GX
SM138 – Zekrom GX
SM139 – Salamence GX
SM140 – Salamence
SM141 – White Kyurem GX
SM142 – White Kyurem
SM143 – Moltres
SM144 – Articuno
SM145 – Zapdos
SM146 – Leafeon GX
SM147 – Glaceon GX
SM148 – Champions Festival (stamped World Championships 2018)
SM149 – Suicune (stamped Sun & Moon Lost Thunder)
SM150 – Raikou (stamped Sun & Moon Lost Thunder)
SM151 – Giratina (stamped Sun & Moon Lost Thunder)
SM152 – Tapu Lele (stamped Sun & Moon Lost Thunder)
SM153 – Rowlet
SM154 – Salandit
SM155 – Kingdra GX
SM156 – Dragonite GX
SM157 – Pikachu
SM158 – Charizard (stamped Sun & Moon Team Up)
SM159 – Zapdos (stamped Sun & Moon Team Up)
SM160 – Nidoqueen (stamped Sun & Moon Team Up)
SM161 – Jirachi (stamped Sun & Moon Team Up)
SM162 – Pikachu
SM163 – Mimikyu
SM164 – Deoxys
SM165 – Ultra Necrozma
SM166 – Magikarp & Wailord GX
SM167 – Celebi & Venusaur GX
SM168 – Pikachu & Zekrom GX
SM169 – Eevee & Snorlax GX
SM170 – Detective Pikachu
SM171 – Flareon GX
SM172 – Vaporeon GX
SM173 – Jolteon GX
SM174 – Eevee GX
SM175 – Eevee GX
SM176 – Eevee GX
SM177 – Meltan
SM178 – Melmetal GX
SM179 – Volcanion (stamped Sun & Moon Unbroken Bonds)
SM180 – Stakataka (stamped Sun & Moon Unbroken Bonds)
SM181 – Melmetal (stamped Sun & Moon Unbroken Bonds)
SM182 – Persian (stamped Sun & Moon Unbroken Bonds)
SM183 – Pikachu
SM184 – Eevee
SM185 – Typhlosion
SM186 – Flareon
SM187 – Alolan Marowak GX
SM188 – Kangaskhan GX
SM189 – Blastoise GX
SM190 – Detective Pikachu
SM191 – Mewtwo & Mew GX
SM192 – Lucario & Melmetal GX
SM193 – Garchomp & Giratina GX
SM194 – Detective Pikachu
SM195 – Charizard GX
SM196 – Mewtwo GX
SM197 – Greninja GX
SM198 – Bulbasaur
SM199 – Psyduck
SM200 – Snubbull
SM201 – Reshiram & Charizard GX
SM202 – Amoonguss (stamped Sun & Moon Unified Minds)
SM203 – Tapu Fini (stamped Sun & Moon Unified Minds)
SM204 – Necrozma (stamped Sun & Moon Unified Minds)
SM205 – Terrakion (stamped Sun & Moon Unified Minds)
SM206 – Pikachu
SM207 – Sudowoodo
SM208 – Vikavolt
SM209 – Stakataka
SM210 – Moltres & Zapdos & Articuno GX
SM211 – Charizard GX
SM212 – Gyarados GX
SM213 – Raichu GX
SM214 – Mewtwo
SM215 – Mew
SM216 – Porygon-Z GX
SM217 – Trevenant & Dusknoir GX
SM218 – Buzzwole (stamped Sun & Moon Cosmic Eclipse)
SM219 – Entei (stamped Sun & Moon Cosmic Eclipse)
SM220 – Phione (stamped Sun & Moon Cosmic Eclipse)
SM221 – Blacephalon (stamped Sun & Moon Cosmic Eclipse)
SM222 – Mismagius
SM223 – Terrakion
SM224 – Celebi
SM225 – Victini
SM226 – Charizard
SM227 – Pikachu
SM228 – Armored Mewtwo
SM229 – Venusaur & Snivy GX
SM230 – Charizard & Braixen GX
SM231 – Champions Festival (Stamped World Championships 2019)
SM232 – Pikachu GX
SM233 – Eevee GX
SM234 – Pikachu
SM235 – Eevee
SM236 – Alolan Sandslash GX
SM237 – Leafeon
SM238 – Glaceon
SM239 – Carracosta GX
SM240 – Espeon & Deoxys GX
SM241 – Umbreon & Darkrai GX
SM242 – Eevee GX
SM243 – Regigigas
SM244 – Aipom
SM245 – Mismagius
SM246 – Sabrina & Brycen
XY
Promos 
SUN & MOON
PROMOS