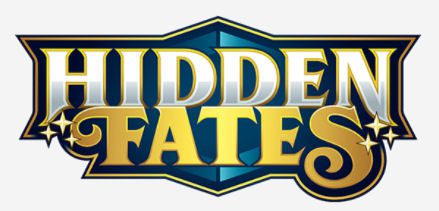 The Hidden Fates expansion set was released on 23rd August 2019 and contains a total of 163 cards. These are split into two sets:
The Standard Set which is made up of 68 regular cards and 1 secret rare.
The Shiny Vault set which comprises 94 shiny holo cards. Apart from the ultra and secret rare cards, these cards have gold holographic stars in their background artwork.
The standard set cards are numbered ?/68, while the shiny vault set are numbered SV?/SV94. The cards are marked with the Hidden Fates set symbol
Complete Hidden Fates Card List
Cards are listed Grouped by Rarity or in Numerical Order

Standard Set Grouped by Rarity
Art Cards
6/68   Pinsir GX  ★H
9/68   Charizard GX  ★H
14/68   Starmie GX  ★H
16/68   Gyarados GX  ★H
20/68   Raichu GX  ★H
31/68   Mewtwo GX  ★H
36/68   Onix GX  ★H
42/68   Wigglytuff GX  ★H
44/68   Moltres & Zapdos & Articuno GX  ★H
Ultra Rare
66/68   Moltres & Zapdos & Articuno  ★U
67/68   Giovanni's Exile  ★U
68/68   Jessie & James  ★U
Secret Rare
69/68   Moltres & Zapdos & Articuno  ★S
Holo
18/68   Vaporeon  ★H
24/68   Zapdos  ★H
48/68   Eevee  ★H
55/68   Brock's Training  ★H
58/68   Jessie & James  ★H
63/68   Misty's Water Command  ★H
Rare
3/68   Butterfree  ★
17/68   Lapras  ★
22/68   Electrode  ★
23/68   Jolteon  ★
27/68   Arbok  ★
29/68   Weezing  ★
32/68   Mew  ★
35/68   Golem  ★
40/68   Clefable  ★
43/68   Mr. Mime  ★
47/68   Kangaskhan  ★
50/68   Snorlax  ★
51/68   Bill's Analysis  ★
52/68   Blaine's Last Stand  ★
56/68   Erika's Hospitality  ★
Uncommon
2/68   Metapod  ◆
5/68   Scyther  ◆
8/68   Charmeleon  ◆
10/68   Magmar  ◆
30/68   Jynx  ◆
34/68   Graveler  ◆
45/68   Farfetch'd  ◆
46/68   Chansey  ◆
53/68   Brock's Grit  ◆
54/68   Brock's Pewter City Gym  ◆
57/68   Giovanni's Exile  ◆
59/68   Koga's Trap  ◆
60/68   Lt. Surge's Strategy  ◆
61/68   Misty's Cerulean City Gym  ◆
62/68   Misty's Determination  ◆
64/68   Pokemon Center Lady  ◆
65/68   Sabrina's Suggestion  ◆
Common
1/68   Caterpie  ●
4/68   Paras  ●
7/68   Charmander  ●
11/68   Psyduck  ●
12/68   Slowpoke  ●
13/68   Staryu  ●
15/68   Magikarp  ●
19/68   Pikachu  ●
21/68   Voltorb  ●
25/68   Ekans  ●
26/68   Ekans  ●
28/68   Koffing  ●
33/68   Geodude  ●
37/68   Cubone  ●
38/68   Clefairy ●
39/68   Clefairy ●
41/68   Jigglypuff  ●
49/68   Eevee  ●
Shiny Vault Set Grouped by Rarity
Shiny Art Cards
SV46/SV94   Leafeon GX  ★H
SV47/SV94   Decidueye GX  ★H
SV48/SV94   Golisopod GX  ★H
SV49/SV94   Charizard GX  ★H
SV50/SV94   Ho-Oh GX  ★H
SV51/SV94   Reshiram GX  ★H
SV52/SV94   Turtonator GX  ★H
SV53/SV94   Alolan Ninetales GX  ★H
SV54/SV94   Articuno GX  ★H
SV55/SV94   Glaceon GX  ★H
SV56/SV94   Greninja GX  ★H
SV57/SV94   Electrode GX  ★H
SV58/SV94   Xurkitree GX  ★H
SV59/SV94   Mewtwo GX  ★H
SV60/SV94   Espeon GX  ★H
SV61/SV94   Banette GX  ★H
SV62/SV94   Nihilego GX  ★H
SV63/SV94   Naganadel GX  ★H
SV64/SV94   Lucario GX  ★H
SV65/SV94   Zygarde GX  ★H
SV66/SV94   Lycanroc GX  ★H
SV67/SV94   Lycanroc GX  ★H
SV68/SV94   Buzzwole GX  ★H
SV69/SV94   Umbreon GX  ★H
SV70/SV94   Darkrai GX  ★H
SV71/SV94   Guzzlord GX  ★H
SV72/SV94   Scizor GX  ★H
SV73/SV94   Kartana GX  ★H
SV74/SV94   Stakataka GX  ★H
SV75/SV94   Gardevoir GX  ★H
SV76/SV94   Sylveon GX  ★H
SV77/SV94   Altaria GX  ★H
SV78/SV94   Noivern GX  ★H
SV79/SV94   Silvally GX  ★H
SV80/SV94   Drampa GX  ★H
Shiny Ultra Rare
SV81/SV94   Aether Foundation Employee  ★U
SV82/SV94   Cynthia  ★U
SV83/SV94   Fisherman  ★U
SV84/SV94   Guzma  ★U
SV85/SV94   Hiker  ★U
SV86/SV94   Lady  ★U
Shiny Secret Rare
SV87/SV94   Aether Paradise Conservation Area  ★S
SV88/SV94   Brooklet Hill  ★S
SV89/SV94   Mt. Coronet  ★S
SV90/SV94   Shrine of Punishment  ★S
SV91/SV94   Tapu Bulu  ★S
SV92/SV94   Tapu Fini  ★S
SV93/SV94   Tapu Koko  ★S
SV94/SV94   Tapu Lele  ★S
Shiny Holo Cards
SV1/SV94   Scyther  ★H
SV2/SV94   Rowlet  ★H
SV3/SV94   Dartrix  ★H
SV4/SV94   Wimpod  ★H
SV5/SV94   Pheromosa  ★H
SV6/SV94   Charmander  ★H
SV7/SV94   Charmeleon  ★H
SV8/SV94   Alolan Vulpix  ★H
SV9/SV94   Wooper  ★H
SV10/SV94   Quagsire  ★H
SV11/SV94   Froakie  ★H
SV12/SV94   Frogadier  ★H
SV13/SV94   Voltorb  ★H
SV14/SV94   Xurkitree  ★H
SV15/SV94   Seviper  ★H
SV16/SV94   Shuppet  ★H
SV17/SV94   Inkay  ★H
SV18/SV94   Malamar  ★H
SV19/SV94   Poipole  ★H
SV20/SV94   Sudowoodo  ★H
SV21/SV94   Riolu  ★H
SV22/SV94   Lucario  ★H
SV23/SV94   Rockruff  ★H
SV24/SV94   Buzzwole  ★H
SV25/SV94   Zorua  ★H
SV26/SV94   Guzzlord  ★H
SV27/SV94   Magnemite  ★H
SV28/SV94   Magneton  ★H
SV29/SV94   Magnezone  ★H
SV30/SV94   Beldum  ★H
SV31/SV94   Metang  ★H
SV32/SV94   Celesteela  ★H
SV33/SV94   Kartana  ★H
SV34/SV94   Ralts  ★H
SV35/SV94   Kirlia  ★H
SV36/SV94   Diancie  ★H
SV37/SV94   Altaria  ★H
SV38/SV94   Gible  ★H
SV39/SV94   Gabite  ★H
SV40/SV94   Garchomp  ★H
SV41/SV94   Eevee  ★H
SV42/SV94   Swablu  ★H
SV43/SV94   Noibat  ★H
SV44/SV94   Oranguru  ★H
SV45/SV94   Type: Null  ★H
Printable Card List Ordered by Rarity
Standard Set in Numerical Order
1/68   Caterpie  ●
2/68   Metapod  ◆
3/68   Butterfree  ★
4/68   Paras  ●
5/68   Scyther  ◆
6/68   Pinsir GX  ★H
7/68   Charmander  ●
8/68   Charmeleon  ◆
9/68   Charizard GX  ★H
10/68   Magmar  ◆
11/68   Psyduck  ●
12/68   Slowpoke  ●
13/68   Staryu  ●
14/68   Starmie GX  ★H
15/68   Magikarp  ●
16/68   Gyarados GX  ★H
17/68   Lapras  ★
18/68   Vaporeon  ★H
19/68   Pikachu  ●
20/68   Raichu GX  ★H
21/68   Voltorb  ●
22/68   Electrode  ★
23/68   Jolteon  ★
24/68   Zapdos  ★H
25/68   Ekans  ●
26/68   Ekans  ●
27/68   Arbok  ★
28/68   Koffing  ●
29/68   Weezing  ★
30/68   Jynx  ◆
31/68   Mewtwo GX  ★H
32/68   Mew  ★
33/68   Geodude  ●
34/68   Graveler  ◆
35/68   Golem  ★
36/68   Onix GX  ★H
37/68   Cubone  ●
38/68   Clefairy ●
39/68   Clefairy ●
40/68   Clefable  ★
41/68   Jigglypuff  ●
42/68   Wigglytuff GX  ★
43/68   Mr. Mime  ★
44/68   Moltres & Zapdos & Articuno GX  ★H
45/68   Farfetch'd  ◆
46/68   Chansey  ◆
47/68   Kangaskhan  ★
48/68   Eevee  ★H
49/68   Eevee  ●
50/68   Snorlax  ★
51/68   Bill's Analysis  ★
52/68   Blaine's Last Stand  ★
53/68   Brock's Grit  ◆
54/68   Brock's Pewter City Gym  ◆
55/68   Brock's Training  ★H
56/68   Erika's Hospitality  ★
57/68   Giovanni's Exile  ◆
58/68   Jessie & James  ★H
59/68   Koga's Trap  ◆
60/68   Lt. Surge's Strategy  ◆
61/68    Misty's Cerulean City Gym  ◆
62/68   Misty's Determination  ◆
63/68   Misty's Water Command  ★H
64/68   Pokemon Center Lady  ◆
65/68   Sabrina's Suggestion  ◆
66/68   Moltres & Zapdos & Articuno  ★U
67/68   Giovanni's Exile  ★U
68/68   Jessie & James  ★U
69/68   Moltres & Zapdos & Articuno  ★S
Shiny Vault Set in Numerical Order
SV1/SV94   Scyther  ★H
SV2/SV94   Rowlet  ★H
SV3/SV94   Dartrix  ★H
SV4/SV94   Wimpod  ★H
SV5/SV94   Pheromosa  ★H
SV6/SV94   Charmander  ★H
SV7/SV94   Charmeleon  ★H
SV8/SV94   Alolan Vulpix  ★H
SV9/SV94   Wooper  ★H
SV10/SV94   Quagsire  ★H
SV11/SV94   Froakie  ★H
SV12/SV94   Frogadier  ★H
SV13/SV94   Voltorb  ★H
SV14/SV94   Xurkitree  ★H
SV15/SV94   Seviper  ★H
SV16/SV94   Shuppet  ★H
SV17/SV94   Inkay  ★H
SV18/SV94   Malamar  ★H
SV19/SV94   Poipole  ★H
SV20/SV94   Sudowoodo  ★H
SV21/SV94   Riolu  ★H
SV22/SV94   Lucario  ★H
SV23/SV94   Rockruff  ★H
SV24/SV94   Buzzwole  ★H
SV25/SV94   Zorua  ★H
SV26/SV94   Guzzlord  ★H
SV27/SV94   Magnemite  ★H
SV28/SV94   Magneton  ★H
SV29/SV94   Magnezone  ★H
SV30/SV94   Beldum  ★H
SV31/SV94   Metang  ★H
SV32/SV94   Celesteela  ★H
SV33/SV94   Kartana  ★H
SV34/SV94   Ralts  ★H
SV35/SV94   Kirlia  ★H
SV36/SV94   Diancie  ★H
SV37/SV94   Altaria  ★H
SV38/SV94   Gible  ★H
SV39/SV94   Gabite  ★H
SV40/SV94   Garchomp  ★H
SV41/SV94   Eevee  ★H
SV42/SV94   Swablu  ★H
SV43/SV94   Noibat  ★H
SV44/SV94   Oranguru  ★H
SV45/SV94   Type: Null  ★H
SV46/SV94   Leafeon GX  ★H
SV47/SV94   Decidueye GX  ★H
SV48/SV94   Golisopod GX  ★H
SV49/SV94   Charizard GX  ★H
SV50/SV94   Ho-Oh GX  ★H
SV51/SV94   Reshiram GX  ★H
SV52/SV94   Turtonator GX  ★H
SV53/SV94   Alolan Ninetales GX  ★H
SV54/SV94   Articuno GX  ★H
SV55/SV94   Glaceon GX  ★H
SV56/SV94   Greninja GX  ★H
SV57/SV94   Electrode GX  ★H
SV58/SV94   Xurkitree GX  ★H
SV59/SV94   Mewtwo GX  ★H
SV60/SV94   Espeon GX  ★H
SV61/SV94   Banette GX  ★H
SV62/SV94   Nihilego GX  ★H
SV63/SV94   Naganadel GX  ★H
SV64/SV94   Lucario GX  ★H
SV65/SV94   Zygarde GX  ★H
SV66/SV94   Lycanroc GX  ★H
SV67/SV94   Lycanroc GX  ★H
SV68/SV94   Buzzwole GX  ★H
SV69/SV94   Umbreon GX  ★H
SV70/SV94   Darkrai GX  ★H
SV71/SV94   Guzzlord GX  ★H
SV72/SV94   Scizor GX  ★H
SV73/SV94   Kartana GX  ★H
SV74/SV94   Stakataka GX  ★H
SV75/SV94   Gardevoir GX  ★H
SV76/SV94   Sylveon GX  ★H
SV77/SV94   Altaria GX  ★H
SV78/SV94   Noivern GX  ★H
SV79/SV94   Silvally GX  ★H
SV80/SV94   Drampa GX  ★H
SV81/SV94   Aether Foundation Employee  ★U
SV82/SV94   Cynthia  ★U
SV83/SV94   Fisherman  ★U
SV84/SV94   Guzma  ★U
SV85/SV94   Hiker  ★U
SV86/SV94   Lady  ★U
SV87/SV94   Aether Paradise Conservation Area  ★S
SV88/SV94   Brooklet Hill  ★S
SV89/SV94   Mt. Coronet  ★S
SV90/SV94   Shrine of Punishment  ★S
SV91/SV94   Tapu Bulu  ★S
SV92/SV94   Tapu Fini  ★S
SV93/SV94   Tapu Koko  ★S
SV94/SV94   Tapu Lele  ★S
Printable Card List in Numerical Order