What is the Arceus V Figure Collection Box?
The Pokémon Arceus V Figure Collection Box was scheduled for release on 22nd April 2022, but was delayed to 6th May.
Arceus is the mascot Pokémon for the Brilliant Stars expansion set which released on 25th February 2022.
The V form was introduced with the launch of the Pokémon TCG Sword and Shield series in the Spring of 2020. V form Pokémon can evolve into VMAX form or VSTAR form. 
The artwork of the Arceus V Figure Collection Box departs from the white and gold colouring generally associated with Arceus . The box features Arceus in the bottom right-hand corner. A large V frames the bottom of the cut-out area while the top is coloured magenta and blue echoing the fact that Arceus can become a fire-type or water-type Pokémon. 
The box dimensions have not been released but it is likely that the box will be the same as previous V boxes and measure 29 x 23 x 4 cm (11.5 x 9 x 1.6 inches).
What's in the Box?
Special Collection boxes are not generally shrink-wrapped but the contents are sealed in thick plastic packaging and the cardboard outer packaging is very well sealed.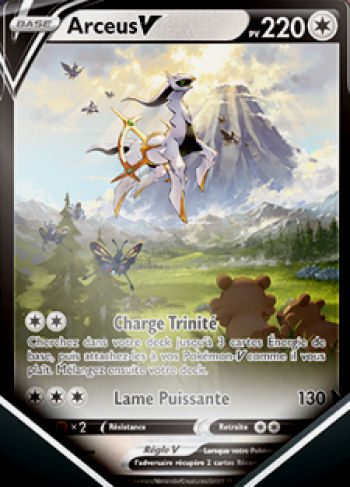 The contents of the box have been revealed:
An Arceus collectible figure
An Arceus V Promo Card
An online code card
4 Booster Packs – the image shows 2 x Brilliant Stars, 1 x Fusion Strike and 1 x Vivid Voltage
Please note: The images shown are of the French product, they will be replaced by English versions once they are available.