Doublade Pokédex Information
Doublade is a Steel / Ghost type Pokémon that first appeared in the games Pokémon X and Y which released in October 2013. 
Doublade is a Pokémon that resembles a pair of crossed swords. Each sword is silver coloured and sits inside a gold / bronze coloured scabbard. The pommel of each sword is gold and decorated with three circles, two of which are white with a single black line while the other holds a single pink eye. The hilt of each sword is gold. Its purple arms extend from the base of the hilt and become wider at the elbows ending in wide pink serrated blades. Honedge evolves into twins. The two blades rub together to emit a metallic sound that unnerves opponents.
Contents
Doublade Pokédex Facts
Evolutions
Doublade Pokédex Entries
TCG Cards
Doublade Facts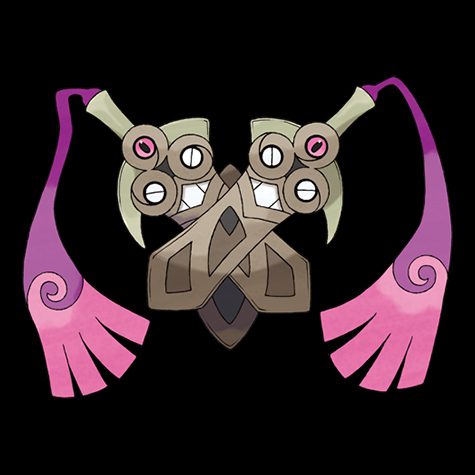 English Name – Doublade
Japanese Name – Nidangiru
First Appearance – 2013 (Pokémon X and Y)
Generation – VI
Based on – Sword
Pokédex Number – 0680
Category – Sword
Height – 0.8 m
Weight – 4.5 kg
Gender – Male, Female 
Primary Type – Steel
Secondary Type – Ghost
Weakness – Dark, Ghost, Ground, Fire
Special Ability – No Guard
Doublade Evolutions
Evolution – Honedge evolves to Doublade (Level 35); evolves to Aegislash (with Dusk Stone)
| | | |
| --- | --- | --- |
| Honedge | Level 35 | Doublade |
| Dusk Stone | Aegislash | |
Doublade Pokédex Entries / Games
Pokémon X and Y 2013 
Omega Ruby, Alpha Sapphire 2015
Sword and Shield  2019 
Doublade Card List – (scroll to bottom for gallery view)
XY Base Set 2014

Stage – 1
HP –  80
Speciality – None
Card Number – 84/146
XY Primal Clash 2015

Stage – 1
HP –  80
Speciality – None
Card Number – 99/160
XY BREAKPoint 2016

Stage – 1
HP –  80
Speciality – None
Card Number – 61/122
SM Forbidden Light 2018


Stage – 1
HP – 80
Speciality – None
Card Number – 48/131
SM Team Up 2019


Stage – 1
HP – 90
Speciality – None
Card Number – 108/181
SM Unified Minds 2019


Stage – 1
HP – 90
Speciality – None
Card Number – 94/236
SWSH Rebel Clash 2020

Stage – 1
HP – 90
Speciality – None
Card Number – 134/192
SWSH Battle Styles 2021


Stage – 1
HP – 80
Speciality – None
Card Number – 106/163
SV Paradox Rift 2023


Stage – 1
HP – 90
Speciality – None
Card Number – 132/182

Stage – 1
HP – 90
Speciality – None
Card Number – 133/182
Gallery