Shellder Pokédex Information
Shellder is a Water type Pokémon that first appeared in the games Pokémon Red and Blue which released in Japan on 12th September 1999. It evolves to Cloyster.
Shellder is based on bi-valve mollusc such as a clam. It is encased in a shell that is harder than diamond. Inside, however, it is surprisingly tender. Its head can be seen peering out from its part-open shell. It has a long red tongue which pokes outside the shell. The shell is purple with spikes on the top and bottom.
Contents
Shellder Pokédex Facts
Evolutions
Shellder Pokédex Entries
TCG Cards
Shellder Pokédex Facts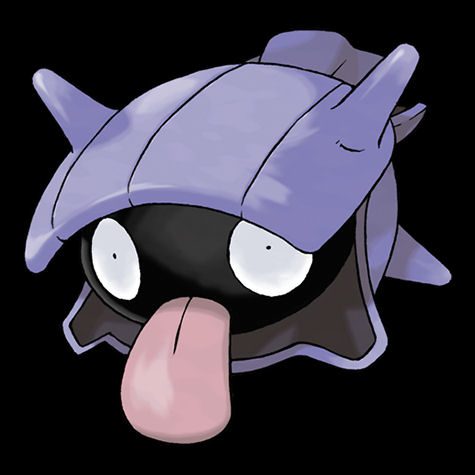 English Name – Shellder
Japanese Name – Sherudā
First Appearance – 1999 (Pokémon Red and Blue)
Based on – Clam / Oyster / Pearl
Generation – I
Pokédex Number – 0090
Category – Bivalve
Height – 0.3 m
Weight – 4 kg
Gender – Male, Female
Type – Water
Weakness – Electric, Grass
Special Abilities – Shell Armor, Skill Link
Shellder Evolutions
Evolution – Shellder evolves to Cloyster (with Water Stone)
| | | |
| --- | --- | --- |
| Shellder | Water Stone | Cloyster |
Shellder Pokédex Entries / Games
Pokémon Red and Blue 1999
Pokémon Yellow  2000
Pokémon Stadium  2000
Gold and Silver  1999
Pokémon Crystal 2000
Pokémon Stadium 2 2000
Ruby and Sapphire  2002
Pokémon Emerald  2004
FireRed and LeafGreen  2005
Diamond and Pearl  2006
Platinum  2008
HeartGold and SoulSilver  2009
Pokémon Black and White  2011
Black 2 and White 2  2012 
Pokémon X and Y  2013
Omega Ruby, Alpha Sapphire  2015  
Sun and Moon 2016
Ultra Sun and Ultra Moon 2017
Let's Go Pikachu, Let's Go Eevee 2018
Sword and Shield 2019
Brilliant Diamond, Shining Pearl  2021
Scarlet and Violet 2022
Shellder Card List – (scroll to bottom for gallery view)
Pokémon Fossil 1999

Stage – Basic
HP – 30
Level – 8
Card Number – 54/62
Pokémon Gym Heroes 2000


Stage – Basic
HP – 40
Level – 10
Card Number – 89/132
Pokémon Expedition Base Set 2002


Stage – Basic
HP – 50
Speciality – None
Card Number – 129/165
EX FireRed, LeafGreen 2004


Stage – Basic
HP – 50
Speciality – None
Card Number – 79/112
EX Dragon Frontiers 2006


Stage – Basic
HP – 40
Speciality – None
Card Number – 63/101
DP Secret Wonders 2007

Stage – Basic
HP – 50
Level – 10
Card Number – 105/132
XY Base Set 2014


Stage – Basic
HP – 60
Speciality – None
Card Number – 31/146
XY BREAKPoint 2015

Stage – Basic
HP – 60
Speciality – None
Card Number – 22/122
Stage – Basic
HP – 60
Speciality – None
Card Number – 23/122
XY Generations 2016


Stage – Basic
HP – 60
Speciality – None
Card Number – 19/83
Sun and Moon Base Set 2017


Stage – Basic
HP – 60
Speciality – None
Card Number – 33/149
Sword and Shield Base Set 2020

Stage – Basic
HP –  70
Speciality – None
Card Number – 040/202
SWSH Fusion Strike 2021

Stage – Basic
HP –  70
Speciality – None
Form – Rapid Strike
Card Number – 050/264
SV 151 2023


Stage – Basic
HP –  70
Speciality – None
Card Number – 090/165
Gallery