To Be
Confirmed
FUSION
STRIKE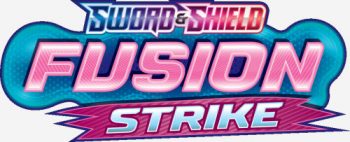 The Fusion Strike expansion set is scheduled for launch on 12th November 2021. The set is the 8th expansion in the Sword and Shield Series.
The set will contain 200+ cards including:
25 Fusion Strike cards, 20 Pokémon V, 13 full-art Pokémon V, 8 VMAX, 20 Trainer cards, 7 full art supporter cards and 1 special energy card.
PLEASE NOTE: The Fusion Strike card list below is based on what is known so far. It is not a definitive list and is subject to change at any point prior to the official card list being released in October.
Fusion Strike Card List
VMAX Cards
Chandelure VMAX
Boltund VMAX
FS Mew VMAX
Greedent VMAX
V Cards
Tsareena V
Chandelure V
Crabominable V
Boltund V
FS Mew V
FS Hoopa V
FS Genesect V
Greedent V
Secret Rare
Tsareena V
Chandelure V
Crabominable V
Boltund V
Mew V
Mew V alt art
Hoopa V
Genesect V
Genesect V alt art
Greedent V
Greedent V alt art
Sidney
Elesa's Sparkle
Dancer
Chili, Cilan & Cress
Mew VMAX
Secret Rainbow
Chandelure VMAX
Boltund VMAX
Mew VMAX
Greedent VMAX
Sidney
Elesa's Sparkle
Dancer
Chili, Cilan & Cress
Gold Secret Rare
Flaaffy
Power Tablets
Training Court
Grass Energy
Fire Energy
Regular Cards
Caterpie
Metapod
Butterfree
Shroomish
Breloom
Maractus
FS Shelmet
FS Accelgor
Virizion
Grubbin
Growlithe
Arcanine
Heatmor
FS Oricorio
RS Staryu
RS Starmie
Totodile
Croconaw
Feraligatr
FS Clamperl
FS Huntail
FS Gorebyss
Pyukumuku
Snom
Frosmoth
Helioptile
Heliolisk
Chargabug
Vikavolt
FS Toxel
FS Toxtricity
Jynx
Snubbull
Granbull
Galarian Corsola
Galarian Cursola
FS SS RS Deoxys
Munna
Musharna
FS Meloetta
FS Dreepy
FS Drakloak
FS Dragapult
Geodude
Graveler
Golem
Onix
Steelix
Drillbur
Falinks
Galarian Zigzagoon
Galarian Linoone
Galarian Obstagoon
Trubbish
Garbodor
Vullaby
Mandibuzz
Excadrill
Durant
Togedemaru
SS Meltan
SS Melmetal
Corviknight
FS Latias
FS Latios
Goomy
Sliggoo
Goodra
Dunsparce
FS Smeargle
Skitty
Delcatty
Bunnelby
Diggersby
Rookidee
Corvisquire
FS Cross Receiver
FS Cross Switcher
Battle VIP Pass
FS Power Tablets
Sponge Gloves
Grand Bell of Remembrance
Sydney
FS Elesa's Sparkle
Dancer
FS Chili, Cilan & Cress
Skate Park
FS Fusion Energy
Cut from Evolving Skies
Sewaddle
Swadloon
Leavanny
Pansage
Simisage
Dewpider
Araquanid
Vulpix
Ninetales
Slugma
Magcargo
Pansear
Simisear
Sizzlipede
Centiskorch
Marill
Azumarill
Shellder
Cloyster
Mantine
Mudkip
Marshtomp
Swampert
Panpour
Simipour
Clauncher
Clawitzer
Galarian Darumaka
Galarian Darmanitan
Voltorb
Electrode
Plusle
Minun
Rotom
Tynamo
Eelektrik
Eelektross
Toxel
Toxtricity
Mawile
Jigglypuff
Wigglytuff
Sigilyph
Sandygast
Palossand
Indeedee
Sandshrew
Sandslash
Gligar
Gliscor
Makuhita
Hariyama
Baltoy
Claydol
Landorus
Pancham
Stufful
Bewear
Absol
Croagunk
Toxicroak
Pangoro
Impidimp
Morgrem
Grimmsnarl
Galarian Meowth
Galarian Perrserker
Skarmory
Klefki
Cufant
Copperajah
Turtonator
Meowth
Persian
Kangaskhan
Wooloo
Dubwool
Chansey
Blissey
Stantler
Schoolboy
Schoolgirl
Shauna
To Be
Confirmed
FUSION
STRIKE