What is the Shining Fates Mad Party Pin Collection?
The Shining Fates Mad Party Pin Collection is a set of four special collection boxes. Each box features one of Polteageist, Bunnelby, Galarian Mr Rime or Dedenne. 
The special collection set was officially released on 19th February 2021, the launch date for the Shining Fates expansion set. However, there were severe shortages of all Shining Fates products and many distributors did not receive their allocation of these products until some time after launch date.
Additionally, the Shining Fates set was heavily allocated and many stockists had oversold on presale. This meant that customers had to wait for the second wave of products which was released in April 2021.
The boxes are much smaller than regular collection boxes, measuring 17.9 cm (7 inches) by 19.7 (7.75 inches). They are not shrink-wrapped but are well sealed 
What's in the Box?
After unsealing the box flap at the bottom of the box, the contents can be slid out. They are housed in a black plastic tray and protected with a clear plastic cover.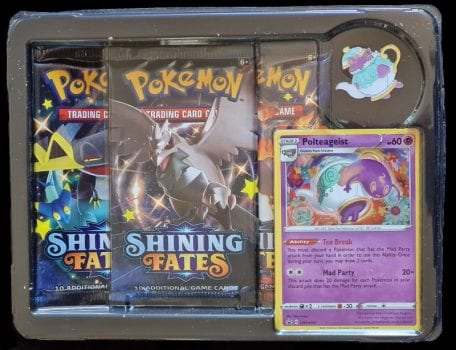 Each box contains:
A code card for the online TCG
Three random Shining Fates booster packs
A pin badge of the featured character for that box
A promo card showing the featured character. Galarian Mr Rime SWSH079, Dedenne SWSH080, Polteageist SWSH081, Bunnelby SWSH082.