Walrein Pokédex Information
Walrein first appeared in the game Pokémon Ruby and Sapphire which released in Japan on November 21st 2002. 
This Pokémon resembles a walrus. Its body is blue with lighter blue markings below its neck and on its tail. It has two large tusks and white fur around its face. Walrein form herds of 20 to 30 individuals. When a threat appears, the herd's leader will protect the group with its life.
Contents
Walrein Pokédex Facts
Evolutions
Walrein Pokédex Entries
TCG Cards
Walrein Pokédex Facts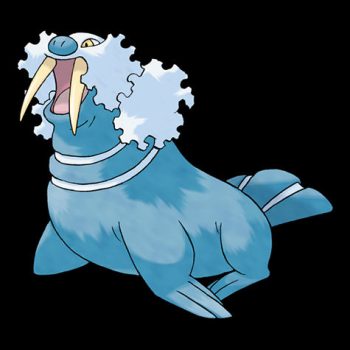 English Name – Walrein
Japanese Name – Todozeruga
First Appearance – 2002 (Pokémon Ruby and Sapphire)
Based on – Walrus
Generation – III
Pokédex Number – 365
Category – Ice Break
Height – 1.4 m
Weight – 150.6 kg
Gender – Male and Female
Primary Type – Ice
Secondary Type – Water
Weaknesses – Electric, Fighting, Grass, Rock
Special Abilities – Ice Body, Thick Fat
Walrein Evolutions
Evolution – Spheal evolves to Sealeo (level 32); evolves to Walrein (level 44)
Walrein Pokédex Entries / Games
Ruby and Sapphire  2002
FireRed, LeafGreen  2004
Pokémon Emerald  2004
Diamond and Pearl  2006
Platinum  2008
HeartGold and SoulSilver  2009
Pokémon Black and White  2011
Black 2 and White 2  2012
Pokémon X and Y  2014   
Omega Ruby, Alpha Sapphire  2015  
Sword and Shield  2019
Brilliant Diamond, Shining Pearl  2021
Legends Arceus  2022
Walrein Card List – (scroll to bottom for gallery view)
EX Team Magma vs Team Aqua  2004


Stage – 2
HP – 120
Speciality – None
Card Number – 6/95
EX Hidden Legends  2004

Stage – 2
HP – 120
Speciality – None
Card Number – 15/101
EX Legend Maker  2006


Stage – 2
HP – 150
Speciality – ex
Card Number – 89/92
EX Power Keepers  2007

Stage – 2
HP -150
Speciality ex
Card Number – 99/108
DP Mysterious Treasures  2007


Stage – 2
HP -130
Level – 51
Card Number – 39/123
Platinum Rising Rivals 2009

Stage – 2
HP -140
Level – 59
Card Number – 36/111
BW Dragons Exalted  2012


Stage – 2
HP – 140
Speciality – None
Card Number – 31/124
XY Flashfire  2014


Stage – 2
HP – 150
Speciality – None
Card Number – 26/106
XY Primal Clash 2015


Stage – 2
HP – 150
Speciality – None
Card Number – 48/160
XY Double Crisis 2015


Stage – 2
HP – 140
Speciality – None
Card Number – 5/34
SM Cosmic Eclipse 2019


Stage – 2
HP – 160
Speciality – None
Card Number – 52/236
SWSH Chilling Reign 2021


Stage – 2
HP – 170
Speciality – None
Card Number – 039/198
Gallery