Wartortle Pokédex Information
Wartortle is a Water type Pokémon that first appeared in Pokémon Red and Blue which released internationally on 28th September 1998.
Wartortle is a blue turtle that walks on two legs. It has pale blue fluffy ears and a pale blue tail. It is amphibious and can live on land and in the water and is a good swimmer. It has a shell that it can withdraw into for protection. If its shell has algae on it, then it shows that Wartortle is very old.
Contents
Wartortle Pokédex Facts
Wartortle Evolutions
Wartortle Pokédex Entries
Wartortle Cards
Wartortle Pokédex Facts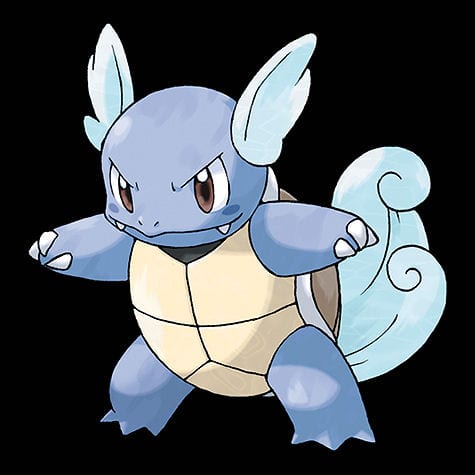 English Name – Wartortle
Japanese Name – Kameru
First Appearance – 1996 (Pokémon Red and Blue)
Generation – I
Based on – Turtle
Pokédex Number – 0008
Category – Turtle
Height – 1.0 m
Weight – 22.5 kg
Gender – Male or Female
Type – Water
Weakness – Grass, Electric
Special Ability – Torrent
Wartortle Evolutions
Evolution – Squirtle evolves to Wartortle (level 16), and evolves to Blastoise (level 36)
| | | |
| --- | --- | --- |
| Squirtle | Level 16 | Wartortle |
| Level 36 | Blastoise | |
Wartortle Pokédex Entries – Games Featuring Wartortle
Pokémon Red and Blue  1998
Pokémon Yellow  1999
Pokémon Stadium  2000
Pokémon Gold and Silver  2000
Pokémon Crystal  2001
Pokémon Stadium 2  2001
Pokémon Ruby and Sapphire  2002 
Pokémon Emerald  2004  
FireRed and LeafGreen  2004
Diamond and Pearl  2007  
Pokémon Platinum  2009
HeartGold and SoulSilver  2010
Black and White  2011
Black2 and White2  2012
Pokémon X and Y  2013
Omega Ruby and Alpha Sapphire  2014 
Let's Go Pikachu and Let's Go Eevee  2018
Sword and Shield  2019
Brilliant Diamond, Shining Pearl  2021
Pokémon Cards Featuring Squirtle – (scroll to bottom for gallery view)
Base Set 1999


Stage 1
HP – 70
Level 22
Card Number – 42/102
Base Set 2 2000

Stage 1
HP – 70
Level 63
Card Number – 63/130
Team Rocket 2000


Stage 1
HP – 60
Level 21
Card Numbers – 46/82
Southern Islands 2001


Stage 1
HP – 60
Level 20
Card Numbers – 15/18
Legendary Collection 2002


Stage 1
HP – 60
Level 21
Card Number – 39/110
Expedition Base 2002


Stage 1
HP – 80
Speciality – None
Card Numbers – 92/165
EX Fire Red and Leaf Green 2004


Stage 1
HP – 80
Speciality – None
Card Numbers – 50/112
EX Crystal Guardians 2006


Stage 1
HP – 70
Speciality – None
Card Numbers – 42/100

Stage 1
HP – 80
Speciality – None
Card Numbers – 43/100
Diamond and Pearl Secret Wonders 2007


Stage 1
HP – 80
Level 28
Card Number – 75/132
Platinum Base Set 2009

Stage 1
HP – 80
Level 25
Card Number – 65/127
HGSS Unleashed 2010


Stage 1
HP – 80
Speciality – None
Card Number – 42/95
BW Boundaries Crossed 2012

Stage 1
HP – 80
Speciality – None
Card Number – 30/149
BW Plasma Blast 2013


Stage 1
HP – 80
Speciality – None
Card Number – 15/101
Sun & Moon Team Up 2019


Stage 1
HP – 90
Speciality – None
Card Numbers – 24/181
Sun & Moon Unbroken Bonds 2019


Stage 1
HP – 70
Speciality – None
Card Number – 34/214
Pokémon Go 2022

Stage 1
HP – 90
Speciality – None
Card Number – 016/078
Scarlet and Violet 151 2023

Stage – 1
HP – 100
Speciality – None
Card Number – 008/165

Stage – 1
HP – 100
Speciality – None
Card Number – 171/165
Gallery