What are the Autumn 2022 Stacking Tins?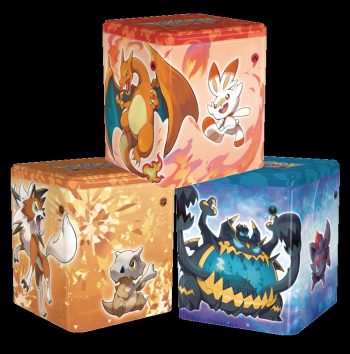 In the Spring of 2022, Pokémon announced a new product line – Pokémon Stacking Tins. 
The first three of these tins – Grass, Water and Electric released on 25th February 2022
The Autumn 2022 Stacking Tins feature Fire, Fighting and Darkness types of Pokémon. The Fire tin depicts Charizard and Scorbunny, the Fighting tin shows Lycanroc and Cubone and the Darkness tin depicts Guzzlord and Gengar. 
The tins are rectangular in shape with rounded corners and a removable top lid. The tin dimensions have been released and they will measure 12 cm (4.8 inches) x 10 cm (3.9 inches). They are designed to be stacked one on top of the other.
The US recommended retail price is $12.99, while in the UK they are on sale for £12.99. 
What is in the Pokémon Stacking Tins
What is inside the Autumn 2022 Stacking Tins? 
Each of the three types – Fire, Fighting and Dark will contain:
3 booster packs 
1 Pokémon coin.