Beedrill Pokédex Information
Beedrill is a Bug / Poison type Pokémon that first appeared in Pokémon Red and Blue which released internationally on 28th September 1998.
Beedrill is a four-legged insect that is based on a bee or wasp. It has a yellow segmented body with black stripes on the third segment. Its four limbs are attached to the second segment and the upper two have conical stingers at the ends, while Beedrill stands on the lower two. The head has two red eyes and two antennae attached. It also has two pairs of wings on its back. It has three poisonous stingers on its forelegs and its tail. They are used to jab its enemy repeatedly.
Beedrill can evolve to Mega form with Beedrillite. In this form it is bigger and heavier and more dangerous with large stingers at the ends of all four limbs and its tail. Its legs have become poison stingers. It stabs its prey repeatedly with the stingers on its limbs, dealing the final blow with the stinger on its rear.
Contents
Beedrill Pokédex Facts
Evolutions
Beedrill Pokédex Entries
Card List
Beedrill Pokédex Facts
English Name – Beedrill
Japanese Name – Supiā
First Appearance – 1996 (Pokémon Red and Blue)
Generation – I
Based on – Bee / Wasp
Pokédex Number – 0015
Regular Form
Category – Poison Bee
Height – 1 m
Weight – 29.5 kg
Gender – Male or Female
Primary Type – Bug
Secondary Type – Poison
Weakness – Fire, Flying, Psychic, Rock
Special Ability – Swarm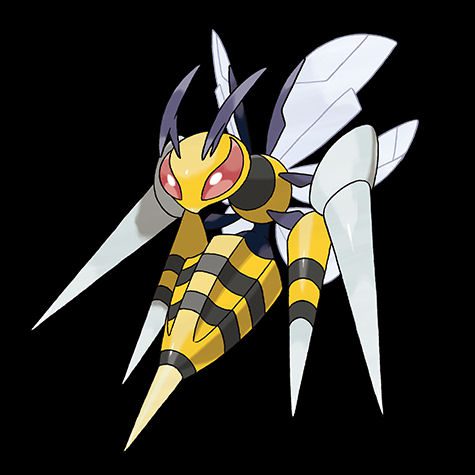 Mega Form
Category – Poison Bee
Height – 1.4 m
Weight – 40.5 kg
Gender – Unknown
Primary Type – Bug
Secondary Type – Poison
Weakness – Fire, Flying, Psychic, Rock
Special Ability – Adaptability
Beedrill Evolutions
Evolution – Weedle evolves to Kakuna (level 7), and evolves to Beedrill (level 10), 
| | | |
| --- | --- | --- |
| Weedle | Level 7 | Kakuna |
| Level 10 | Beedrill | |
Beedrill Pokédex Entries / Games
Pokémon Red and Blue  1998
Pokémon Yellow  1999
Pokémon Stadium  2000
Pokémon Gold and Silver  2000
Pokémon Crystal  2001
Pokémon Stadium 2  2001
Pokémon Ruby and Sapphire  2002 
Pokémon Emerald  2004  
FireRed and LeafGreen  2004
Diamond and Pearl  2007  
Pokémon Platinum  2009
HeartGold and SoulSilver  2010
Black and White  2011
Black 2 and White 2  2012
Pokémon X and Y  2013
Omega Ruby and Alpha Sapphire  2014 
Let's Go Pikachu and Let's Go Eevee  2018
Brilliant Diamond, Shining Pearl  2021
Beedrill Card List – (scroll to bottom for gallery view)
Base Set 1999

Stage 2
HP – 80
Level 32
Card Number – 17/102
Base Set 2 2000

Stage 2
HP – 80
Level 32
Card Number – 21/130
Gym Challenge 2000


Stage 2
HP – 80
Level 34
Card Number – 9/132
Neo Discovery 2001

Stage 2
HP – 80
Level 36
Card Number – 18/75
Legendary Collection 2002

Stage 2
HP – 80
Level 32
Card Number – 20/110
EX Skyridge 2003


Stage 2
HP – 80
Speciality – None
Card Numbers – 5/144
EX Fire Red and Leaf Green 2004

Stage 2
HP – 90
Speciality – None
Card Number – 1/112
EX Delta Species 2005


Stage 2
HP – 90
Speciality – None
Card Number – 1/113
DP Great Encounters 2008

Stage 2
Level 41
Speciality – None
Card Number – 13/106
Platinum Rising Rivals 2008


Stage 2
HP – 110
Level 47
Card Number – 15/111
Platinum Arceus 2009


Stage – Basic
HP – 80
Level 56
Card Number – 53/99
HGSS Unleashed  2010


Stage 2
HP – 110
Speciality – None
Card Number – 12/95
BW Plasma Freeze  2013

Stage 2
HP – 110
Speciality – None
Card Number – 3/116
XY Promo Cards 2013

Stage – Basic
HP – 160
Speciality – EX
Card Number – XY157

Stage – Mega
HP – 200
Speciality – EX
Card Number – XY158
XY Base Set 2014

Stage 2
HP – 120
Speciality – None
Card Number – 5/146
XY Primal Clash 2015

Stage 2
HP – 120
Speciality – None
Card Number – 3/160
XY Evolutions 2016

Stage 2
HP – 120
Level 32
Card Number – 7/108
SM Crimson Invasion 2017


Stage 2
HP – 120
Speciality – None
Card Numbers – 3/111
SM Team Up 2019


Stage 2
HP – 130
Speciality – None
Card Numbers – 5/181
SWSH Champion's Path 2020

Stage 2
HP – 140
Speciality – None
Card Number – 004/073
SWSH Vivid Voltage 2020

Stage 2
HP – 130
Speciality – None
Card Number – 003/185
SWSH Chilling Reign 2021


Stage 2
HP – 130
Speciality – None
Form – Single Strike
Card Number – 003/198
SWSH Astral Radiance 2022

Stage – Basic
HP – 210
Speciality – V
Card Number – 001/189

Stage – Basic
HP – 210
Speciality – V
Card Number – 160/189
Stage – Basic
HP – 210
Speciality – V
Card Number – 161/189
SV 151 2023


Stage – 2
HP – 130
Speciality – None
Card Number – 015/165
Gallery