Camerupt Pokédex Information
Camerupt is a Fire / Ground type Pokémon that first appeared in the game Pokémon Ruby and Sapphire which released in Japan on November 21st 2002. It evolves from Numel.
Camerupt is a four-legged character based on a Bactrian camel. Its body and head are covered with shaggy brown fur while its face is pale grey. It has three blue circle markings on either side of its body. In Mega form it is bigger and heavier and its fur is much longer. The two humps have become a single volcano. Camerupt has a volcano inside its body. Magma of 18,000 degrees Fahrenheit courses through its body. Occasionally, the humps on this Pokémon's back erupt, spewing the superheated magma.
Contents
Camerupt Pokédex Facts
Evolutions
Camerupt Pokédex Entries
TCG Cards
Camerupt Pokédex Facts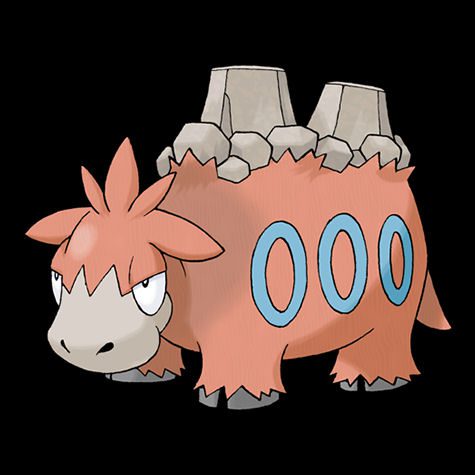 English Name – Camerupt
Japanese Name – Bakūda
First Appearance – 2002 (Pokémon Ruby and Sapphire)
Based on – Camel
Generation – III
Pokédex Number – 0323
Normal Form
Category – Eruption
Height – 1.9 m
Weight – 220 kg
Gender – Male, Female
Primary Type – Fire
Secondary Type – Ground
Weaknesses – Ground, Water
Special Abilities – Magma Armor, Solid Rock
Mega Form
Category – Eruption
Height – 2.5 m
Weight – 320.5 kg
Gender – Unknown
Primary Type – Fire
Secondary Type – Ground
Weaknesses – Ground, Water
Special Abilities – Sheer Force
Camerupt Evolution
Evolution – Numel evolves to Camerupt (level 33)
Camerupt Pokédex Entries / Games
Ruby and Sapphire  2002
FireRed, LeafGreen  2004
Pokémon Emerald  2004
Diamond and Pearl  2006
Platinum  2008
HeartGold and SoulSilver  2009
Pokémon Black and White  2011
Black 2 and White 2  2012
Pokémon X and Y  2014   
Omega Ruby, Alpha Sapphire  2015 
Brilliant Diamond, Shining Pearl  2021
Scarlet and Violet 2022
Camerupt Card List – (scroll to bottom for gallery view)
EX Ruby and Sapphire 2003

Stage – 1
HP – 90
Speciality – None
Card Number – 4/109
EX Dragon 2003

Stage – 1
HP – 80
Speciality – None
Card Number – 24/97
EX Team Magma vs Team Aqua 2004


Stage – 1
HP – 80
Speciality – None
Card Number – 19/95
EX Deoxys 2005


Stage – 1
HP – 90
Speciality – None
Card Number – 4/107
EX Emerald 2005

Stage – 1
HP – 80
Speciality – None
Card Number – 23/106

Stage – 1
HP – 120
Speciality – ex
Card Number – 92/106
EX Holon Phantoms 2006

Stage – 1
HP – 90
Speciality – None
Card Number – 36/110
EX Crystal Guardians 2006


Stage – 1
HP – 80
Speciality – None
Card Number – 3/100
DP Legends Awakened 2008

Stage – 1
HP – 100
Level – 41
Card Number – 47/146
Platinum Supreme Victors 2009


Stage – 1
HP – 120
Level – 49
Card Number – 18/147
Stage – 1
HP – 100
Level – 57
Card Number – 19/147
BW Boundaries Crossed 2012

Stage – 1
HP – 130
Speciality – None
Card Number – 22/149
XY Promo Cards 2014 – 2016

Stage – Mega
HP – 230
Speciality – None
Card Number – XY198

Camerupt Spirit Link
Trainer – Item
Card Number – XY199
XY Primal Clash 2015


Stage – Basic
HP – 180
Speciality – EX
Card Number – 29/160
Stage – Basic
HP – 180
Speciality – EX
Card Number – 146/160
XY Double Crisis 2015


Stage – 1
HP – 110
Speciality – None
Card Number – 2/34
XY BREAKPoint 2016


Stage – 1
HP – 130
Speciality – None
Card Number – 13/122
SM Crimson Invasion 2017


Stage – 1
HP – 140
Speciality – None
Card Number – 14/111
SM Unified Minds 2019


Stage – 1
HP – 140
Speciality – None
Card Number – 24/236
SWSH Pokémon Go 2022

Stage – 1
HP – 140
Speciality – None
Card Number – 014/078
SV Obsidian Flames 2023

Stage – 1
HP –  140
Speciality – None
Card Number – 032/197
Gallery