Torkoal Pokédex Information
Torkoal first appeared in the game Pokémon Ruby and Sapphire which released in Japan on November 21st 2002. 
Torkoal is a four-legged character based on a tortoise. It has an orange body, legs, head and neck with grey markings. Its shell is grey with dark grey edging. It burns coal inside its shell for energy and blows out smoke from its shell and nose. It blows out black soot if it is endangered.
Contents
Torkoal Pokédex Facts
Evolutions
Torkoal Pokédex Entries
TCG Cards
Torkoal Pokédex Facts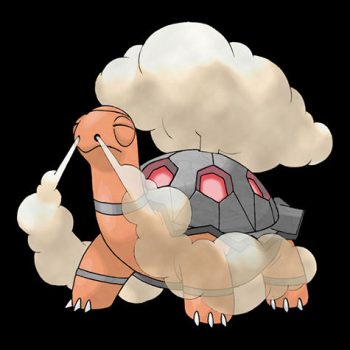 English Name – Torkoal
Japanese Name – Kōtasu
First Appearance – 2002 (Pokémon Ruby and Sapphire)
Based on – Tortoise
Generation – III
Pokédex Number – 324
Category – Coal
Height – 0.5 m
Weight – 80.4 kg
Gender – Male, Female
Type – Fire
Weaknesses – Ground, Rock, Water
Special Abilities – Drought, White Smoke
Torkoal Evolution
Evolution – Torkoal does not evolve.
Torkoal Pokédex Entries / Games
Ruby and Sapphire  2002
FireRed, LeafGreen  2004
Pokémon Emerald  2004
Diamond and Pearl  2006
Platinum  2008
HeartGold and SoulSilver  2009
Pokémon Black and White  2011
Black 2 and White 2  2012
Pokémon X and Y  2014   
Omega Ruby, Alpha Sapphire  2015 
Sun and Moon 2016
Ultra Sun and Moon 2017
Sword and Shield 2019
Brilliant Diamond, Shining Pearl  2021
Scarlet and Violet 2022
Torkoal Card List – (scroll to bottom for gallery view)
EX Dragon 2003


Stage – Basic
HP – 80
Speciality – None
Card Number – 12/97
EX Team Magma vs Team Aqua 2004


Stage – Basic
HP – 80
Speciality – None
Card Number – 12/95
POP Series 1 2004

Stage – Basic
HP – 80
Speciality – None
Card Number – 10/17
EX Legend Maker 2006

Stage – Basic
HP – 80
Speciality – None
Card Number – 27/92
EX Holon Phantoms 2006


Stage – Basic
HP – 50
Speciality – None
Card Number – 33/110
DP Legends Awakened 2008


Stage – Basic
HP – 80
Level – 32
Card Number – 41/146
Platinum Base Set 2009


Stage – Basic
HP – 80
Level – 28
Card Number – 100/127
HGSS Unleashed 2010


Stage – Basic
HP – 80
Speciality – None
Card Number – 25/95
BW Dark Explorers 2012


Stage – Basic
HP – 90
Speciality – None
Card Number – 18/108
XY Flashfire 2014


Stage – Basic
HP – 100
Speciality – None
Card Number – 16/106
Sun and Moon Base Set 2017


Stage – Basic
HP – 110
Speciality – None
Card Number – 23/149
SM Shining Legends 2017


Stage – Basic
HP – 110
Speciality – None
Card Number – 11/73
SM Celestial Storm 2018

Stage – Basic
HP – 120
Speciality – None
Card Number – 29/168
SM Cosmic Eclipse 2019


Stage – Basic
HP – 110
Speciality – None
Card Number – 29/236

Stage – Basic
HP – 110
Speciality – None
Card Number – 237/236
Sword and Shield Base Set 2020


Stage – Basic
HP – 210
Speciality – V
Card Number – 024/202

Stage – Basic
HP – 210
Speciality – V
Card Number – 188/202
SWSH Brilliant Stars 2022

Stage – Basic
HP – 120
Speciality – None
Card Number – 023/172
SWSH Lost Origin 2022

Stage – Basic
HP – 120
Speciality – None
Card Number – 023/196
Gallery