Spoink Pokédex Information
Spoink is a Psychic type Pokémon that first appeared in the game Pokémon Ruby and Sapphire which released in Japan on November 21st 2002. It evolves to Grumpig.
Spoink is a Pokémon character based on a pig. It is predominantly grey but has pink cheeks and a large pink ball on its head. It has no legs but bounces around on its tail. The shock of its bouncing makes its heart pump. As a result, this Pokémon cannot afford to stop bouncing—if it stops, its heart will stop.
Contents
Spoink Pokédex Facts
Evolutions
Spoink Pokédex Entries
TCG Cards
Spoink Pokédex Facts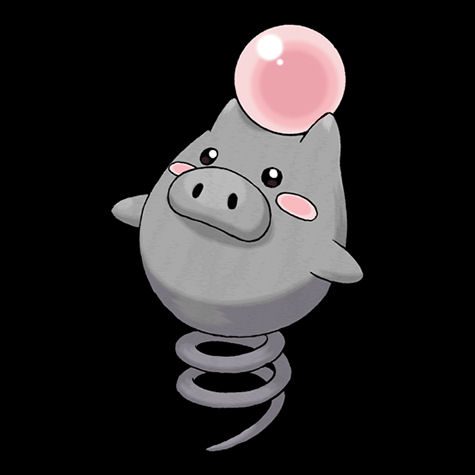 English Name – Spoink
Japanese Name – Banebū
First Appearance – 2002 (Pokémon Ruby and Sapphire)
Based on – Pig
Generation – III
Pokédex Number – 0325
Category – Bounce
Height – 0.7 m
Weight – 30.6 kg
Gender – Male, Female
Type – Psychic
Weaknesses – Bug, Dark, Ghost
Special Abilities – Own Tempo, Thick Fat
Spoink Evolution
Evolution – Spoink evolves to Grumpig (level 32)
Spoink Pokédex Entries / Games
Ruby and Sapphire  2002
FireRed, LeafGreen  2004
Pokémon Emerald  2004
Diamond and Pearl  2006
Platinum  2008
HeartGold and SoulSilver  2009
Pokémon Black and White  2011
Black 2 and White 2  2012
Pokémon X and Y  2014   
Omega Ruby, Alpha Sapphire  2015 
Brilliant Diamond, Shining Pearl  2021
Scarlet and Violet 2022
Spoink Card List – (scroll to bottom for gallery view)
EX Dragon 2003


Stage – Basic
HP – 50
Speciality – None
Card Number – 73/97
Stage – Basic
HP – 50
Speciality – None
Card Number – 74/97
EX Deoxys 2005


Stage – Basic
HP – 50
Speciality – None
Card Number – 76/107
EX Emerald 2005


Stage – Basic
HP – 50
Speciality – None
Card Number – 65/106
Stage – Basic
HP – 50
Speciality – None
Card Number – 66/106
EX Crystal Guardians 2006

Stage – Basic
HP – 50
Speciality – None
Card Number – 62/100
DP Legends Awakened 2008

Stage – Basic
HP – 50
Level – 10
Card Number – 121/146
HGSS Triumphant 2010

Stage – Basic
HP – 50
Speciality – None
Card Number – 77/102
BW Boundaries Crossed 2012


Stage – Basic
HP – 50
Speciality – None
Card Number – 59/149
XY Base Set 2014


Stage – Basic
HP – 60
Speciality – None
Card Number – 49/146
XY Fates Collide 2016


Stage – Basic
HP – 60
Speciality – None
Card Number – 30/124
SM Crimson Invasion 2017

Stage – Basic
HP – 50
Speciality – None
Card Number – 41/111
SM Celestial Storm 2018


Stage – Basic
HP – 60
Speciality – None
Card Number – 59/168
SWSH Battle Styles 2021


Stage – Basic
HP – 60
Speciality – None
Card Number – 055/163
SV Obsidian Flames 2023


Stage – Basic
HP – 70
Speciality – None
Card Number – 090/197
Gallery