Combee Pokédex Information
Combee is a bug / Flying type Pokémon that first appeared in the game Pokémon Diamond and Pearl which released in Japan on September 28th 2006. It evolves to Vespiquen.
This Pokémon resembles a section of honeycomb and is made up of three hexagonal yellow prisms with orange linings. The prisms are arranged with one at the bottom and two above and all have faces. The lower hexagonal prism houses the yellow and black striped body, while the two upper sections each have an antenna and wing attached. The members of the trio spend all their time together. Each one has a slightly different taste in nectar. The majority of Combee are male.
Contents
Combee Pokédex Facts
Evolutions
Combee Pokédex Entries
TCG Cards
Combee Pokédex Facts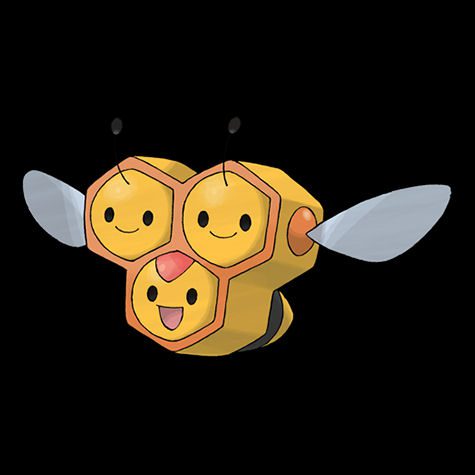 English Name – Combee
Japanese Name – Mitsuhanī
First Appearance – 2006 (Pokémon Diamond and Pearl)
Based on – Bee / Honeycomb
Generation – IV
Pokédex Number – 0415
Category – Tiny Bee
Height – 0.5 m
Weight – 3.3 kg
Gender – Male, Female
Primary Type – Bug
Secondary Type – Flying
Weakness – Electric, Fire, Flying, Ice, Rock
Special Abilities – Honey Gather
Combee Evolutions
Evolution – Female Combee evolves to Vespiquen (level 21)     
| | | |
| --- | --- | --- |
| Female Combee | Level 21 | Vespiquen |
Combee Pokédex Entries / Games
Diamond and Pearl  2006
Platinum  2008
HeartGold and SoulSilver  2009
Pokémon Black and White  2011
Black 2 and White 2  2012
Pokémon X and Y  2014   
Omega Ruby, Alpha Sapphire  2015  
Sword and Shield  2019
Brilliant Diamond, Shining Pearl  2021
Legends Arceus  2022
Pokémon Scarlet and Violet 2022
Combee Card List – (scroll to bottom for gallery view)
Diamond and Pearl Base Set 2007


Stage – Basic
HP – 50
Level – 8
Card Number – 79/130
DP Majestic Dawn 2008


Stage – Basic
HP – 50
Level – 6
Card Number – 59/100
DP Stormfront 2008


Stage – Basic
HP – 50
Level – 12
Card Number – 57/100
Platinum Base Set 2009


Stage – Basic
HP – 60
Level – 19
Card Number – 71/127
Platinum Supreme Victors  2009


Stage – Basic
HP – 40
Level – 4
Card Number – 99/147
HGSS Undaunted 2010


Stage – Basic
HP – 30
Speciality – None
Card Number – 44/90
BW Plasma Storm 2013


Stage – Basic
HP – 30
Speciality – None
Card Number – 4/135
XY Ancient Origins 2015

Stage – Basic
HP – 40
Speciality – None
Card Number – 9/98
SM Lost Thunder 2018


Stage – Basic
HP – 40
Speciality – None
Card Number – 31/214
SWSH Astral Radiance 2022


Stage – Basic
HP – 50
Speciality – None
Card Number – 011/189
SV Paldea Evolved 2023


Stage – Basic
HP – 50
Speciality – None
Card Number – 008/193
SV Obsidian Flames 2023

Stage – Basic
HP – 50
Speciality – None
Card Numbers – 008/197
Gallery