What are Double Colorless Energy Cards?
Double Colorless Energy Cards are Special Energy Cards that are used in the Pokémon Trading Card Game (TCG). They were the first Special Energy to be introduced and were included in the Pokémon Base Set which launched in Japan in 1996.
See also: What are Special Energy Cards?
As their name suggests, Double Colorless Energy Cards provide two Colorless Energy. They have featured in many expansion sets and although there have been many design changes over the years, Double Colorless Energy Cards always feature two Colorless Energy symbols. (Scroll to bottom for timeline and gallery of all cards released to date).


In the Pokémon TCG, a player can only use an Attack Move if the specified number of Energy are attached. This specified number generally includes one or more Energy that corresponds to the Pokémon type, and / or a number of Colorless Energy. There are no Colorless Basic Energy Cards but other Energy Cards can be substituted. The only cards that provide Colorless Energy are Special Energy Cards.
Double Colorless Energy Cards are useful card because it provides two Colorless Energy.
Colorless Energy corresponds to Normal type Pokémon. Normal type Pokémon Cards will only use Colorless Energy.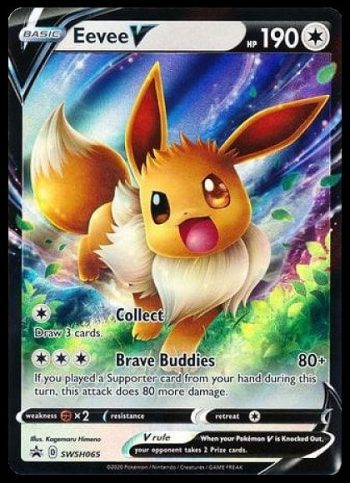 The Eevee V SWSH065 Sword and Shield Promo Card has two Attacks. To use Collect one Colorless Energy is required. To use Brave Buddies three Colorless Energy are required.
Timeline of Double Colorless Energy Cards:
To date Double Colorless Energy has been included in 13 different expansion sets. They have always been part of the set and have card numbers. The cards released are listed in order of release. (scroll to bottom for gallery view).

Pokémon Base Set
First Released 1999
Card Number –
96/102

Base Set 2
First Released 2000
Card Number –
124/130

HeartGold, SoulSilver
First Released 2010
Card Number –
103/123 

BW Next Destinies
First Released 2012
Card Number –
92/99

BW Legendary Treasures
First Released 2013
Card Number –
113/113
XY Base Set
First Released 2014
Card Number –
130/146 

XY Phantom Forces
First Released 2014
Card Number –
111/119 


XY Generations
First Released 2016
Card Number –
74/83 

XY Fates Collide
First Released 2016
Card Number –
114/124

XY Evolutions
First Released 2016
Card Number –
90/108

Sun and Moon Base Set
First Released 2017
Card Number –
136/149

SM Guardians Rising
First Released 2017
Card Number –
166/145
SM Shining Legends
First Released 2017
Card Number –
69/73
Gallery