Foongus Pokédex Information
Foongus first appeared in the game Pokémon Black and White which released in Japan on September 18, 2010. 
This Pokémon is based on a fungus and resembles a mushroom. Its head and body take the form of a mushroom stalk. On top is a large white and red hemisphere with brown markings. No one knows what the Poké Ball–like pattern on Foongus means or why Foongus has it.
Contents
Foongus Pokédex Facts
Evolutions
Foongus Pokédex Entries
TCG Cards
Foongus Pokédex Facts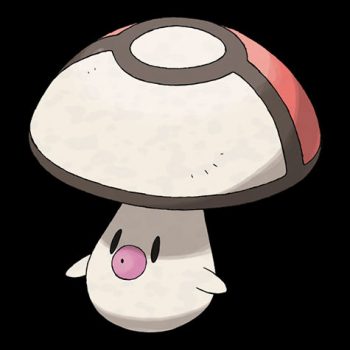 English Name – Foongus
Japanese Name – Tamagetake
First Appearance – 2010 (Pokémon Black and White)
Based on – Fungus / Mushroom
Generation – V
Pokédex Number – 590
Category – Mushroom
Height – 0.2 m
Weight – 1 kg
Gender – Male or Female
Primary Type – Grass
Secondary Type – Poison
Weakness – Fire, Flying, Ice, Psychic
Special Ability – Effect Spore
Foongus Evolutions
Evolution – Foongus evolves to Amoonguss (level 39)
Foongus Pokédex Entries / Games
Pokémon Black and White 2010
Black 2 and White 2 2012
Pokémon X and Y 2014   
Omega Ruby, Alpha Sapphire 2015  (trade)
Sword and Shield  2019
Foongus Card List – (scroll to bottom for gallery view)
BW Noble Victories 2011


Stage – Basic
HP –  40
Speciality – None
Card Number – 9/101
BW Next Destinies 2012


Stage – Basic
HP –  40
Speciality – None
Card Number – 8/99
BW Dragons Exalted 2012


Stage – Basic
HP –  40
Speciality – None
Card Number – 17/124
BW Plasma Storm 2012

Stage – Basic
HP –  40
Speciality – None
Card Number – 12/135
XY Steam Siege 2016

Stage – Basic
HP –  40
Speciality – None
Card Number – 12/114
SM Unified Minds 2019

Stage – Basic
HP –  40
Speciality – None
Card Number – 13/236
SWSH Silver Tempest 2022


Stage – Basic
HP –  50
Speciality – None
Card Number – 011/195
Gallery