What are Galar Power Mini Tins?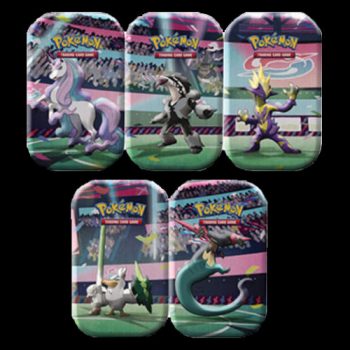 The Galar Power Mini Tins collection was originally released on 3rd April 2020, two months after the launch of the Sword and Shield series and one month before the release of the Rebel Clash expansion set.
The tins were re-printed in October 2020 between the Champion's Path and Vivid Voltage expansions. This description relates to the reprinted version.
The sturdy metal mini tins are pocket-sized, measuring 7.6 x 12.4 x 2.5 cm. There are 5 different artwork designs featuring Dragapult, Galarian Obstagoon, Galarian Ponyta, Sirfetch'd and Toxtricity.
What's in a Galar Power Mini Tin?
The tins are individually wrapped with an easy-to-pull serrated tab on the back to easily remove the shrink wrap without the risk of damaging the artwork on the tin.
Inside the tins are two booster packs, one Darkness Ablaze and one Sun and Moon Base. There is also a coin and a coloured card of the character featured on the front of the tin. All five coloured cards can be put together to make a picture.