Houndstone Pokédex Information
Houndstone is a Ghost type Pokémon that first appeared in the games Pokémon Scarlet and Violet which released in November 2022. It evolves from Greavard.
Houndstone is a purple / grey dog with long, shaggy fur that is based on a hound. It has a wide zig-zag mouth and its eyes are hidden by its long fur. A pale grey protrusion resembling a tombstone can be seen on its head. Houndstone spends most of its time sleeping in graveyards. Among all the dog Pokémon, this one is most loyal to its master.
Contents
Houndstone Pokédex Facts
Evolutions
Houndstone Pokédex Entries
TCG Cards
Houndstone Pokédex Facts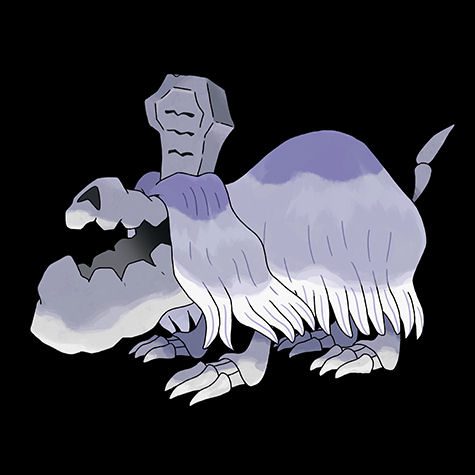 English Name – Houndstone
Japanese Name – Hakadoggu
First Appearance – 2022 (Pokémon Scarlet and Violet)
Generation – IX
Pokédex Number – 0972
Based on – Dog
Category – Ghost Dog
Height – 2 m
Weight – 15 kg
Gender – Male, Female
Type – Ghost
Weakness – Dark, Ghost
Special Ability – Sand Rush
Houndstone Evolutions
Evolution – Greavard evolves to Houndstone (Level 30 at Night).
| | | |
| --- | --- | --- |
| Greavard | Level 30 at Night | Houndstone |
Houndstone Pokédex Entries / Games
Pokémon Scarlet and Violet  2022
Houndstone Card List – (scroll to bottom for gallery view)
Scarlet and Violet Promo Cards 2023


Stage – 1
HP – 130
Speciality – None
Card Number – SVP042

SV Obsidian Flames 2023


Stage – 1
HP – 140
Speciality – None
Card Number – 101/197
Stage – 1
HP – 260
Speciality – ex
Card Number – 102/197
Gallery