Lileep Pokédex Information
Lileep first appeared in the game Pokémon Ruby and Sapphire which released in Japan on November 21st 2002. 
Lileep is a predominantly purple character that is based on a plant with four very short legs. Its body resembles the stalk of a plant with yellow rings at the top. It has a large cylindrical head with two large yellow eyes. It has a number of pink tentacle-like projections sprouting from a black circle on the top of its head. This Pokémon was restored from a fossil. Lileep once lived in warm seas that existed approximately 100,000,000 years ago.
Contents
Lileep Pokédex Facts
Evolutions
Lileep Pokédex Entries
TCG Cards
Lileep Pokédex Facts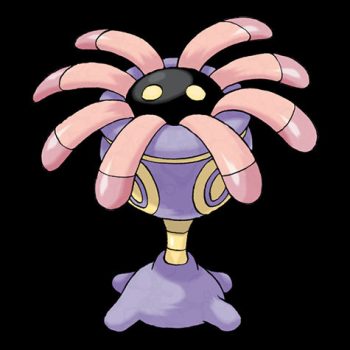 English Name – Lileep
Japanese Name – Rirīra
First Appearance – 2002 (Pokémon Ruby and Sapphire)
Based on – Plant / Sea Lily
Generation – III
Pokédex Number – 345
Category – Sea Lily
Height – 1.0 m
Weight – 23.8 kg
Gender – Male and Female
Primary Type – Rock
Secondary Type – Grass
Weaknesses – Bug, Fighting, Ice, Steel
Special Abilities – Suction Cups
Lileep Evolutions
Evolution – Lileep evolves to Cradily (Level 40)
Lileep Pokédex Entries / Games
Ruby and Sapphire  2002
FireRed, LeafGreen  2004
Pokémon Emerald  2004
Diamond and Pearl  2006
Platinum  2008
HeartGold and SoulSilver  2009
Pokémon Black and White  2011
Black 2 and White 2  2012
Pokémon X and Y  2014   
Omega Ruby, Alpha Sapphire  2015 
Ultra Sun and Ultra Moon  2017
Sword and Shield  2019
Brilliant Diamond, Shining Pearl  2021
Lileep Card List – (scroll to bottom for gallery view)
EX Sandstorm 2003


Stage – 1
HP – 80
Speciality – None
Card Number – 42/100
Stage – 1
HP – 80
Speciality – None
Card Number – 43/100
EX Legend Maker  2006


Stage – 1
HP – 80
Speciality – None
Card Number – 56/92
EX Holon Phantoms 2006

Stage – 1
HP – 80
Speciality – None
Card Number – 68/110
EX Power Keepers 2007

Stage – 1
HP – 80
Speciality – None
Card Number – 52/108
DP Legends Awakened  2008


Stage – 1
HP – 80
Level – 46
Card Number – 105/146
BW Plasma Blast 2013


Stage – 1
HP – 80
Speciality – None
Card Number – 3/101
Root Fossil Lileep
Trainer – Item
Card Number – 87/101
SM Cosmic Eclipse  2019


Stage – 1
HP – 90
Speciality – None
Card Number – 10/236
Gallery