Loudred Pokédex Information
Loudred is a Normal type Pokémon that first appeared in the games Pokémon Ruby and Sapphire which released in Japan on November 21st 2002. It evolves from Whismur and evolves to Exploud.
Loudred is a purple, two-legged character that is characterised by noise and may be based on a speaker system. It has a very large mouth that is surrounded by yellow lips. Its round ears stand on stalks from the top of its head. The inside of its ears are pink and black concentric circles. Loudred's ears serve as speakers, and they can put out sound waves powerful enough to blow away a house.
Contents
Loudred Pokédex Facts
Evolutions
Loudred Pokédex Entries
TCG Cards
Loudred Pokédex Facts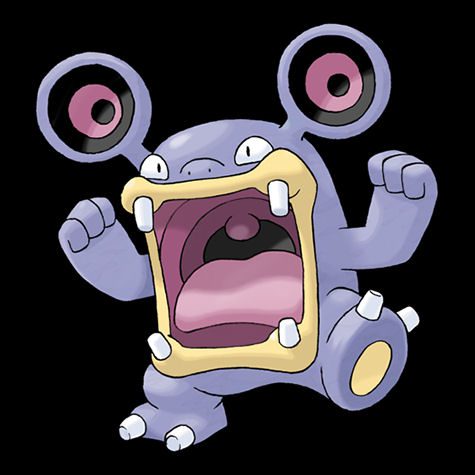 English Name – Loudred
Japanese Name – Dogōmu
First Appearance – 2003 (Pokémon Ruby and Sapphire)
Based on – Noise, Speaker
Generation – III
Pokédex Number – 0294
Category – Big Voice
Height – 1.0 m
Weight – 40.5 kg
Gender – Male, Female
Type –  Normal
Weakness – Fighting
Special Abilities – Soundproof
Loudred Evolutions
Evolution – Whismur evolves to Loudred (Level 20); evolves to Exploud (Level 40)
| | | |
| --- | --- | --- |
| Whismur | Level 20 | Loudred |
| Level 40 | Exploud | |
Loudred Pokédex Entries / Games
Ruby and Sapphire  2002
Pokémon Emerald  2004
FireRed and LeafGreen  2005
Diamond and Pearl  2006
Platinum  2008
HeartGold and SoulSilver  2009
Pokémon Black and White  2011
Black 2 and White 2  2012
Pokémon X and Y  2014   
Omega Ruby, Alpha Sapphire  2015  
Sword and Shield 2019
Brilliant Diamond, Shining Pearl  2021
Loudred Card List – (scroll to bottom for gallery view)
EX Hidden Legends 2004


Stage – 1
HP –  80
Speciality – None
Card Number – 39/101
EX Emerald 2005

Stage – 1
HP –  80
Speciality – None
Card Number – 35/106
EX Crystal Guardians 2006

Stage – 1
HP –  70
Speciality – None
Card Number – 23/100
DP Great Encounters 2008


Stage – 1
HP –  80
Level – 31
Card Number – 44/106
Platinum Supreme Victors 2009


Stage – 1
HP –  80
Level – 35
Card Number – 64/147
BW Plasma Storm 2013


Stage – 1
HP –  90
Speciality – None
Card Number – 106/135
XY Phantom Forces 2014


Stage – 1
HP –  90
Speciality – None
Card Number – 84/119
XY Fates Collide 2016


Stage – 1
HP –  90
Speciality – None
Card Number – 81/124
SM Celestial Storm 2018


Stage – 1
HP –  100
Speciality – None
Card Number – 118/168
SWSH Vivid Voltage 2020

Stage – 1
HP –  100
Speciality – None
Card Number – 136/185
SV Paradox Rift 2023


Stage – 1
HP – 100
Speciality – None
Card Number – 149/182

Stage – 1
HP – 100
Speciality – None
Card Number – 212/182
Gallery