Panpour Pokédex Information
Panpour is a Water type Pokémon that first appeared in the games Pokémon Black and White which released in Japan on September 18th 2010. It evolves to Simipour.
Panpour is a two-legged Pokémon that is based on a monkey. It has a light brown body, limbs and lower face. Its upper face, top of body, ears, hair and end of tail are bright blue. It has big white eyes and a wide mouth. The water stored inside the tuft on its head is full of nutrients. It waters plants with it using its tail.
Contents
Panpour Pokédex Facts
Evolutions
Panpour Pokédex Entries
Pokémon TCG Cards
Panpour Pokédex Facts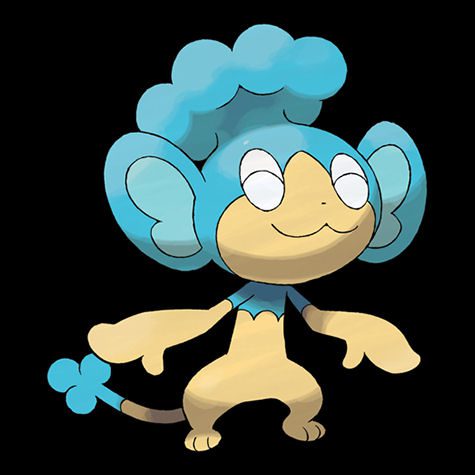 English Name – Panpour
Japanese Name – Hiyappu
First Appearance – 2010 (Pokémon Black and White)
Generation – V
Based on – Monkey
Pokédex Number – 0515
Category – Spray
Height – 0.6 m
Weight – 13.5 kg
Gender – Male and Female
Type –  Water
Weakness – Electric, Grass
Special Ability – Gluttony
Panpour Evolutions
Evolution – Panpour evolves to Simipour (with Water Stone)
| | | |
| --- | --- | --- |
| Panpour | Water Stone | Simipour |
Panpour Pokédex Entries / Games
Pokémon Black and White  2011
Black 2 and White 2  2012
Pokémon X and Y  2014   
Omega Ruby, Alpha Sapphire  2015
Panpour Cards List – (scroll to bottom for gallery view)
Black and White Base Set 2011

Stage – Basic
HP –  60
Speciality – None
Card Number – 33/114
BW Emerging Powers 2011


Stage – Basic
HP –  70
Speciality – None
Card Number – 22/98
BW Next Destinies 2012


Stage – Basic
HP –  70
Speciality – None
Card Number – 28/99
XY Kalos Starter Set 2013

Stage – Basic
HP –  70
Speciality – None
Card Number – 11/39
XY Base Set 2014


Stage – Basic
HP –  60
Speciality – None
Card Number – 37/146
XY BREAKThrough 2015

Stage – Basic
HP –  60
Speciality – None
Card Number – 41/162
SM Burning Shadows 2017

Stage – Basic
HP –  70
Speciality – None
Card Number – 36/147
SWSH Darkness Ablaze 2020

Stage – Basic
HP –  60
Speciality – None
Card Number – 041/189
SWSH Fusion Strike 2021


Stage – Basic
HP –  60
Speciality – None
Card Number – 068/264
SV Paradox Rift 2023

Stage – Basic
HP – 70
Speciality – None
Card Numbers – 041/182
Gallery