Simipour Pokédex Information
Simipour first appeared in the game Pokémon Black and White which released in Japan on September 18th 2010. 
This Pokémon is a two-legged character that has light brown limbs and lower face. Its upper face, body, hair and end of tail are bright blue. It has big white eyes and a wide mouth. The high-pressure water expelled from its tail is so powerful, it can destroy a concrete wall.
Contents
Simipour Pokédex Facts
Evolutions
Simipour Pokédex Entries
Pokémon TCG Cards
Simipour Pokédex Facts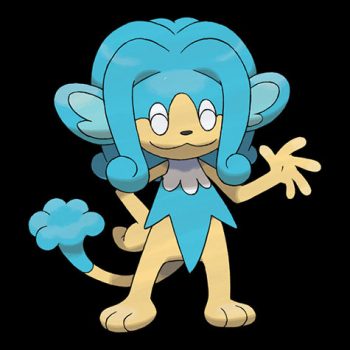 English Name – Simipour
Japanese Name – Hiyakkī
First Appearance – 2010 (Pokémon Black and White)
Generation – V
Pokédex Number – 516
Category – Geyser
Height – 1.0 m
Weight – 29 kg
Gender – Male and Female
Type –  Water
Weakness – Electric, Grass
Special Ability – Gluttony
Simipour Evolutions
Evolution – Panpour evolves to Simipour (with Water Stone)
Simipour Pokédex Entries / Games
Pokémon Black and White  2011
Black 2 and White 2  2012
Pokémon X and Y  2014   
Omega Ruby, Alpha Sapphire  2015  (trade) 
Simipour Cards List – (scroll to bottom for gallery view)
Black and White Base Set 2011

Stage – 1
HP –  90
Speciality – None
Card Number – 34/114
BW Emerging Powers 2011

Stage – 1
HP –  90
Speciality – None
Card Number – 23/98
BW Next Destinies 2012

Stage – 1
HP –  90
Speciality – None
Card Number – 29/99
XY Base Set 2014

Stage – 1
HP –  90
Speciality – None
Card Number – 38/146
XY BREAKThrough 2015

Stage – 1
HP –  90
Speciality – None
Card Number – 42/162
SM Burning Shadows 2017

Stage – 1
HP –  90
Speciality – None
Card Number – 37/147
SWSH Darkness Ablaze 2020

Stage – 1
HP –  100
Speciality – None
Card Number – 042/189
SWSH Fusion Strike 2021

Stage – 1
HP –  100
Speciality – None
Card Number – 069/264
Gallery