Pelipper Pokédex Information
Pelipper is a Water / Flying type Pokémon that first appeared in the game Pokémon Ruby and Sapphire which released in Japan on November 21st 2002. It evolves from Wingull.
Pelipper is a bird that is based on a Pelican. It has an enormous, yellow beak pouch that is as big as its body. It has two small legs with blue feet and two wings that are white with blue tips. It is a messenger of the skies, carrying small Pokémon and eggs to safety in its bill.
Contents
Pelipper Pokédex Facts
Evolutions
Pelipper Pokédex Entries
TCG Cards
Pelipper Pokédex Facts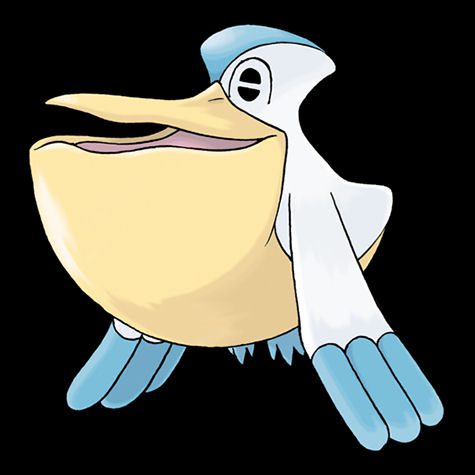 English Name – Pelipper
Japanese Name – Rarutosu
First Appearance – 2003 (Pokémon Ruby and Sapphire)
Based on – Pelican
Generation – III
Pokédex Number – 0279
Category – Water Bird
Height – 1.2 m
Weight – 28 kg
Gender – Male, Female
Primary Type –  Water
Secondary Type – Flying
Weakness – Electric, Rock
Special Abilities – Drizzle, Keen Eye
Pelipper Evolutions
Evolution – Wingull evolves to Pelipper (Level 25)
| | | |
| --- | --- | --- |
| Wingull | Level 25 | Pelipper |
Pelipper Pokédex Entries / Games
Ruby and Sapphire  2002
Pokémon Emerald  2004
FireRed and LeafGreen  2005
Diamond and Pearl  2006
Platinum  2008
HeartGold and SoulSilver  2009
Pokémon Black and White  2011
Black 2 and White 2  2012
Pokémon X and Y  2014   
Omega Ruby, Alpha Sapphire  2015  
Sun and Moon  2016
Ultra Sun and Ultra Moon  2017
Sword and Shield  2019
Ultra Sun and Ultra Moon 2017
Sword and Shield 2019
Brilliant Diamond, Shining Pearl  2021
Scarlet and Violet 2022
Pelipper Card List – (scroll to bottom for gallery view)
EX Ruby and Sapphire 2003


Stage – 1
HP –  70
Speciality – None
Card Number – 19/109
EX Sandstorm 2003


Stage – 1
HP –  70
Speciality – None
Card Number – 50/100
EX Deoxys 2005

Stage – 1
HP –  70
Speciality – None
Card Number – 21/107
EX Crystal Guardians 2006


Stage – 1
HP –  70
Speciality – None
Card Number – 26/100
POP Series 5 2007


Stage – 1
HP –  70
Speciality – None
Card Number – 14/17
DP Great Encounters 2008

Stage – 1
HP –  80
Level – 45
Card Number – 48/106
Platinum Arceus 2009


Stage – 1
HP –  90
Level – 50
Card Number – 24/99

Stage – 1
HP –  90
Level – 49
Card Number – 45/99
XY Roaring Skies 2015


Stage – 1
HP –  100
Speciality – None
Card Number – 19/108
Sun and Moon Base Set 2017


Stage – 1
HP –  100
Speciality – None
Card Number – 38/149
SM Celestial Storm 2018

Stage – 1
HP –  120
Speciality – None
Card Number – 112/168
SWSH Rebel Clash 2020


Stage – 1
HP –  120
Speciality – None
Card Number – 042/192
Scarlet and Violet Promo Cards 2023 –

Stage – 1
HP –  120
Speciality – None
Card Number – SVP022
SV Paldea Evolved 2023

Stage – 1
HP –  120
Speciality – None
Card Number – 159/193
Gallery