Pokémon Scarlet and Violet were first announced by The Pokémon Company International on Sunday 27th February 2022, Pokémon Day and will launch on 18th November 2022.
Further details were released on 3rd August , 7th September 2022 and 6th October and this article was updated and re-published to include the new information.
Contents
Introduction
Scarlet and Violet Region
The Game Format
Tera Raid Battles
Revealed Characters
Introduction

Pokémon Scarlet and Violet will signal the end of the current Pokémon generation VIII – Sword and Shield. The Sword and Shield series launched with two games in November 2019 and the Sword and Shield TCG Base Set followed in February 2020. It is expected that this new series will follow suit and the Scarlet and Violet base set will release in February 2022.
The Artwork for the two games was released on 1st June 2022. Pokémon Scarlet features new Pokémon Koraidon, while Violet features Miraidon.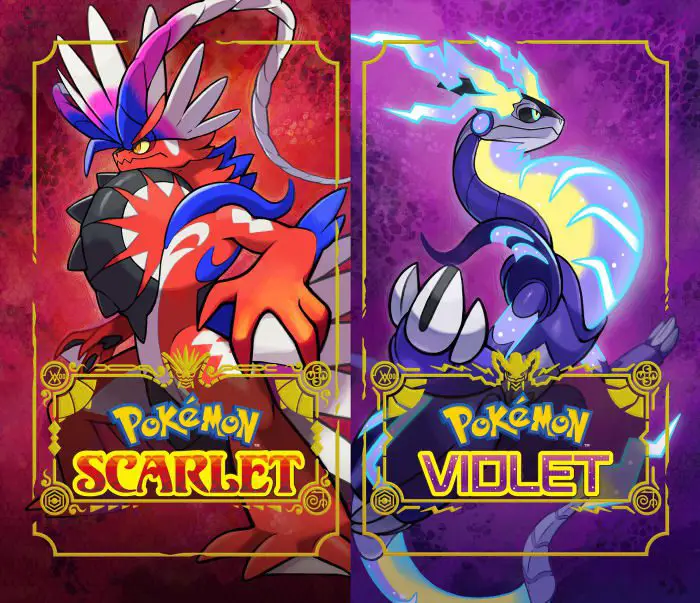 What is the new Pokémon Scarlet and Violet Region?
Pokémon Scarlet and Violet are set in the new region of Paldea which is based on Spain. This had already been deduced because one of the game screenshots released earlier in the year appeared to show the Barcelona landmark Sagrada Familia, in its completed form, set against a night sky. The actual building (right), designed by architect Antoni Gaudi, is not yet completed.
In the Paldea region there is an abundance of different landscapes including grass, rock, snow and water-filled landscapes. The cities appear to be vibrant and colourful. 
What do we know about the Pokémon Scarlet and Violet game format?
The Pokémon Scarlet and Violet games are the first Pokémon Open World RPG adventure games. Open world means the player is able to roam freely and 'explore an open world where various towns with no borders blend seamlessly into the wilderness'. As a player you are in control of the story and free to make your own choices and decisions.
As a player you will enrol as a student at either the Naranja Academy (Scarlet) or the Uva Academy (Violet). You will be tasked with undertaking an independent study project entitled 'A Treasure Hunt' and will journey throughout Paldea finding things to treasure.
Players will partner with one of the new legendary Pokémon Koraidon (Scarlet) and Miraidon (Violet) and be able to ride on their backs. These legendary Pokémon are able to change forms enabling players to speed across vast grassy regions and large bodies of water as well as glide through the sky.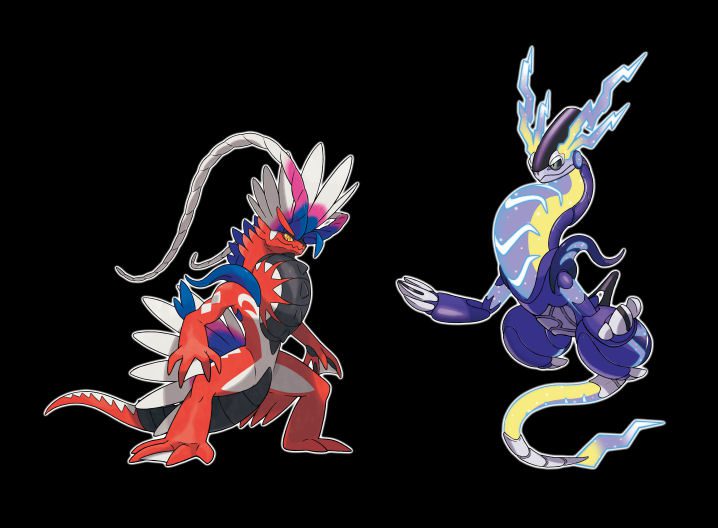 There are three grand stories:
Victory Road will embrace the familiar and well-loved format of defeating eight Gym leaders, winning Gym badges and becoming the Pokémon Champion. There is no fixed order to this story and players are free to choose the order in which Gym battles take place. 
The other two stories have not been revealed but the Pokémon Company International have released a statement promising they are full of surprises and new discoveries.
As ever, players will be blocked and countered by a team of villains known as the Starstreet gang led by Mela.
New features for the game include:
TM machines – these are found in Pokémon centers, where you can make your own TMs from materials dropped by defeated Pokémon.
Let Go command – this new command allows your Pokémon to battle wild Pokémon and retrieve hidden items independently. This will be particularly useful when levelling up your team for battle. 
Picnics – take a break for a picnic and revive your Pokémon and build your relationship with them. In the picnic area you can give your Pokémon a wash to restore their health and make and enjoy sandwiches.
What are Tera Raid Battles?
Pokémon Scarlet and Violet will see the emergence of the mysterious Terastal phenomenon. This new ability enables all Pokémon that live in Palea to Terastalize. Once terastalized they will shine like coloured crystal gems. They will also be stronger and more powerful. Pokémon may have a different teratype to their primary and secondary types.
Wild Pokémon that appear to glow in their surroundings will terastalize in battle. To defeat them, first break the terastalization, then throw a pokéball to catch them.
Throughout the game players will be able to take part in Tera Raid battles with their allies. Pokémon with rare tera types are most likely to appear in these battles. Unlike the Raid battles of Sword and Shield, Tera Raid battles will not be turn-based and players will be free to attack or heal at will. Once defeated, players will have the opportunity to catch that Pokémon for themselves.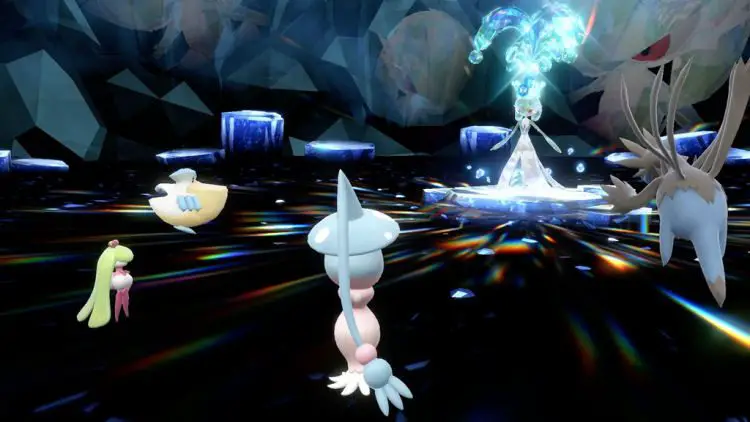 What Characters have been revealed for Pokémon Scarlet and Violet ?
Trainers and Professors
A number of characters and new Pokémon have been revealed. The main characters are identical for each game except that their uniform colour reflects that of the game being played – Pokémon Scarlet or Pokémon Violet.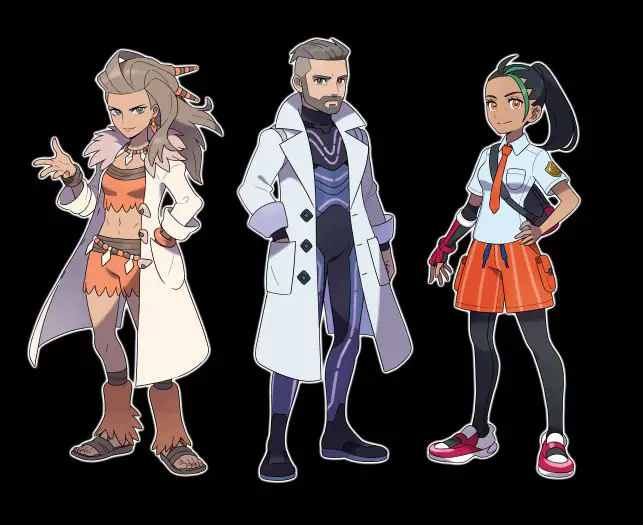 Professor Sada (Scarlet), Professor Turo (Violet) and Trainer Nemona were revealed in June 2022. On 3rd August it was revealed that the Director of the Academy would be Mr Clavell while Mr Jacq woould be the Home Room teacher of biology. Arven and a student named Penny will also feature in the games. 
The eight Gym Leaders will feature Grusha who specialises in Ice type Pokémon. The other seven have not yet been revealed.
Pokémon
The three starter Pokémon for Pokémon Scarlet and Violet were revealed in June 2022. 
Sprigatito is described as a capricious, attention-seeking Grass Cat Pokémon. It weighs 4.1 kg and has a height of 0.4m. Sprigatito's special move is Overgrow.
Quaxly is an earnest and tidy Duckling Pokémon that weighs 6.1 kg and measures 0.5m. Its special move is Torrent.
Fuecoco is described as a laid-back Fire Croc Pokémon that does things at its own pace. It weighs 9.8 kg and is 0.4m tall. Its Fuecoco's special move is Blaze.
 The word fuego is Spanish for Fire, while gato is Spanish for cat. 
Two new legendary Pokémon Koraidon (Scarlet) and Miraidon (Violet) will act as partners / transport for players of the game.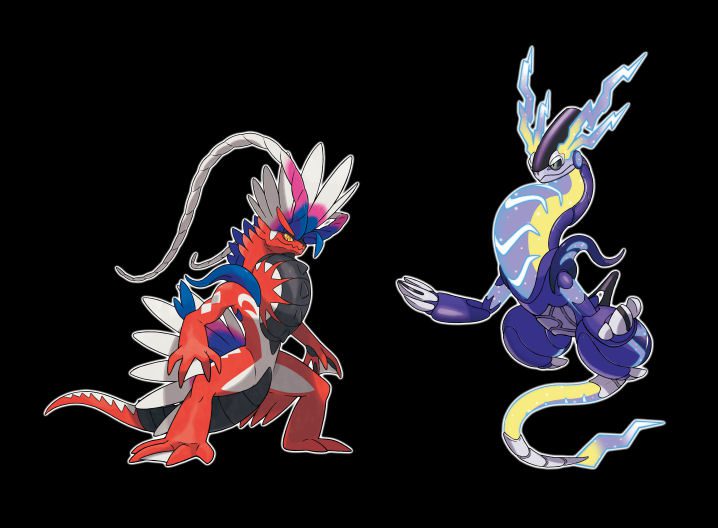 Several new Pokémon have been announced: Pawmi, Lechonk, Smoliv, Fidough, Cetitan.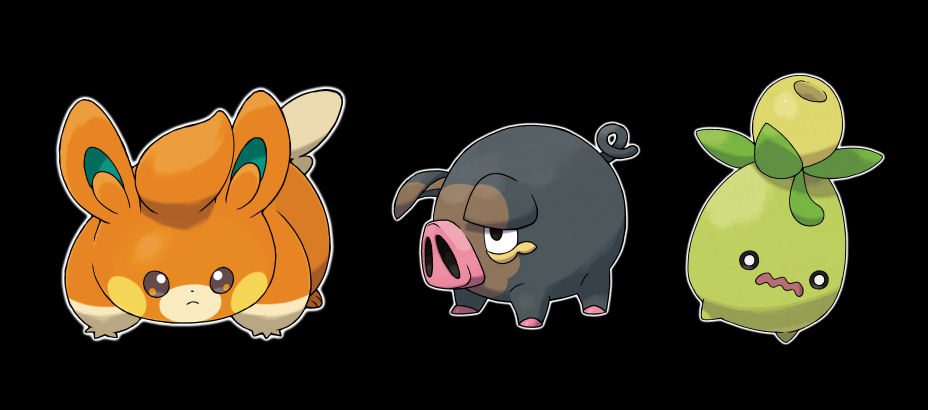 The Paldea region will be home to Paldean forme of Pokémon. These are Pokémon from previous generations that have an altered form in the Paldea region. It has been revealed that these will include Paldean Wooper.
In Late August and early September more new Pokémon were announced – Cyclizar, Girafaiai, Klawf, Armarouge, Ceruledge.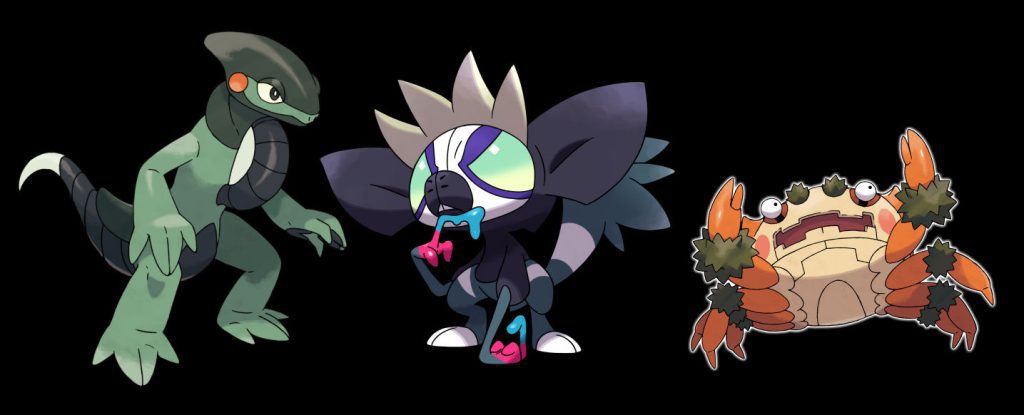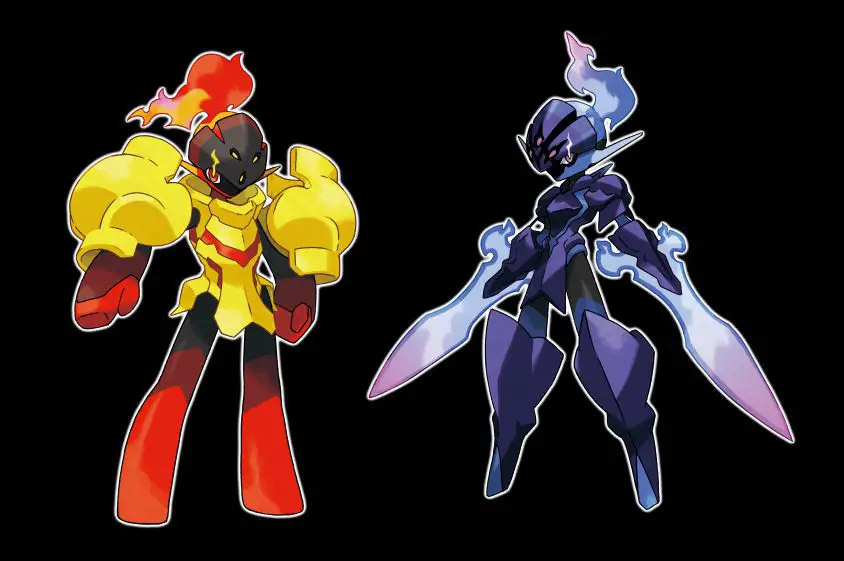 On 6th October Farigiraf was revealed. This is a regional evolution of Girafarig and unique to Paldea.