Pokémon Scarlet & Violet Base Set SV01 is the first expansion set of the Generation IX Series. It will release Worldwide on 31st March 2023. 
What do we know so far about Pokémon Scarlet & Violet?
This new set will include cards from the Japanese sets Scarlet ex and Violet ex as well as 3 starter ex decks.
It will include 198 cards before Secret Rares and cards will be numbered ?/198. All cards will be marked with the set code:
Changes for Generation IX
As can be seen from the image above, the new set code is a striking replacement for the old set symbol. This new code takes the form of a black box with a white and black border containing the set initials followed by the set number and the letters EN to indicate it is an English language set. This format has been used for Japanese cards for some time.
Energy cards will be marked with a similar code. The Water Energy card below is marked SVE EN. It also includes a top label stating Basic Energy with the water symbol. Presumably this is to distinguish from Special Energy Cards that are often included in sets. 
Trainer cards have been redesigned with the Trainer type now moved to the top left-hand side of the card. It has also been revealed that Tools will no longer be Item types but will have their own Tool type.
There will be a new rarity category, double rare, which will be indicated by two star icons next to the card number.
Pokémon International have announced that due to increased costs the price of sealed products will rise. Booster Packs will rise from $3.99 to $4.49, a move that could see Booster Boxes increase by around $18.
However, the following statement was also released "In an effort to continue providing a positive Pokemon TCG experience and value, each pack of Pokemon cards will now feature three guaranteed foil cards per booster – all cards with a rarity of Rare or higher will now be foil."
Another big change for our Generation IX series is that the outer border of set cards will be silver rather than the traditional yellow. 
Scarlet & Violet Base Set Pack Art
The artwork that will be used for the Scarlet & Violet Base Set Booster Packs has been released. The artwork will feature the Pokémon characters Gyarados, Koraidon, Miraidon and the three Scarlet and Violet Starters Sprigatito, Fuecoco, Quaxly.
Terastalized Pokémon Cards
The Gyarados pack art (above) shows Gyarados in terastalized form which would indicated that the set will include cards featuring terastilzed Pokémon. 
The mysterious Terastal phenomenon is a new feature of the Generation IX Game. This new ability enables all Pokémon that live in Palea to Terastalize. Once terastalized they will shine like coloured crystal gems. They will also be stronger and more powerful. Pokémon may have a different teratype to their primary and secondary types.
Return of ex Cards
The Scarlet & Violet Base Set will see a return of ex cards. The ex mechanic was a feature of the EX Series which ran from 2003 to 2007. The 'ex' is short for 'extra' indicating that these Pokémon have extra features to that of non-ex Pokémon. ex cards have an increased Hit Power (HP) and stronger attacks. However, if they are knocked out your opponent takes two prize cards instead of one.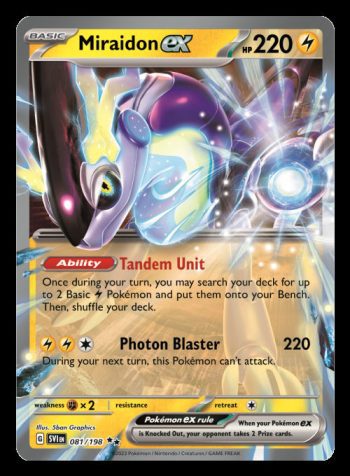 What Scarlet & Violet Base Set Products will be released?
The release information for the Scarlet & Violet Base Set indicates the following products will release on launch date: 
Booster Packs
Booster Box (36 Packs)
Elite Trainer Box
To be updated as further information is released.