Shuckle Pokédex Information
Shuckle is a Bug / Rock type Pokémon that first appeared in the games Pokémon Gold and Silver which were released in Japan in November 1999. 
It is a four-legged character that is based on a turtle. Its body, head, neck and limbs are yellow while its shell is red with yellow circle markings. Its legs and neck protrude through holes in its shell. It stores berries inside its shell. To avoid attacks, it hides beneath rocks and remains completely still.
Contents
Shuckle Pokédex Facts
Evolutions
Shuckle Pokédex Entries
TCG Cards
Shuckle Pokédex Facts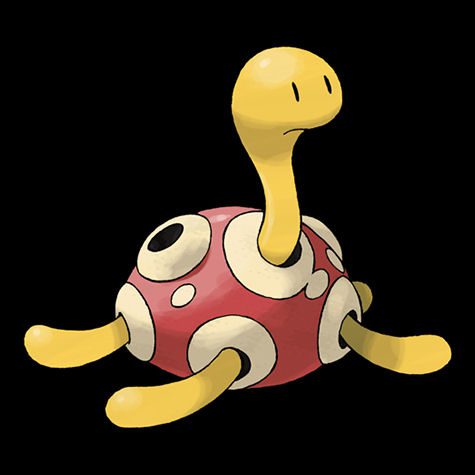 English Name – Shuckle
Japanese Name – Tsubotsubo
First Appearance – 1999 (Pokémon Gold and Silver)
Based on – Turtle
Generation – II
Pokédex Number – 0213
Category – Mold
Height – 0.6 m
Weight – 20.5 kg
Gender – Male, Female
Primary Type –  Bug
Secondary Type – Rock
Weakness – Rock, Steel, Water
Special Abilities – Gluttony, Sturdy
Shuckle Evolutions
Evolution – Shuckle does not evolve.
Shuckle Pokédex Entries / Games
Gold and Silver  1999
Pokémon Crystal 2000
Pokémon Stadium 2 2000
Ruby and Sapphire  2002
Pokémon Emerald  2004
FireRed and LeafGreen  2005
Diamond and Pearl  2006
Platinum  2008
HeartGold and SoulSilver  2009
Pokémon Black and White  2011
Black 2 and White 2  2012 
Pokémon X and Y  2013
Omega Ruby, Alpha Sapphire  2015  
Ultra Sun and Ultra Moon  2017
Pokémon Sword and Shield  2019
Brilliant Diamond, Shining Pearl  2021
Shuckle Card List – (scroll to bottom for gallery view)
Neo Genesis 2000


Stage – Basic
HP –  50
Speciality – None
Card Number – 72/111
Neo Revelation 2001


Stage – Basic
HP –  40
Speciality – None
Card Number – 51/64
Skyridge 2003


Stage – Basic
HP –  30
Speciality – None
Card Number – 96/144
EX Hidden Legends 2004


Stage – Basic
HP – 70
Speciality – None
Card Number – 7/101
EX Unseen Forces 2005


Stage – Basic
HP – 60
Speciality – None
Card Number – 47/115
DP Secret Wonders 2007

Stage – Basic
HP – 60
Level – 25
Card Number – 109/132
HeartGold SoulSilver Promo Cards 2010 – 2011


Stage – Basic
HP – 60
Speciality – None
Card Number – HGSS15
HeartGold SoulSilver 2010

Stage – Basic
HP – 60
Speciality – None
Card Number – 11/123
BW Legendary Treasures 2013

Stage – Basic
HP – 80
Speciality – None
Card Number – 3/113
XY Fates Collide 2016

Stage – Basic
HP – 80
Speciality – None
Card Number – 1/124
SM Lost Thunder 2018


Stage – Basic
HP –  60
Speciality – None
Card Number – 16/214
Stage – Basic
HP –  170
Speciality – GX
Card Number – 17/214

Stage – Basic
HP –  170
Speciality – GX
Card Number – 195/214
Stage – Basic
HP –  170
Speciality – GX
Card Number – 215/214
SWSH Rebel Clash 2020

Stage – Basic
HP –  80
Speciality – None
Card Number – 005/192
SWSH Vivid Voltage 2020


Stage – Basic
HP –  70
Speciality – None
Card Number – 085/185
SV Obsidian Flames 2023


Stage – Basic
HP –  80
Speciality – None
Card Number – 005/197
Gallery