Skiddo Pokédex Information
Skiddo is a Grass type Pokémon that first appeared in the games Pokémon X and Y which were released in October 2013. 
Skiddo is a four-legged Pokémon that is based on a goat. Its white body is covered with shaggy brown fur and it has a short, curly tail. A pair of small, upward-curving horns sprout from the top of its head. Its most notable feature are the green leaves that grow on its horns, back, and tail, from which it uses to photosynthesize and gather energy. Until recently, people living in the mountains would ride on the backs of these Pokémon to traverse the mountain paths.
Contents
Skiddo Pokédex Facts
Evolutions
Skiddo Pokédex Entries
TCG Cards
Skiddo Pokédex Facts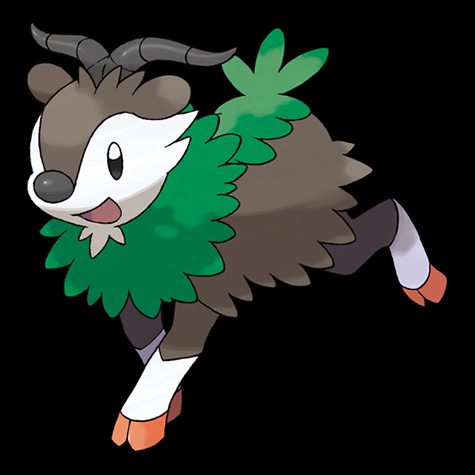 English Name – Skiddo
Japanese Name – Mēkuru
First Appearance – 2014 (Pokémon X and Y)
Generation – VI
Pokédex Number – 0672
Based on – Mountain Goat
Category – Mount
Height – 0.9 m
Weight – 31 kg
Gender – Male, Female
Type – Grass
Weakness – Bug, Fire, Flying, Ice, Poison
Special Ability – Sap Sipper
Skiddo Evolutions
Evolution – Skiddo evolves to Gogoat (level 32)
Skiddo Pokédex Entries / Games
Pokémon X and Y 2014 
Omega Ruby, Alpha Sapphire 2015  (trade)
Scarlet and Violet 2022
Skiddo Card List – (scroll to bottom for gallery view)
XY Promo Cards 2013 – 2016

Stage – Basic
HP –  70
Speciality – None
Card Number – XY11
XY Base Set 2014

Stage – Basic
HP –  70
Speciality – None
Card Number – 18/146
XY BREAKThrough 2015

Stage – Basic
HP –  70
Speciality – None
Card Number – 16/162
SM Crimson Invasion 2017

Stage – Basic
HP – 70
Speciality – None
Card Number – 10/111
SM Forbidden Light 2018

Stage – Basic
HP – 70
Speciality – None
Card Number – 9/131
SM Lost Thunder 2018

Stage – Basic
HP – 70
Speciality – None
Card Number – 35/214
SWSH Vivid Voltage 2020

Stage – Basic
HP – 70
Speciality – None
Card Number – 017/185
Scarlet and Violet Base Set 2023

Stage – Basic
HP – 60
Speciality – None
Card Number – 011/198
Gallery