Slurpuff Pokédex Information
Slurpuff first appeared in the games Pokémon X and Y which released in Worldwide on October 12th 2013. 
This Pokémon is a two-legged pink and white character based on a meringue. It has a chubby body with two small arms and two stubby legs. It has a large head with two red eyes and red tongue. It has pink hair with a decoration of darker pink on top. By taking in a person's scent, it can sniff out their mental and physical condition. It's hoped that this skill will have many medical applications. 
Contents
Slurpuff Pokédex Facts
Evolutions
Slurpuff Pokédex Entries
TCG Cards
Slurpuff Pokédex Facts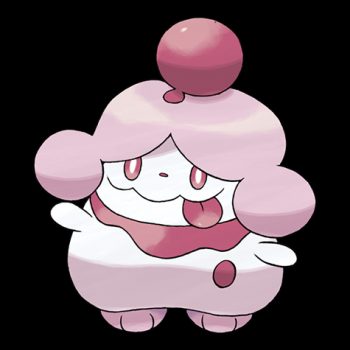 English Name – Slurpuff
Japanese Name – Perorīmu
First Appearance – 2014 (Pokémon X and Y)
Based on – Meringue
Generation – VI
Pokédex Number – 685
Category – Meringue
Height -0.8 m
Weight – 5 kg
Gender – Male, Female 
Type – Fairy
Weakness – Poison, Steel
Special Ability – Sweet Veil
Slurpuff Evolutions
Evolution – Swirlix evolves to Slurpuff (by trade holding Whipped Dream)
Slurpuff Pokédex Entries / Games
Pokémon X and Y 2014 
Omega Ruby, Alpha Sapphire 2015  (trade)
Sword and Shield  2019 
Slurpuff Card List – (scroll to bottom for gallery view)
XY Promo Cards 2014 – 2016


Stage – 1
HP –  100
Speciality – None
Card Number – XY15
XY Base Set 2014

Stage – 1
HP –  90
Speciality – None
Card Number – 95/146
XY Phantom Forces 2014


Stage – 1
HP –  90
Speciality – None
Card Number – 69/119
XY Generations 2016

Stage – 1
HP –  90
Speciality – None
Card Number – RC20/RC32
SM Cosmic Eclipse 2019

Stage – 1
HP – 110
Speciality – None
Card Number – 154/236
SWSH Chilling Reign 2021

Stage – 1
HP – 110
Speciality – None
Card Number – 068/198
SWSH Silver Tempest 2022

Stage – 1
HP – 120
Speciality – None
Card Number – 084/195
Gallery