Spinda Pokédex Information
Spinda first appeared in the game Pokémon Ruby and Sapphire which released in Japan on November 21st 2002. 
Spinda is a two-legged character based on a red panda. It is predominantly white with red markings on its head and ears, red arms and a red band around its body. Its steps are shaky and stumbling. Walking for a long time makes it feel sick.
Contents
Spinda Pokédex Facts
Evolutions
Spinda Pokédex Entries
TCG Cards
Spinda Pokédex Facts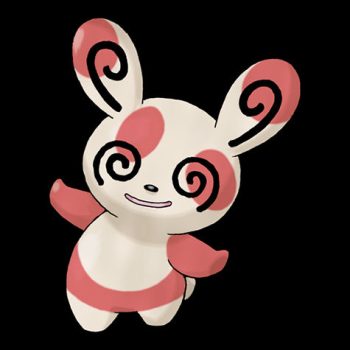 English Name – Spinda
Japanese Name – Patchīru
First Appearance – 2002 (Pokémon Ruby and Sapphire)
Based on – Red Panda
Generation – III
Pokédex Number – 327
Category – Spot Panda
Height – 1.1 m
Weight – 5 kg
Gender – Male, Female
Type – Normal
Weaknesses – Fighting
Special Abilities – Own Tempo, Tangled Feet
Spinda Evolution
Evolution – Spinda does not evolve
Spinda Pokédex Entries / Games
Ruby and Sapphire  2002
FireRed, LeafGreen  2004
Pokémon Emerald  2004
Diamond and Pearl  2006
Platinum  2008
HeartGold and SoulSilver  2009
Pokémon Black and White  2011
Black 2 and White 2  2012
Pokémon X and Y  2014   
Omega Ruby, Alpha Sapphire  2015 
Sun and Moon 2016
Ultra Sun and Ultra Moon 2017
Brilliant Diamond, Shining Pearl  2021
Spinda Card List – (scroll to bottom for gallery view)
EX Hidden Legends 2004


Stage – Basic
HP – 60
Speciality – None
Card Number – 48/101
EX Legend Maker 2006


Stage – Basic
HP – 60
Speciality – None
Card Number – 26/92
DP Secret Wonders 2007

Stage – Basic
HP – 70
Level – 25
Card Number – 111/132
POP Series 7 2007


Stage – Basic
HP – 70
Level – 25
Card Number – 17/17
Platinum Supreme Victors 2009


Stage – Basic
HP – 70
Level – 27
Card Number – 46/147
BW Boundaries Crossed 2012

Stage – Basic
HP – 80
Speciality – None
Card Number – 115/149
XY Primal Clash 2015


Stage – Basic
HP – 80
Speciality – None
Card Number – 115/160
Sun and Moon Base Set 2017


Stage – Basic
HP – 80
Speciality – None
Card Number – 102/149
SWSH Silver Tempest 2022

Stage – Basic
HP – 60
Speciality – None
Card Number – 141/195
Gallery