Sprigatito Pokédex Information
Sprigatito is a Grass type Pokémon that first appeared in the games Pokémon Scarlet and Violet which released in November 2022. It evolves to Floragato which evolves to Meowscarada.
Sprigatito is a small green character that is based on a cat. It is predominantly pale green in colour but has dark green highlights on the edge of its ears. It has a dark green leaf pattern on its face and a dark green leaf emblem around its neck. Its fluffy fur is similar in composition to plants. This Pokémon frequently washes its face to keep it from drying out.
Contents
Sprigatito Pokédex Facts
Evolutions
Sprigatito Pokédex Entries
TCG Cards
Sprigatito Pokédex Facts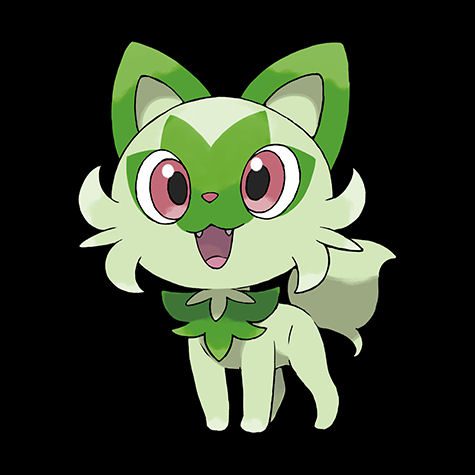 English Name – Sprigatito
Japanese Name – Nyaoha
First Appearance – 2022 (Pokémon Scarlet and Violet)
Generation – IX
Pokédex Number – 0906
Based on – Cat
Category – Grass Cat
Height – 0.4 m
Weight – 4.1 kg
Gender – Male, Female
Type – Grass
Weakness – Bug, Fire, Flying, Ice Poison
Special Ability – Overgrow
Sprigatito Evolutions
Evolution – Sprigatito evolves to Floragato (level 16); evolves to Meowscarada (level 36)
| | | |
| --- | --- | --- |
| Sprigatito | Level 16 | Floragato |
| Level 36 | Meowscarada | |
Sprigatito Pokédex Entries / Games
Pokémon Scarlet and Violet  2023
Sprigatito Card List – (scroll to bottom for gallery view)
Scarlet and Violet Promo Cards 2023


Stage – Basic
HP –  70
Speciality – None
Card Number – SVP001
Scarlet and Violet Base Set 2023

Stage – Basic
HP –  70
Speciality – None
Card Number – 013/198
SV Paldea Evolved 2023


Stage – Basic
HP –  60
Speciality – None
Card Number – 012/193

Stage – Basic
HP –  70
Speciality – None
Card Number – 013/193

Stage – Basic
HP –  60
Speciality – None
Card Number – 196/193
McDonald's Collection 2023


Stage – Basic
HP –  70
Speciality – None
Card Number – 001/015
Gallery