Abomasnow Pokédex Information
Abomasnow is a Grass / Ice type Pokémon that first appeared in the game Pokémon Diamond and Pearl which released in Japan on September 28th 2006. It evolves from Snover.
This Pokémon is a large two-legged creature that has a white head and body with grey/green hands, feet and tail. If it sees any packs of Darumaka going after Snover, it chases them off, swinging its sizable arms like hammers.
It evolves to Mega form with Abomasite. In this form the shaggy fur on its body grows much longer. It blankets wide areas in snow by whipping up blizzards. It is also known as "The Ice Monster."
Contents
Abomasnow Pokédex Facts
Evolutions
Abomasnow Pokédex Entries
TCG Cards
Abomasnow Pokédex Facts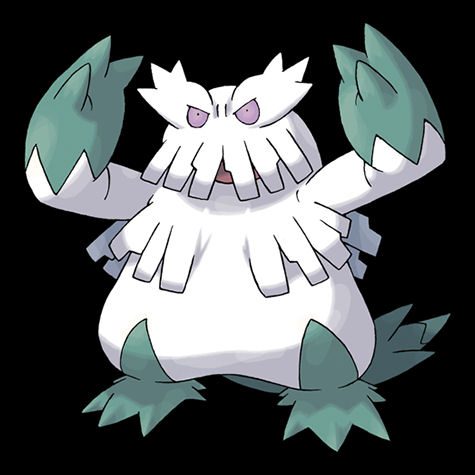 English Name – Abomasnow
Japanese Name – Yukinoō
First Appearance – 2006 (Pokémon Diamond and Pearl)
Generation – IV
Pokédex Number – 460
Based on – Abominable Snowman / Pine Tree
Category – Frost Tree
Height – 2.2 m
Weight – 135.5 kg
Gender – Male, Female
Primary Type – Grass
Secondary Type – Ice
Weakness – Bug, Fighting, Fire, Flying, Poison, Rock, Steel
Special Ability – Snow Warning
Mega Forme
Category – Frost Tree
Height – 2.7 m
Weight – 185 kg
Gender – Unknown
Primary Type – Grass
Secondary Type – Ice
Weakness – Bug, Fighting, Fire, Flying, Poison, Rock, Steel
Special Ability – Snow Warning
Abomasnow Evolutions
Evolution – Snover evolves to Abomasnow (level 40)
| | | |
| --- | --- | --- |
| Snover | Level 40 | Abomasnow |
Abomasnow Pokédex Entries / Games
Diamond and Pearl  2006
Platinum  2008
HeartGold and SoulSilver  2009
Pokémon Black and White  2011
Black 2 and White 2  2012
Pokémon X and Y  2014   
Omega Ruby, Alpha Sapphire  2015  
Sword and Shield  2019
Brilliant Diamond, Shining Pearl  2021
Legends Arceus  2022
Pokémon Scarlet and Violet 2022
Abomasnow Card List – (scroll to bottom for gallery view)
DP Mysterious Treasures 2007

Stage – 1
HP – 100
Level – 40
Card Number – 19/123
DP Stormfront 2008


Stage – 1
HP – 100
Level – 42
Card Number – 12/100
BW Plasma Blast 2013


Stage – 1
HP – 120
Speciality – None
Card Numbers – 26/101
XY BREAKThrough 2015


Stage – 1
HP – 130
Speciality – None
Card Numbers – 40/162
SM Ultra Prism 2018


Stage – 1
HP – 130
Speciality – None
Card Number – 38/156
SM Forbidden Light 2018

Stage – 1
HP – 130
Speciality – None
Card Number – 4/131
SM Unified Minds 2019


Stage – 1
HP – 140
Speciality – None
Card Number – 42/236
SWSH Rebel Clash 2020


Stage – 1
HP – 140
Speciality – None
Card Numbers – 013/192
SWSH Chilling Reign 2021


Stage – 1
HP – 140
Speciality – None
Forme – Single Strike
Card Numbers – 010/198
SWSH Astral Radiance 2022


Stage – 1
HP – 140
Speciality – None
Forme – Single Strike
Card Numbers – TG01/TG30
SWSH Lost Origin 2022


Stage – 1
HP – 140
Speciality – None
Card Numbers – 043/196
SV Paldea Evolved 2023

Stage – 1
HP – 150
Speciality – None
Card Numbers – 011/193
Gallery