Banette Pokédex Information
Banette is a Ghost type Pokemon that first appeared in the game Pokémon Ruby and Sapphire which released in Japan on November 21st 2002. 
This Pokémon is a two-legged character based on a puppet. It is grey in colour with red eyes, a gold tail and a gold zip for its mouth. It has three spikey protrusions on its head and a long extension that trails down its back and resembles a long night cap. It's a stuffed toy that was thrown away and became possessed, ever searching for the one who threw it away so it can exact its revenge.
In Mega Form it has open zips on its arms that reveal three red claw-like fingers and one running down its body that reveals a red body and feet. There is also a long closed zip that runs from the top of its right eye to the tip of the night-cap-like extension. Extraordinary energy amplifies its cursing power to such an extent that it can't help but curse its own Trainer.
Contents
Banette Pokédex Facts
Evolutions
Banette Pokédex Entries
TCG Cards
Banette Pokédex Facts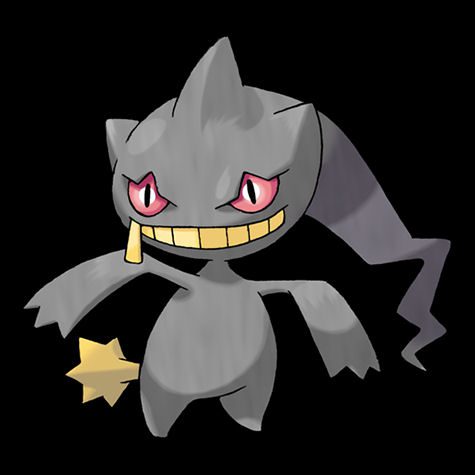 English Name – Banette
Japanese Name – Jupetta
First Appearance – 2002 (Pokémon Ruby and Sapphire)
Based on – Puppet / Marionette
Generation – III
Pokédex Number – 0354
Normal Form
Category – Marionette
Height – 1.1 m
Weight – 12.5 kg
Gender – Male and Female
Type – Ghost
Weaknesses – Dark, Ghost
Special Abilities – Frisk, Insomnia
Mega Form
Category – Marionette
Height – 1.2 m
Weight – 13 kg
Gender – Unknown
Type – Ghost
Weaknesses – Dark, Ghost
Special Abilities – Prankster
Banette Evolutions
Evolution – Shuppet evolves to Banette (level 37); evolves to Mega Form (holding Banettite)
Banette Pokédex Entries / Games
Ruby and Sapphire  2002
FireRed, LeafGreen  2004
Pokémon Emerald  2004
Diamond and Pearl  2006
Platinum  2008
HeartGold and SoulSilver  2009
Pokémon Black and White  2011
Black 2 and White 2  2012
Pokémon X and Y  2014   
Omega Ruby, Alpha Sapphire  2015 
Sun and Moon  2016
Ultra Sun and Ultra Moon  2017
Brilliant Diamond, Shining Pearl  2021
Scarlet and Violet Base Set 2022
Banette Card List – (scroll to bottom for gallery view)
EX Hidden Legends  2004


Stage – 1
HP – 70
Speciality – None
Card Number – 1/101
EX Legend Maker 2006


Stage – 1
HP – 90
Speciality – ex
Card Number – 85/92
EX Crystal Guardians  2006


Stage – 1
HP – 70
Speciality – None
Card Number – 1/100
EX Power Keepers  2007

Stage – 1
HP – 70
Speciality – None
Card Number – 4/108
DP Secret Wonders  2007

Stage – 1
HP – 80
Level – 42
Card Number – 23/132
Platinum Base Set 2009


Stage – 1
HP – 90
Level – 48
Card Number – 19/127
HGSS Triumphant 2010

Stage – 1
HP – 80
Speciality – None
Card Number – 14/102
XY Roaring Skies  2015

Stage – 1
HP – 80
Speciality – None
Card Number – 31/108
Stage – 1
HP – 90
Speciality – None
Card Number – 32/108
SM Celestial Storm  2018

Stage – 1
HP – 90
Speciality – None
Card Number – 65/168
Stage – 1
HP – 190
Speciality – GX
Card Number – 66/168
Stage – 1
HP – 190
Speciality – None
Card Number – 157/168
Stage – 1
HP – 190
Speciality – GX
Card Number – 174/168
SM Hidden Fates  2019

Stage – 1
HP – 190
Speciality – GX
Card Number – SV61/SV94
SWSH Vivid Voltage  2020

Stage – 1
HP – 90
Speciality – None
Card Number – 068/185
SWSH Chilling Reign  2021


Stage – 1
HP – 80
Speciality – None
Style – Single Strike
Card Number – 063/198
SWSH Lost Origin 2022

Stage – 1
HP – 100
Speciality – None
Card Number – 073/196
Stage – 1
HP – 80
Speciality – None
Style – Single Strike
Card Number – TG07/TG30
Scarlet and Violet Base Set 2023

Stage – 1
HP – 250
Speciality – ex
Card Number – 088/198
Stage – 1
HP – 250
Speciality – ex
Card Number – 229/198
Gallery