Carnivine Pokédex Information
Carnivine first appeared in the game Pokémon Diamond and Pearl which released in Japan on September 28th 2006. 
This Pokémon is predominantly green and has the appearance of a venus flytrap. It has a large head with a spiked mouth, two leafy arms, a yellow upper-body and a leafy green and red lower body. It attracts prey with its sweet-smelling saliva, then chomps down. It takes a whole day to eat prey.
Contents
Carnivine Pokédex Facts
Evolutions
Carnivine Pokédex Entries
TCG Cards
Carnivine Pokédex Facts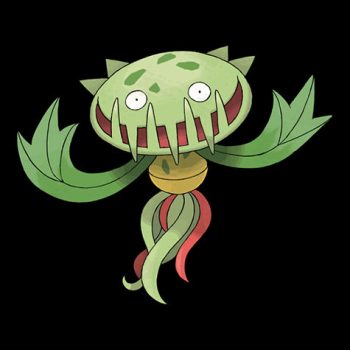 English Name – Carnivine
Japanese Name – Masukippa
First Appearance – 2006 (Pokémon Diamond and Pearl)
Generation – IV
Pokédex Number – 455
Based on – Venus Fly Trap
Category – Bug Catcher
Height – 1.4 m
Weight – 270 kg
Gender – Male, Female
Type – Grass
Weakness – Bug, Fire, Flying, Ice, Poison
Special Ability – Levitate
Carnivine Evolutions
Evolution – Carnivine does not evolve   
Carnivine Pokédex Entries / Games
Diamond and Pearl  2006
Platinum  2008
HeartGold and SoulSilver  2009
Pokémon Black and White  2011
Black 2 and White 2  2012
Pokémon X and Y  2014   
Omega Ruby, Alpha Sapphire  2015  
Brilliant Diamond, Shining Pearl  2021
Legends Arceus  2022
Carnivine Card List – (scroll to bottom for gallery view)
Diamond and Pearl Promo Cards 2007 – 2009

Carnivine G
Stage – Basic
HP – 80
Level – 43
Card Number – DP42
Diamond and Pearl Base Set 2007


Stage – Basic
HP – 70
Level – 32
Card Number – 21/130
POP Series 8 2008

Stage – Basic
HP – 70
Level – 32
Card Number – 7/17
Platinum Base Set 2009


Stage – Basic
HP – 80
Level – 38
Card Number – 43/127
Stage – Basic
HP – 80
Level – 39
Card Number – 68/127
Platinum Supreme Victors 2009


Stage – Basic
HP – 80
Level – 34
Card Number – 53/147
HGSS Unleashed 2010

Stage – Basic
HP – 80
Speciality – None
Card Number – 46/95
HGSS Triumphant 2010

Stage – Basic
HP – 80
Speciality – None
Card Number – 16/102
BW Dark Explorers 2012


Stage – Basic
HP – 90
Speciality – None
Card Number – 5/108
BW Legendary Treasures 2013

Stage – Basic
HP – 90
Speciality – None
Card Number – 5/113
SM Shining Legends 2017

Stage – Basic
HP – 100
Speciality – None
Card Number – 6/73
SM Ultra Prism 2018


Stage – Basic
HP – 90
Speciality – None
Card Number – 12/156
SWSH Darkness Ablaze 2020


Stage – Basic
HP – 50
Speciality – None
Card Number – 005/189
SWSH Battle Styles 2021

Stage – Basic
HP – 110
Speciality – None
Forme – Rapid Strike
Card Number – 009/163
SWSH Crown Zenith 2023

Stage – Basic
HP – 90
Speciality – None
Card Number – 012/159
Gallery