Toxicroak Pokédex Information
Toxicroak is a Poison / Fighting type Pokémon that first appeared in the game Pokémon Diamond and Pearl which released in Japan on September 28th 2006. It evolves from Croagunk.
This Pokémon is a two-legged creature that is predominantly blue with black and red markings and is based on a poison frog. It stores poison in the red sac beneath its mouth. It bounces toward opponents and gouges them with poisonous claws. No more than a scratch is needed to knock out its adversaries.
Contents
Toxicroak Pokédex Facts
Evolutions
Toxicroak Pokédex Entries
TCG Cards
Toxicroak Pokédex Facts
English Name – Toxicroak
Japanese Name – Dokuroggu
First Appearance – 2006 (Pokémon Diamond and Pearl)
Generation – IV
Pokédex Number – 0454
Category – Toxic Mouth
Height – 1.3 m
Weight – 44.4 kg
Gender – Male, Female
Primary Type – Poison
Secondary Type – Fighting
Weakness – Flying, Ground, Psychic
Special Abilities – Anticipation, Dry Skin
Toxicroak Evolutions
Evolution – Croagunk evolves to Toxicroak (level 37)
Toxicroak Pokédex Entries / Games
Diamond and Pearl  2006
Platinum  2008
HeartGold and SoulSilver  2009
Pokémon Black and White  2011
Black 2 and White 2  2012
Pokémon X and Y  2014   
Omega Ruby, Alpha Sapphire  2015  
Sword and Shield  2019
Brilliant Diamond, Shining Pearl  2021
Legends Arceus  2022
Scarlet and Violet 2022
Toxicroak Card List – (scroll to bottom for gallery view)
Diamond and Pearl Promo Cards 2007 – 2009

Toxicroak G
Stage – Basic
HP – 90
Level – 45
Card Number – DP41
DP Mysterious Treasures 2007

Stage – 1
HP – 90
Level – 39
Card Number – 36/123
DP Majestic Dawn 2008

Stage – 1
HP – 90
Level – 32
Card Number – 31/100
Platinum Base Set 2009

Toxicroak G
Stage – 1
HP – 90
Level – 40
Card Number – 40/127
Platinum Arceus 2009

Stage – 1
HP – 90
Level – 46
Card Number – 11/99
BW Boundaries Crossed 2012

Stage – 1
HP – 90
Speciality – None
Card Number – 66/149
BW Legendary Treasures 2013

Stage – 1
HP – 90
Speciality – None
Card Number – 63/113
XY Flashfire 2014

Stage – Basic
HP – 170
Speciality – EX
Card Number – 41/106
Stage – Basic
HP – 170
Speciality – EX
Card Number – 102/106
XY Steam Siege 2016

Stage – 1
HP – 90
Speciality – None
Card Number – 59/114
SM Burning Shadows 2017

Stage – 1
HP – 110
Speciality – None
Card Number – 55/147
SM Ultra Prism 2018

Stage – 1
HP – 100
Speciality – None
Card Number – 57/156
SM Forbidden Light 2018

Stage – 1
HP – 100
Speciality – None
Card Number – 64/131
Sword and Shield Base Set 2020

Stage – 1
HP – 110
Speciality – None
Card Number – 124/202
SWSH Fusion Strike 2021

Stage – 1
HP – 110
Speciality – None
Card Number – 166/264
SWSH Silver Tempest 2022

Stage – 1
HP – 120
Speciality – None
Card Number – 110/195
Scarlet and Violet Base Set 2023

Stage – 1
HP – 250
Speciality – ex
Card Number – 131/198
Stage – 1
HP – 250
Speciality – ex
Card Number – 232/198
SV Paldea Evolved 2023

Stage – 1
HP –  130
Speciality – None
Card Number – 115/193
Gallery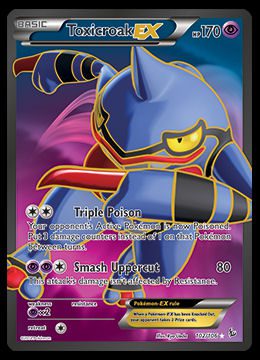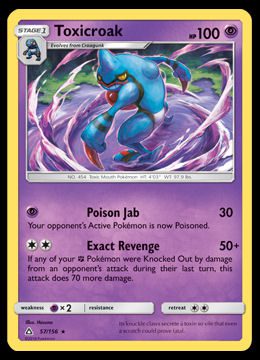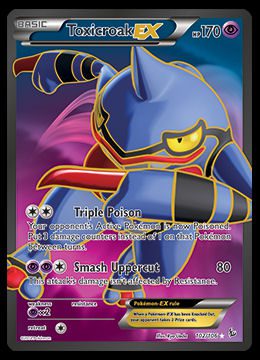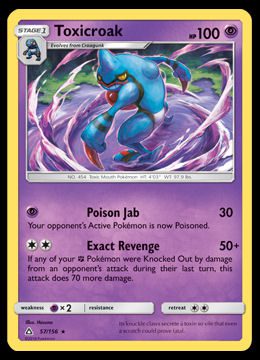 TOXICROAK
0454