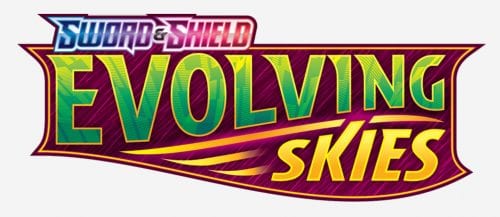 The Evolving Skies expansion set is scheduled for launch on 27th August 2021. The set is based on the Japanese sets Skyscraping Perfection and Blue Sky Stream and will include the highly anticipated Eeveelutions.  Skyscraping Perfection and Blue Sky Stream focus on Rayquaza and Duraludon, both of which feature in the booster products' artwork. The 8 Eeveelutions feature in the artwork for the Elite Trainer Boxes.
Pokémon have revealed that the set will contain 200+ cards including: 15 VMAX, 18 V, 24 Trainers and a new energy card.
PLEASE NOTE: The Evolving Skies card list below is based on what is known so far. It is not a definitive list and is subject to change at any point prior to the official card list being released in August.
Evolving Skies Card List
Full Art Cards
Leafeon VMAX
Flareon VMAX
Vaporeon VMAX
Glaceon VMAX
Jolteon VMAX
Espeon VMAX
Sylveon VMAX
Umbreon VMAX
Inteleon VMAX
Rayquaza VMAX
Duraludon VMAX
Rillaboom VMAX
Cinderace VMAX
Gengar VMAX
Ultra Rare
Leafeon V
Leafeon V alt art
Leafeon VMAX
Flareon V
Flareon V alt art
Flareon VMAX
Vaopreon V
Vaporeon V alt art
Vaporeon VMAX
Glaceon V
Glaceon V alt art
Glaceon VMAX
Jolteon V
Jolteon V alt art
Jolteon VMAX
Espeon V
Espeon V alt art
Espeon VMAX
Sylveon V
Sylveon V alt art
Sylveon VMAX
Umbreon V
Umbreon V alt art
Umbreon VMAX
Gengar VMAX
Aroma Lady
Gordie
Secret Rainbow Rare Cards
Leafeon VMAX
Glaceon VMAX
Sylveon VMAX
Umbreon VMAX
Aroma Lady
Gordie
Gold Secret Rare Cards
Inteleon V
Invigorating Shake
Turffield Stadium
Darkness Energy
Half Art Cards
Leafeon V
Flareon V
Vaporeon V
Glaceon V
Jolteon V
Espeon V
Sylveon V
Umbreon V
Dragonite V
Rayquaza V
Noivern V
Duraludon V
Rillaboom V
Cinderace V
Gengar V
Trainer Cards
Adventurer's Discovery
Aroma Lady
Crystal Cave
Dream Ball
Elemental Badge
Fashion Mall
Gordie
Invigorating Shake
Moon & Sun Badge
Raihan
Ribbon Badge
Snow Leaf Badge
Swap Cup
Tempest Peaks
Winning Ice Pop
Zinnia's Commitment
Common & Uncommon Cards
Single strike Pinsir
Eldegoss
Jumpluff
Ninetales
Swampert
Milotic
Ludicolo
Cryogonal
Rapid Strike Wishiwashi
Flaaffy
Altaria
Dialga
Redidrago
Galarian Articuno
Galarian Zapdos
Galarian Moltres
Grimmsnarl
Morpeko
Zoroark
Thievul
Smeargle