Glalie Pokédex Information
Glalie first appeared in the game Pokémon Ruby and Sapphire which released in Japan on November 21st 2002. 
This Pokémon is composed of hard rock covered with ice. It resembles a face and may be based on a mask or a Japanese mythical ogre race known as Oni.  It has two ears, blue eyes and white teeth that are visible through gaps in the ice covering. It has a body of ice that won't melt, even with fire. It can instantly freeze moisture in the atmosphere.
In Mega Form it is bigger and heavier. The ice covering has split revealing a wide toothy chasm that resembles a wide open mouth. It has three blue / grey protrusions on its head. When it spews stupendously cold air from its broken mouth, the entire area around it gets whited out.
Contents
Glalie Pokédex Facts
Evolutions
Glalie Pokédex Entries
TCG Cards
Glalie Pokédex Facts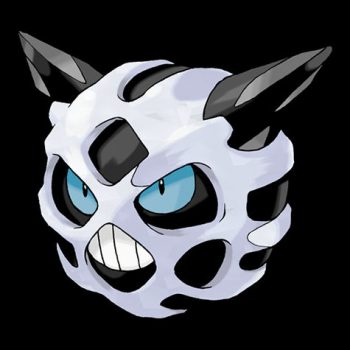 English Name – Glalie
Japanese Name – Onigōri
First Appearance – 2002 (Pokémon Ruby and Sapphire)
Based on – Mask, Ogre
Generation – III
Pokédex Number – 362
Normal Form
Category – Face
Height – 1.5 m
Weight – 256.5 kg
Gender – Male and Female
Type – Ice
Weaknesses – Fighting, Fire, Rock, Steel
Special Abilities – Ice Body, Inner Focus
Mega Form
Category – Face
Height – 2.1 m
Weight – 350.2 kg
Gender – Unknown
Type – Ice
Weaknesses – Fighting, Fire, Rock, Steel
Special Abilities – Refrigerate
Glalie Evolutions
Evolution – Snorunt evolves to Glalie (level 42); evolves to Mega Glalie (with Glalitite)
| | | |
| --- | --- | --- |
| | | |
|   | | |
Glalie Pokédex Entries / Games
Ruby and Sapphire  2002
FireRed, LeafGreen  2004
Pokémon Emerald  2004
Diamond and Pearl  2006
Platinum  2008
HeartGold and SoulSilver  2009
Pokémon Black and White  2011
Black 2 and White 2  2012
Pokémon X and Y  2014   
Omega Ruby, Alpha Sapphire  2015  
Sun and Moon  2016
Ultra Sun and Ultra Moon  2017
Sword and Shield  2019
Brilliant Diamond, Shining Pearl  2021
Legends Arceus  2022
Glalie Card List – (scroll to bottom for gallery view)
EX Hidden Legends  2004

Stage – 1
HP – 80
Speciality – None
Card Number – 34/101
EX Emerald  2005

Stage – 1
HP – 80
Speciality – None
Card Number – 13/106
EX Power Keepers  2007

Stage – 1
HP -80
Speciality ex
Card Number – 30/108
DP Mysterious Treasures  2007

Stage – 1
HP -90
Level – 43
Card Number – 25/123
Platinum Arceus 2009


Stage – 1
HP -90
Level – 46
Card Number – 18/99
BW Plasma Blast  2013


Stage – 1
HP – 100
Speciality – None
Card Number – 22/101
XY BREAKThrough  2015

Stage – Basic
HP – 170
Speciality – EX
Card Number – 34/162

Stage – Mega
HP – 220
Speciality – EX
Card Number – 35/162
Glalie Spirit Link
Trainer – Item
Card Number – 139/162
Stage – Basic
HP – 170
Speciality – EX
Card Number – 155/162

Stage – Mega
HP – 220
Speciality – EX
Card Number – 156/162
SM Guardians Rising 2017


Stage – 1
HP – 120
Speciality – None
Card Number – 32/145
SM Cosmic Eclipse 2019

Stage – 1
HP – 120
Speciality – None
Card Number – 48/236
SWSH Silver Tempest 2022


Stage – 1
HP – 130
Speciality – None
Card Number – 042/195
Gallery