Kirlia Pokédex Information
Kirlia first appeared in the game Pokémon Ruby and Sapphire which released in Japan on November 21st 2002. 
Kirlia is humanoid character that resembles a dancer. It has a small white head that is covered with a mass of green hair topped with two semi-circular red discs. Its arms and upper body are white and its body extends over its lower body to resemble a ballet skirt. Its lower body and legs are green. If its Trainer becomes happy, it overflows with energy, dancing joyously while spinning about.
Contents
Kirlia Pokédex Facts
Evolutions
Kirlia Pokédex Entries
TCG Cards
Kirlia Pokédex Facts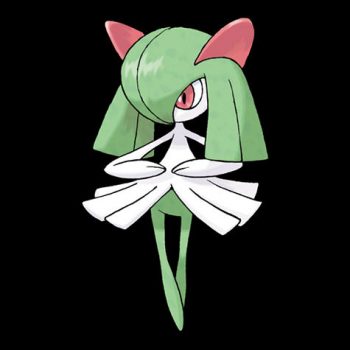 English Name – Kirlia
Japanese Name – Kiruria
First Appearance – 2003 (Pokémon Ruby and Sapphire)
Based on – Humanoid / Dancer
Generation – III
Pokédex Number – 281
Category – Emotion
Height – 0.8 m
Weight – 20.2 kg
Gender – Male, Female
Primary Type –  Psychic
Secondary Type – Fairy
Weakness – Ghost, Poison, Steel
Special Abilities – Synchronize, Trace
Kirlia Evolutions
Evolution – Ralts evolves to Kirlia (Level 20); evolves to Gardevoir (Level 30)
| | | |
| --- | --- | --- |
| Ralts | Level 20 | Kirlia |
| Level 30 | Level 30 | |
Kirlia Pokédex Entries / Games
Ruby and Sapphire  2002
Pokémon Emerald  2004
FireRed and LeafGreen  2005
Diamond and Pearl  2006
Platinum  2008
HeartGold and SoulSilver  2009
Pokémon Black and White  2011
Black 2 and White 2  2012
Pokémon X and Y  2014   
Omega Ruby, Alpha Sapphire  2015  
Sword and Shield  2019
Ultra Sun and Ultra Moon 2017
Brilliant Diamond, Shining Pearl  2021
Legends Arceus 2022
Scarlet and Violet 2022
Kirlia Card List – (scroll to bottom for gallery view)
EX Ruby and Sapphire 2003

Stage – 1
HP –  70
Speciality – None
Card Number – 34/109

Stage – 1
HP –  70
Speciality – None
Card Number – 35/109
EX Sandstorm 2003


Stage – 1
HP –  70
Speciality – None
Card Number – 40/100
EX Emerald 2005


Stage – 1
HP –  70
Speciality – None
Card Number – 33/106
EX Delta Species 2005

Stage – 1
HP –  70
Speciality – None
Card Number – 47/113
EX Dragon Frontiers 2006


Stage – 1
HP –  70
Speciality – None
Card Number – 32/101
Stage – 1
HP –  70
Speciality – None
Card Number – 33/101
EX Power Keepers 2007


Stage – 1
HP –  70
Speciality – None
Card Number – 31/108
DP Secret Wonders 2007

Stage – 1
HP –  80
Level – 28
Card Number – 53/132
POP Series 7 2008

Stage – 1
HP –  80
Level – 28
Card Number – 8/17
Platinum Base Set 2009

Stage – 1
HP –  80
Level – 24
Card Number – 51/127
BW Next Destinies 2012


Stage – 1
HP –  80
Speciality – None
Card Number – 56/99
BW Plasma Storm 2013

Stage – 1
HP –  80
Speciality – None
Card Number – 60/135
BW Legendary Treasures 2013

Stage – 1
HP –  80
Speciality – None
Card Number – 60/113
Stage – 1
HP –  70
Speciality – None
Card Number – RC9/RC25
XY Ancient Origins 2015

Stage – 1
HP –  80
Speciality – None
Card Number – 53/98
XY BREAKThrough 2015

Stage – 1
HP –  80
Speciality – None
Card Number – 69/162
SM Burning Shadows 2017


Stage – 1
HP –  80
Speciality – None
Card Number – 92/147
SM Lost Thunder 2018

Stage – 1
HP –  80
Speciality – None
Card Number – 140/214
SM Hidden Fates 2019

Stage – 1
HP –  80
Speciality – None
Card Number – SV35/SV94
SM Cosmic Eclipse 2019


Stage – 1
HP –  80
Speciality – None
Card Number – 81/236
Sword and Shield Promo Cards 2020 – 2023

Stage – 1
HP –  80
Speciality – None
Card Number – SWSH271
SWSH Chilling Reign 2021


Stage – 1
HP –  80
Speciality – None
Card Number – 060/198
SWSH Astral Radiance 2022

Stage – 1
HP –  90
Speciality – None
Card Number – 061/189
SWSH Silver Tempest 2022

Stage – 1
HP –  80
Speciality – None
Card Number – 068/195
Gallery