Kricketune Pokédex Information
Kricketune first appeared in the game Pokémon Diamond and Pearl which released in Japan on September 28th 2006. 
This Pokémon is a two-legged insect character that resembles a cricket. It is mostly a rusty red colour with grey markings. It has two large grey eyes, a grey moustache and two dark grey wings. It crosses its knifelike arms in front of its chest when it cries. It can compose melodies ad lib.
Contents
Kricketune Pokédex Facts
Evolutions
Kricketune Pokédex Entries
TCG Cards
Kricketune Pokédex Facts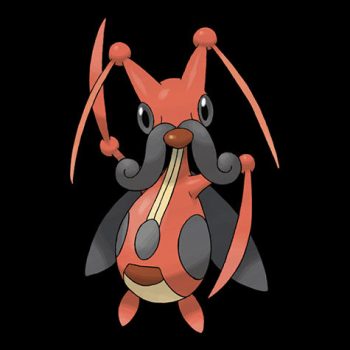 English Name – Kricketune
Japanese Name – Korotokku
First Appearance – 2006 (Pokémon Diamond and Pearl)
Based on – Cricket
Generation – IV
Pokédex Number – 402
Category – Cricket
Height – 1.0 m
Weight – 25.5 kg
Gender – Male, Female
Type – Bug, 
Weakness – Fire, Flying, Rock
Special Abilities – Swarm
Kricketune Evolutions
Evolution – Kricketot evolves to Kricketune (level 10)
Kricketune Pokédex Entries / Games
Diamond and Pearl  2006
Platinum  2008
HeartGold and SoulSilver  2009
Pokémon Black and White  2011
Black 2 and White 2  2012
Pokémon X and Y  2014   
Omega Ruby, Alpha Sapphire  2015  
Brilliant Diamond, Shining Pearl  2021
Legends Arceus  2022
Kricketune Card List – (scroll to bottom for gallery view)
DP Mysterious Treasures 2007


Stage – 1
HP – 80
Level – 38
Card Number – 27/123
Platinum Base Set 2009


Stage – 1
HP – 90
Level – 46
Card Number – 32/127
HGSS Triumphant 2010

Stage – 1
HP – 80
Speciality – None
Card Number – 24/102
BW Next Destinies 2012


Stage – 1
HP – 90
Speciality – None
Card Number – 4/99
XY BREAKPoint 2016


Stage – 1
HP – 90
Speciality – None
Card Number – 6/122
SM Cosmic Eclipse 2019

Stage – 1
HP – 100
Speciality – None
Card Number – 14/236
SWSH Battle Styles 2021


Stage – 1
HP – 180
Speciality – V
Card Number – 006/163

Stage – 1
HP – 180
Speciality – V
Card Number – 142/163
SWSH Astral Radiance 2022

Stage – 1
HP – 90
Speciality – None
Card Number – 010/189
SWSH Silver Tempest 2022

Stage – Basic
HP – 180
Speciality – V
Card Number – TG12/TG30
SWSH Crown Zenith 2023


Stage – 1
HP – 90
Speciality – None
Card Number – GG02/GG70
Gallery