Larvitar Pokédex Information
Larvitar is a Rock / Ground type Pokémon that first appeared in the games Pokémon Gold and Silver which were released in Japan in November 1999. It evolves to Pupitar.
Larvitar is a two-legged, green character that is based on a small dinosaur or an insect larvae. Its colouring is green apart from a red diamond-shaped patch on its belly flanked by black diamonds. It has a rudder-shaped projection on its head. Born deep underground, this Pokémon becomes a pupa after eating enough dirt to make a mountain.
Contents
Larvitar Pokédex Facts
Evolutions
Larvitar Pokédex Entries
TCG Cards
Larvitar Pokédex Facts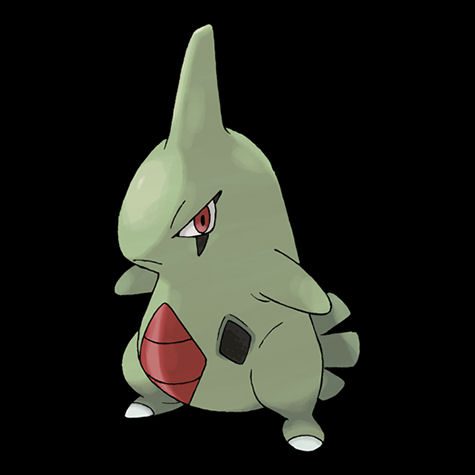 English Name – Larvitar
Japanese Name – Yōgirasu
First Appearance – 1999 (Pokémon Gold and Silver)
Based on – Pupa
Generation – II
Pokédex Number – 0246
Category – Rock Skin
Height – 0.6 m
Weight – 72 kg
Gender – Male, Female
Primary Type –  Rock
Secondary Type – Ground
Weakness – Fighting, Grass, Ground, Ice, Steel, Water
Special Abilities – Guts
Larvitar Evolutions
Evolution – Larvitar evolves to Pupitar (Level 30); evolves to Tyranitar (Level 55)
| | | |
| --- | --- | --- |
| Larvitar | Level 30 | Pupitar |
| Level 55 | Tyranitar | |
Larvitar Pokédex Entries / Games
Gold and Silver  1999
Pokémon Crystal 2000
Pokémon Stadium 2 2000
Ruby and Sapphire  2002
Pokémon Emerald  2004
FireRed and LeafGreen  2005
Diamond and Pearl  2006
Platinum  2008
HeartGold and SoulSilver  2009
Pokémon Black and White  2011
Black 2 and White 2  2012 
Pokémon X and Y  2013
Omega Ruby, Alpha Sapphire  2015  
Ultra Sun and Ultra Moon  2017
Sword and Shield 2019
Brilliant Diamond, Shining Pearl  2021
Scarlet and Violet  2022
Larvitar Card List – (scroll to bottom for gallery view)
Neo Discovery 2001


Stage – Basic
HP –  40
Speciality – None
Card Number – 57/75
Neo Destiny 2002


Stage – Basic
HP –  40
Speciality – None
Card Number – 70/105
Expedition Base Set 2002


Stage – Basic
HP –  50
Speciality – None
Card Number – 116/165
Pokémon Aquapolis 2003


Stage – Basic
HP –  40
Speciality – None
Card Number – 89/147
POP Series 1 2004


Stage – Basic
HP –  40
Speciality – None
Card Number – 11/17
EX Team Rocket Returns 2004

Stage – Basic
HP –  50
Speciality – None
Card Number – 62/109
Stage – Basic
HP –  50
Speciality – None
Card Number – 63/109
EX Emerald 2005


Stage – Basic
HP – 50
Speciality – None
Card Number – 52/106
EX Unseen Forces 2005

Stage – Basic
HP – 50
Speciality – None
Card Number – 61/115
EX Delta Species 2005


Stage – Basic
HP – 50
Speciality – None
Card Number – 73/113
EX Dragon Frontiers 2006

Stage – Basic
HP – 50
Speciality – None
Card Number – 51/101

Stage – Basic
HP – 50
Speciality – None
Card Number – 52/101
DP Mysterious Treasures 2007


Stage – Basic
HP – 50
Level – 18
Card Number – 87/123
DP Stormfront 2008


Stage – Basic
HP –  50
Level – 19
Card Number – 63/100
HGSS Unleashed 2010


Stage – Basic
HP –  50
Speciality – None
Card Number – 50/95
Stage – Basic
HP –  60
Speciality – None
Card Number – 51/95
XY Fates Collide 2016


Stage – Basic
HP –  60
Speciality – None
Card Number – 40/124

Stage – Basic
HP –  50
Speciality – None
Card Number – 41/124
SM Celestial Storm 2018

Stage – Basic
HP –  60
Speciality – None
Card Number – 74/168
SM Lost Thunder 2018


Stage – Basic
HP –  50
Speciality – None
Card Number – 114/214

Stage – Basic
HP –  60
Speciality – None
Card Number – 115/214
SM Team Up 2019

Stage – Basic
HP –  70
Speciality – None
Card Number – 79/181
SWSH Darkness Ablaze 2020

Stage – Basic
HP –  70
Speciality – None
Card Number – 086/189
SWSH Pokémon Go 2022


Stage – Basic
HP –  90
Speciality – None
Card Number – 037/078
SV Paldea Evolved 2023

Stage – Basic
HP –  70
Speciality – None
Card Number – 110/193
SV Obsidian Flames 2023

Stage – Basic
HP – 70
Speciality – None
Card Number – 105/197
Stage – Basic
HP – 70
Speciality – None
Card Number – 203/197
Gallery