What is the Lycanroc V vs Corviknight V Battle Deck?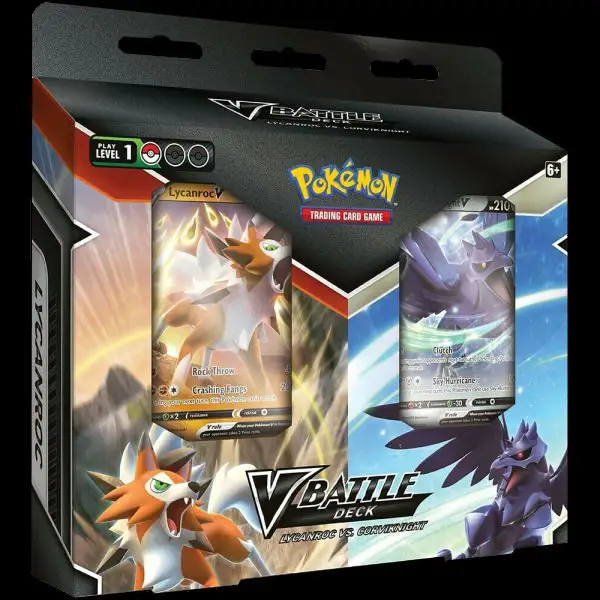 The Lycanroc V vs Corviknight V Battle Deck released on 25th February 2022 as a double deck set. The two decks are also available individually.
Battle Decks and Theme decks are produced with gamers in mind. They include a selection of cards that make up a ready-to-play themed deck and include everything needed to get started playing the Pokémon Trading Card Game. The cards are often taken from a variety of expansion sets within a particular series. These decks are listed as level 1 and are aimed at players who are learning to play the game or who have only been playing for a short while. More experienced gamers with a greater understanding of the cards available will be able to put together their own decks.
The double set measures 20 cm (8 inches) x 19 cm (7.5 inches) x 4 cm (1.6 inches) and has a recommended retail price of £27.99 in the UK and $29.99 in the US. 
The box has a cut out section on the front which reveals the featured black star promo cards for each set – Lycanroc V  SWSH199 and Corviknight V SWSH200. These cards are reprints of existing cards. The Lycanroc V card first released in Evolving Skies while Corviknight V previously appeared in Battle Styles.
What is in the Lycanroc V and Corviknight V Battle Decks?
The contents of the decks has been released:
The Double Set includes:
2 ready-to-play V Battle Decks (60 cards each)  including Lycanroc V and Corviknight V (details below)
8 additional Trainer cards, including 2 foil cards
2 large metallic coins
2 deck boxes
2 Quick Guides to unlock the strategies within
2 single-player playmats
6 reference cards
Damage counters
1 guide to upgrading your decks
A code card for Pokémon Trading Card Game Live
The Lycanroc V Deck Contents:
1 Lycanroc V SWSH199
3 Dugtrio
4 Diglett
3 Galarian Sirfetch'd
4 Galarian Farfetch'd 
2 Steelix 
2 Onix 
2 Sudowoodo 
2 Bug Catcher 
1 Cook 
2 Escape Rope 
2 Evolution Incense 
4 Great Ball 
2 Gym Trainer 
4 Hop 
1 Potion 
2 Shauna 
1 Sonia 
18 Fighting Energy 
Corviknight V Battle Deck Contents:
1 Corviknight V SWSH200
3 Galarian Perrserker
4 Galarian Meowth 
3 Ferrothorn 
4 Ferroseed 
2 Dialga 
2 Klefki 
2 Cobalion 
2 Bug Catcher 
1 Cook 
2 Escape Rope 
2 Evolution Incense 
4 Great Ball 
2 Gym Trainer 
4 Hop 
1 Potion 
2 Shauna 
1 Sonia 
18 Metal Energy