Magnemite Pokédex Information
Magnemite is an Electric / Steel type Pokémon that first appeared in the games Pokémon Red and Blue which released in Japan on 12th September 1999. It evolves to Magneton which then evolves to Magnezone.
Magneton is a Pokémon that is based on magnets. It is comprised of a central metal sphere with a single eye at the front and two metal screws below. At the top is a coiled spring with a flat metal disc on top. The electromagnetic waves emitted by the units at the sides of its head expel antigravity, which allows it to float.
Contents
Magnemite Pokédex Facts
Evolutions
Magnemite Pokédex Entries
TCG Cards
Magnemite Pokédex Facts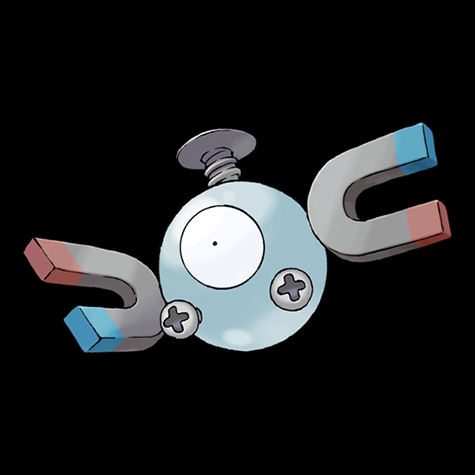 English Name – Magnemite
Japanese Name – Koiru
First Appearance – 1999 (Pokémon Red and Blue)
Based on – Magnets
Generation – I
Pokédex Number – 0081
Category – Magnet
Height – 0.3 m
Weight – 6 kg
Gender – Unknown
Primary Type – Electric
Secondary Type – Steel
Weakness – Fighting, Fire, Ground
Special Abilities – Magnet Pull, Sturdy
Magnemite Evolutions
Evolution – Magnemite evolves to Magneton (level 30); evolves to Magnezone (level up in magnetic zone, Thunder Stone)
| | | |
| --- | --- | --- |
| Magnemite | Level 30 | Magneton |
| Level Up with Thunder Stone | Magnezone | |
Magnemite Pokédex Entries / Games
Pokémon Red and Blue 1999
Pokémon Yellow  2000
Pokémon Stadium  2000
Gold and Silver  1999
Pokémon Crystal 2000
Pokémon Stadium 2 2000
Ruby and Sapphire  2002
Pokémon Emerald  2004
FireRed and LeafGreen  2005
Diamond and Pearl  2006
Platinum  2008
HeartGold and SoulSilver  2009
Pokémon Black and White  2011
Black 2 and White 2  2012 
Pokémon X and Y  2013
Omega Ruby, Alpha Sapphire  2015  
Sun and Moon 2016
Ultra Sun and Ultra Moon 2017
Let's Go Pikachu, Let's Go Eevee 2018
Sword and Shield 2019
Brilliant Diamond, Shining Pearl  2021
Scarlet and Violet 2022
Magnemite Card List – (scroll to bottom for gallery view)
Pokémon Base Set 1999

Stage – Basic
HP – 40
Level – 13
Card Number – 53/102
Pokémon Base Set 2 2000

Stage – Basic
HP – 40
Level – 13
Card Number – 79/130
Team Rocket 2000


Stage – Basic
HP – 40
Level – 12
Card Number – 60/82
Pokémon Gym Heroes 2000

Stage – Basic
HP – 30
Level – 10
Card Number – 50/132

Stage – Basic
HP – 40
Level – 12
Card Number – 80/132
Neo Discovery 2001


Stage – Basic
HP – 40
Level – 16
Card Number – 7/75

Stage – Basic
HP – 40
Level – 16
Card Number – 26/75
Legendary Collection 2002

Stage – Basic
HP – 40
Level – 13
Card Number – 80/110
Pokémon Aquapolis 2003

Stage – Basic
HP – 40
Speciality – None
Card Number – 52/147

Stage – 1
HP – 50
Speciality – None
Card Number – 91/147
Pokémon Skyridge 2003

Stage – Basic
HP – 40
Speciality – None
Card Number – 76/144
EX Dragon 2003

Stage – Basic
HP – 40
Speciality – None
Card Number – 61/97
Stage – Basic
HP – 50
Speciality – None
Card Number – 62/97
Stage – Basic
HP – 50
Speciality – None
Card Number – 63/97
EX FireRed, LeafGreen 2004


Stage – Basic
HP – 50
Speciality – None
Card Number – 68/112
EX Team Rocket Returns 2004


Stage – Basic
HP – 50
Speciality – None
Card Number – 66/109
EX Delta Species 2005


Stage – Basic
HP – 40
Speciality – None
Card Number – 70/113
Stage – 1
HP – 50
Speciality – None
Card Number – 74/113
EX Legend Maker 2006

Stage – Basic
HP – 50
Speciality – None
Card Number – 59/92
EX Power Keepers 2007

Stage – Basic
HP – 50
Speciality – None
Card Number – 54/108
Diamond and Pearl Base Set 2007


Stage – Basic
HP – 50
Level – 10
Card Number – 87/130
DP Stormfront 2008


Stage – Basic
HP – 50
Level – 15
Card Number – 66/100
Stage – Basic 
HP – 50
Level – 13
Card Number – 67/100
Platinum Supreme Victors 2009

Stage – Basic 
HP – 40
Level – 7
Card Number – 111/147
HGSS Triumphant 2010

Stage – Basic
HP – 50
Speciality – None
Card Number – 68/102
BW Plasma Storm 2013

Stage – Basic
HP – 60
Speciality – None
Card Number – 42/135

Stage – Basic
HP – 60
Speciality – None
Card Number – 43/135
XY BREAKThrough 2015

Stage – Basic
HP – 60
Speciality – None
Card Number – 51/162
Stage – Basic
HP – 60
Speciality – None
Card Number – 52/162
XY Evolutions 2016


Stage – Basic
HP – 50
Speciality – None
Card Number – 37/108
SM Ultra Prism 2018

Stage – Basic
HP – 60
Speciality – None
Card Number – 80/156
Stage – Basic
HP – 60
Speciality – None
Card Number – 81/156
SM Forbidden Lights 2018

Stage – Basic
HP – 60
Speciality – None
Card Number – 34/131
McDonald's Collection 2018

Stage – Basic
HP – 60
Speciality – None
Card Number – 8/12
SM Unified Minds 2019

Stage – Basic
HP –  60
Speciality – None
Card Number – 58/236
SM Hidden Fates 2019


Stage – Basic
HP –  60
Speciality – None
Card Number – SV27/SV94
SM Cosmic Eclipse 2019

Stage – Basic
HP –  60
Speciality – None
Card Number – 68/236
Stage – Basic
HP –  60
Speciality – None
Card Number – 242/236
SWSH Astral Radiance 2022

Stage – Basic
HP –  60
Speciality – None
Card Number – 105/189
SV Scarlet and Violet 2023

Stage – Basic
HP –  60
Speciality – None
Card Number – 063/198
SV Paldea Evolved 2023


Stage – Basic
HP –  50
Speciality – None
Card Number – 065/193
SV Obsidian Flames 2023

Stage – Basic
HP –  60
Speciality – None
Card Number – 063/197
SV 151 2023

Stage – Basic
HP –  60
Speciality – None
Card Number – 081/165
Gallery