Marowak Pokédex Information
Marowak is a Ground type Pokémon that first appeared in the games Pokémon Red and Blue which released in Japan on 12th September 1999. It evolves from Cubone.
Marowak is a two legged Pokémon that is likely based on a dinosaur and bones. Its tail, limbs and body are brown apart from its belly which is cream coloured. It has a single claw on each limb and its tail ends in a V shape. The most striking features is its head which is totally encased in a skull. This Pokémon overcame its sorrow to evolve a sturdy new body. Marowak faces its opponents bravely, using a bone as a weapon.
When it appears in the Alola region, it takes on a different form. In Alolan form Marowak is a Fire / Ghost type Pokémon. Its tail, limbs and body are now black, while its belly is grey. The skull on its head has a black flame-like marking between the eyes and the bone it carries has green flames sprouting from each end.
Contents
Marowak Pokédex Facts
Evolutions
Marowak Pokédex Entries
TCG Cards
Marowak Pokédex Facts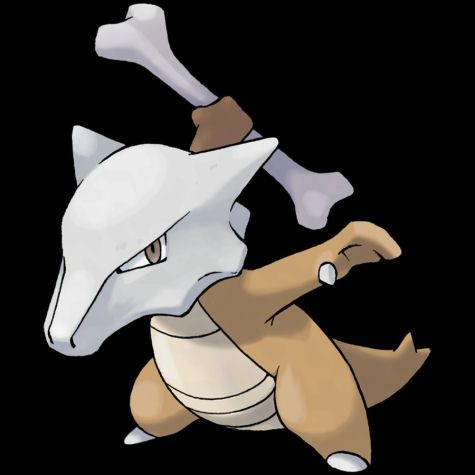 English Name – Marowak
Japanese Name – Garagara
First Appearance – 1999 (Pokémon Red and Blue)
Based on – Dinosaur // Bones
Generation – I
Pokédex Number – 0105
Regular Form
Category – Bone Keeper
Height – 1 m
Weight – 45 kg
Gender – Male, Female
Type – Ground
Weakness – Grass, Ice, Water
Special Abilities – Lightning Rod, Rock Head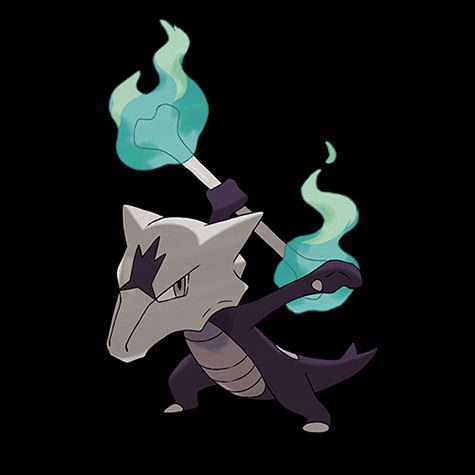 Alolan Form
Category – Bone Keeper
Height – 1 m
Weight – 34 kg
Gender – Male, Female
Primary Type – Fire
Secondary Type – Ghost
Weakness – Dark, Ghost, Ground, Rock, Water
Special Abilities – Cursed Body, Lightning Rod
Marowak Evolutions
Evolution – Cubone evolves to Marowak (Level 28)
Marowak Pokédex Entries / Games
Pokémon Red and Blue  1999
Pokémon Yellow  2000
Pokémon Stadium  2000
Gold and Silver  1999
Pokémon Crystal 2000
Pokémon Stadium 2 2000
Ruby and Sapphire  2002
Pokémon Emerald  2004
FireRed and LeafGreen  2005
Diamond and Pearl  2006
Platinum  2008
HeartGold and SoulSilver  2009
Pokémon Black and White  2011
Black 2 and White 2  2012 
Pokémon X and Y  2013
Omega Ruby, Alpha Sapphire  2015  
Pokémon Sun and Moon 2016
Ultra Sun and Ultra Moon 2017
Let's Go Pikachu, Let's Go Eevee 2018
Sword and Shield 2019
Brilliant Diamond, Shining Pearl  2021
Marowak Card List – (scroll to bottom for gallery view)
Pokémon Jungle 1999


Stage – 1
HP – 60
Level – 26
Card Number – 39/64
Pokémon Base Set 2 2000

Stage – 1
HP – 60
Level – 26
Card Number – 52/130
Pokémon Aquapolis 2003

Stage – 1
HP – 70
Speciality – None
Card Number – 54/147
EX FireRed, LeafGreen 2004

Stage – 1
HP – 80
Speciality – None
Card Number – 7/112
EX Team Rocket Returns 2004


Stage – 1
HP – 70
Speciality – None
Card Number – 7/109
EX Delta Species 2005


Stage – 1
HP – 80
Speciality – None
Card Number – 10/113
DP Legends Awakened 2008

Stage – 1
HP – 90
Level- 30
Card Number – 63/146
HGSS Triumphant 2010

Stage – 1
HP – 90
Speciality – None
Card Number – 44/102
BW Dragons Exalted 2012

Stage – 1
HP – 100
Speciality – None
Card Number – 61/124
XY BREAKThrough 2015

Stage – 1
HP –  100
Speciality – None
Card Number – 78/162
Stage – BREAK
HP –  140
Speciality – BREAK
Card Number – 79/162
XY Fates Collide 2016


Stage – 1
HP –  100
Speciality – None
Card Number – 37/124
Sun and Moon Promo Cards 2017 – 2019


Stage – 1
HP –  200
Speciality – GX
Form – Alolan 
Card Number – SM187
SM Crimson Invasion 2017


Stage – 1
HP –  100
Speciality – None
Form – Alolan
Card Number – 12/111
SM Forbidden Light 2018

Stage – 1
HP –  120
Speciality – None
Form – Alolan
Card Number – 12/131
SM Team Up 2019

Stage – 1
HP –  120
Speciality – None
Form – Alolan
Card Number – 64/181
SM Unbroken Bonds 2019

Stage – 1
HP –  110
Speciality – None
Card Number – 91/214
SM Unified Minds 2019

Stage – 1
HP –  120
Speciality – None
Form – Alolan
Card Number – 75/236
SWSH Battle Styles 2021


Stage – 1
HP –  110
Speciality – None
Card Number – 070/163
SV 151 2023

Stage – 1
HP –  120
Speciality – None
Card Number – 105/165
Gallery