Oinkologne Pokédex Information
Oinkologne first appeared in the games Pokémon Scarlet and Violet which released in November 2002. 
Oinkologne is a four-legged character that is based on a pig. The male and female of the species have different appearances. The male has a dark grey body, head and legs with a curly tail. The bulbous tip of its tail, its trotters and its snout are vivid pink in colour. Oinkologne is proud of its fine, glossy skin. It emits a concentrated scent from the tip of its tail.
The female Oinkologne is dark brown while its face and chest are a lighter brown. Its curly tail ends in three tassels. Its trotters, snout and eyelids are pink. Under its eyes are yellow leaf-like appendages. This Pokémon sends a flowerlike scent wafting about. Well-developed muscles in its legs allow it to leap more than 16 feet with no trouble at all.
Contents
Oinkologne Pokédex Facts
Evolutions
Oinkologne Pokédex Entries
TCG Cards
Oinkologne Pokédex Facts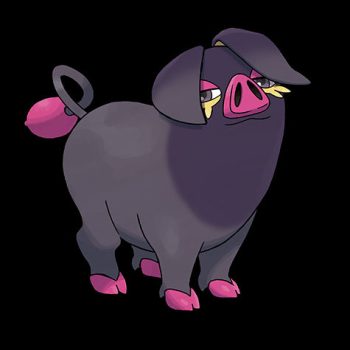 English Name – Oinkologne
Japanese Name – Perfuton
First Appearance – 2022 (Pokémon Scarlet and Violet)
Generation – IX
Pokédex Number – 0916
Based on – Pig
Male Form
Category – Hog
Height – 1 m
Weight – 120 kg
Gender – Male
Type – Normal
Weakness – Fighting
Special Ability – Gluttony, Lingering Aroma
Female Form
Category – Hog
Height – 1 m
Weight – 120 kg
Gender – Female
Type – Normal
Weakness – Fighting
Special Ability – Aroma Veil, Gluttony
Oinkologne Evolutions
Evolution – Lechonk evolves to Oinkologne (level 18)
| | | |
| --- | --- | --- |
| Lechonk | Level 18 | Oinkologne |
Oinkologne Pokédex Entries / Games
Pokémon Scarlet and Violet  2023
Oinkologne Card List – (scroll to bottom for gallery view)
Cards not yet revealed